Turns Firehouse into a Naughty Nightclub
Laughter filled the street during the hilarious show and smiles lasted long afterward
With barely time to recover from their previous bonanza event, Kismet Festival by the Sea, the hardworking KFDA put together a Kismet favorite, Comedy Night. Laughter filled the street during the hilarious show and smiles lasted long afterward.
Among the full house of attendees:

Jeannie, Bradlee, Cheryl Licari, Caryn Burke, Bonnie Metcalf, the DeRosas, the Makowsky's, the Imbert's, the Hald's, Debbie & Eddie Schwartz, Lorri, Patty Lyon, Dana DeRuvo, Joe Hanner, Wendy and Jeff, Sandy and Bill Romaka, Jacquie Jones, Kerry, Sue, Myrna, Wood Family, Ana Gesteyer, Kelly Bertucci, Knoth's, Padovanos
So many more. 2 representatives from Good Sam.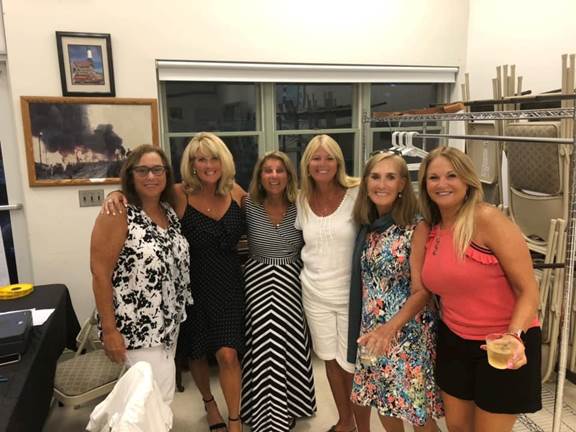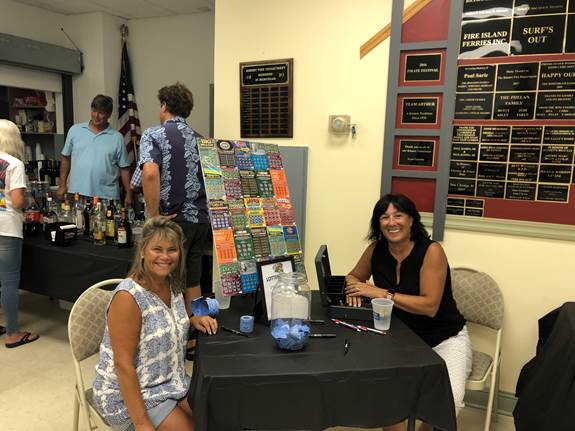 Sandy & Jacquie sold raffles for the scratch off tree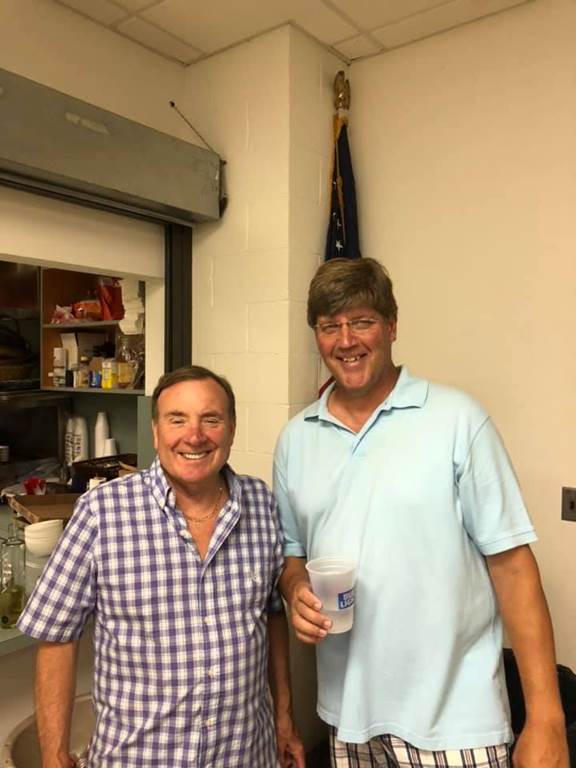 Happy Bartenders: Joe & Jeff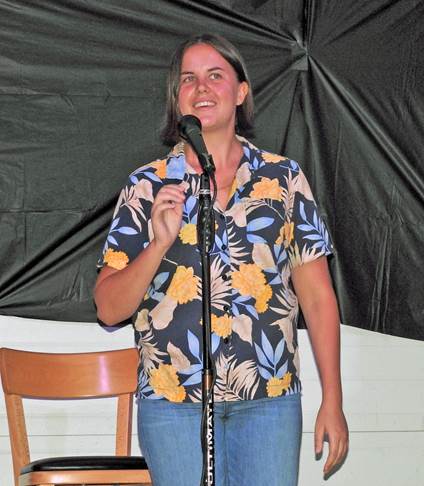 My name is Mallory. My dad's name is Sam Wood. He is running a bit late and asked me to introduce Anna (Gasteyer, of Saturday Night Live fame).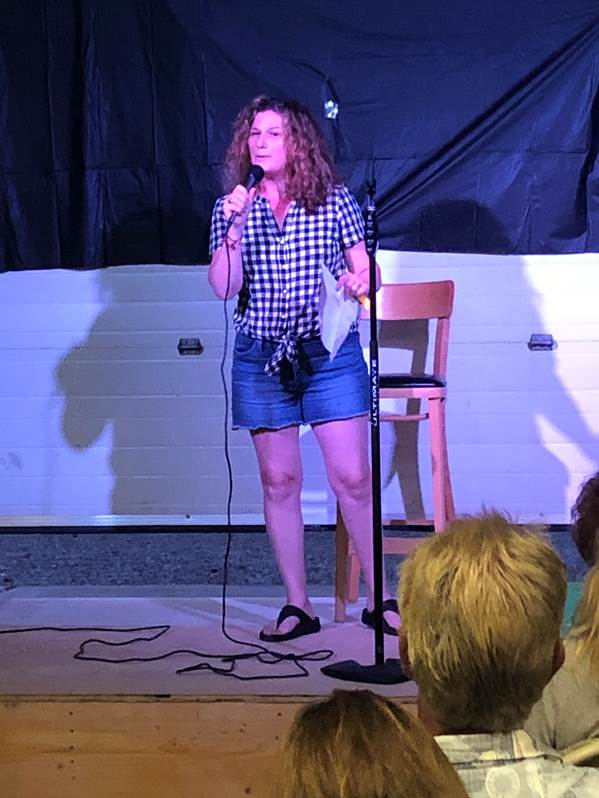 When you ask Sam when a project will be done, he says "probably after the weekend". Then you think, Memorial Day, Labor Day, Columbus Day weekend???


If he builds a new house for you, the first room he likes to finish is the panic room, so you and your checkbook have a place to go until the rest of the house is done.


Also when you carefully describe your vision or dream for what you want, he says, "Uh yeah, No, we're not doing that"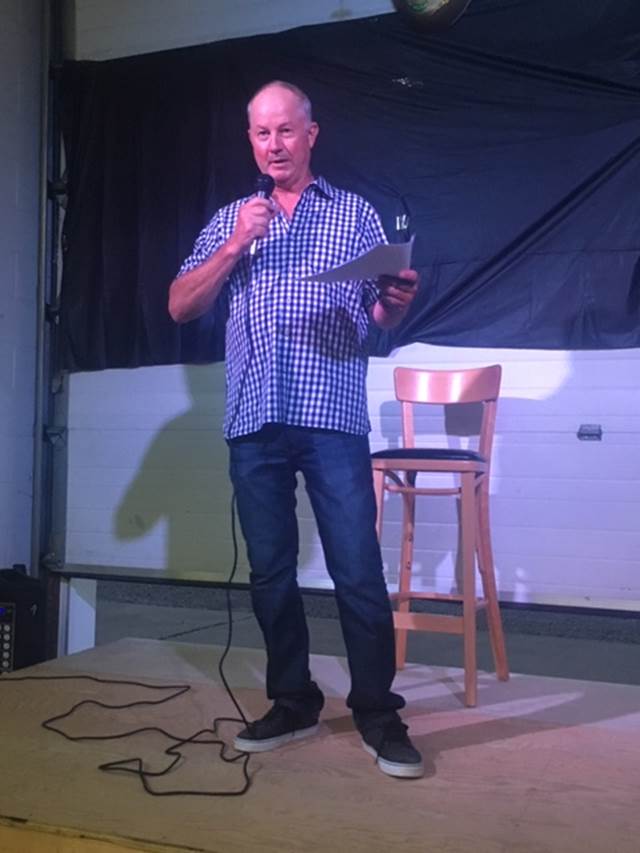 Thanks so much for your support Some of those things said hurt my feelings.  By the way Anna, this fire house makes Café Carlyle look like a Wendy's.
Welcome to this biggest venue of its kind this side of LonelyVille.
We've got a bunch of folks here that are a big deal. We set up a hospitality suite green room upstairs for them. I hope they're enjoying the 5 gallon bucket of Kirkland vodka we supplied. the label on the vodka says 'causes temporary blindness' and it's not even a warning name label.
Joe Starr is here. He's a superstar, but here he is a Kismet.
Chris Roach is here. Many of you remember that he got his big break here about 10 years ago. He started out here and went onto a big career. I think that's the night he missed the last boat and ended up at Jeannie's house ..maybe that's why he is still in Kismet.
Anyway thanks to Joe Mckeehan for being the inventor of this night and thanks to the KFD Auxiliary for putting on all these events.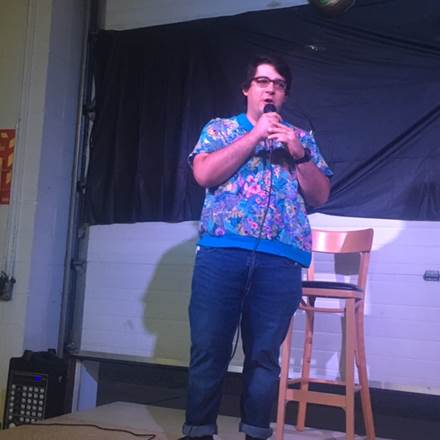 Willie Zabar

Despite his famous last name this kid is so new you can't even google him. Willie is in the Saltaire fire department. His act was mostly funny and touching about his first experiences as a volunteer fireman which resonated with the KFD audience seated in the firehouse.

Sam's intro remarks:

We have a local up-and-coming comic who... we invited to join us.


Let's have a big hand for Willie Zabar, the  name that is synonymous with quality food, their association with Comedy remains to be see. Willy is in the Saltaire fire department and this year they celebrated their 50th year anniversary. I was there looking around.  Do you know they have Chanel coats and there is an oil painting of their founder Christine Thurston. Their first drill years ago consisted of trying to run to the firehouse without spilling a gin and tonic.  Now they have a great ambulance and sometimes it comes to Kismet. The young guys in the ambulance service have never been out after dark. This one kid says "golly I came as soon as I could. I was watching Masterpiece Theatre with my grandfather".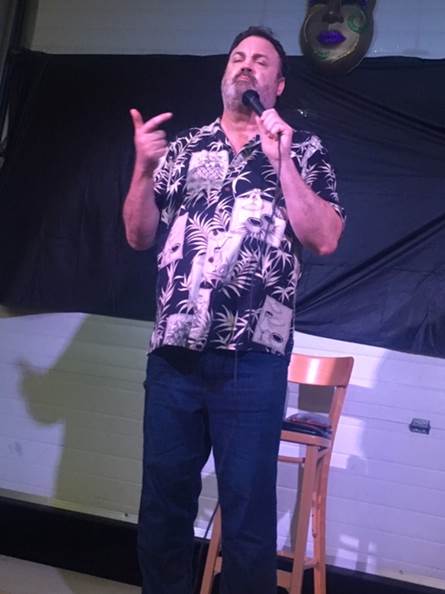 Chris Roach: this extremely entertaining crowd favorite, and long island (Ronkonkoma) native focuses on male issues like weight (realized how fat he was when his "car hit a bump and his boobs bounced!") and married life.


Funniest joke: For his birthday his wife gets him a massage at a spa "does that mean you don't want to touch me anymore?"


He lies face down in undies, head in a pillow like a cushioned toilet seat which gets tighter  as anxiety mounts  till  it reminds him of giving birth. Guy comes in, Giuseppe, to give massage

( What happed to Alisa?). Clenching butt cheeks "That better be hot oil you are putting on me". Later hears footsteps "Hello This is Alisa". "What happened to Giuseppe?" "No one works here by that name!") LOL
Joe Starr: Born in Brooklyn, New York, on New Years Eve, 1969. Joe studied acting while a professional Stand-up Comedian touring the United States, Canada & Europe. He has acted along side Liev Schreiber, Andy Serkis, & Daniel Craig, and been directed by such luminaries as Oliver Stone, Peter Jackson and Steven Spielberg. His lifelong study of the history and traditions of Show Business has made him a favorite guest. An 'old soul' at heart, it was Comedy Legend, Jerry Lewis, who gave Joe the title of 'The youngest old man in Show Business."
Joe Starr was the funniest I think of the night. His delivery and timing flawless, the kind of professionalism that makes you relax because you just know he will be funny as he smoothly segued from topic to topic, from the chaste (comparing methods of discipline for kids.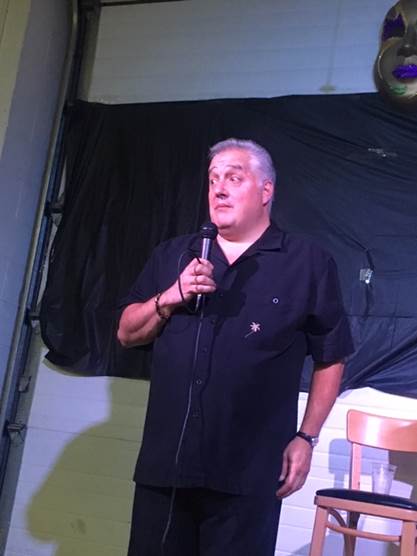 Old school: "I'll knock your teeth down your throat so far they will bite you in the ass")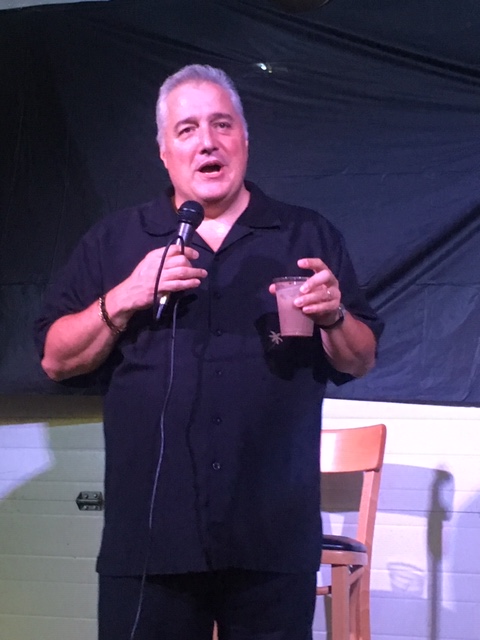 to the indignities and intricacies of mammograms, and its sister procedure prostate exams...all the while remaining empathetic.
Old men sit when they pee "because they don't know how long it will take".
Unfortunately I was laughing so hard I cannot read my notes. Just see him if/when you can.
Patty, a study in pure glee as she won the scratch off board tree!
From KFDA:

The KFD Auxiliary's last event, Comedy Night, was just this past Friday. With a packed house of approximately 105 attendees, Kismet was ready for a night of fun and laughter. We were bestowed a wonderful surprise when SNL's own Ana Gasteyer kicked off the night poking fun at herself and Sam Wood, our MC. Sam, as always, was hysterically funny. Up next was another special guest, Willie Zabar who came ALL the way from Saltaire to warm up the crowd! He had everyone laughing and ready for our 2 headliners: Chris Roach and Joe Starr. Tears of laughter abounded when both of these talented comedians took the stage. Comedy night was a huge success not only thanks to all the comedians, but especially for the support of the Kismet residents who attended the show. We thank you all.

Although Comedy Night was our last official event of the summer, we still have 2 more weeks of BINGO left; Tuesday, August 20th and 27th. Don't miss out on a fun-filled evening and a chance to win a prize. See you summer 2020!