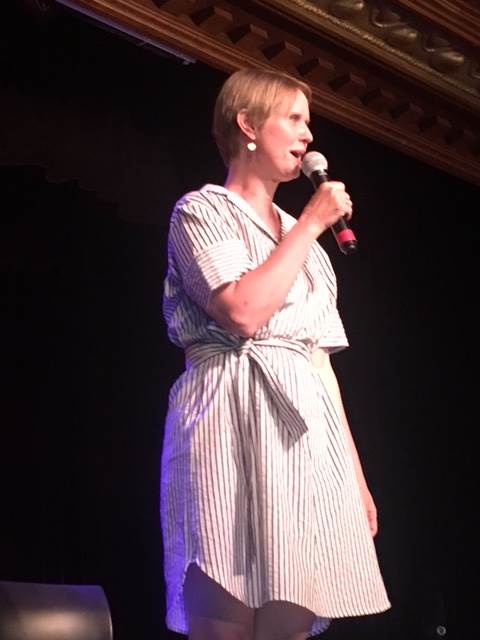 Cynthia Nixon
"We are now the most unequal state in the entire country, with both incredible wealth and extreme poverty"
CYNTHIA NIXON at CLUB CUMMING, CHERRY GROVE
Introduced by Alan Cumming
at the Community House July 8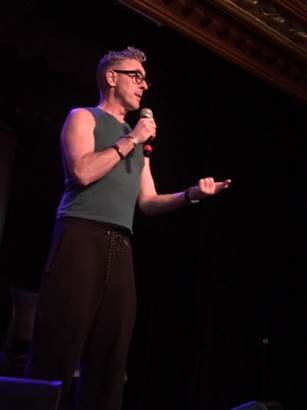 Yet another of the Club's eclectic multifaceted mix of presentations
The multi award winning actress, star of stage, screen and TV, certainly knows her lines. And she delivers them with a polished sincerity that is affecting. But this time the script is a fact filled attack on her gubernatorial rival, Andrew Cuomo, her lines come from her political playbook and the dialogue is with the audience.
On Cuomo: "He's governed like a Republican…I have a distinct advantage over Andrew Cuomo in that I am running in a New York Democratic primary [on September 18] and I am actually a Democrat… Cuomo promised to raise the minimum wage – he hasn't. He promised free college tuition. There are so many restrictions only 3% of those applying can benefit from it".


On campaign financing:  the Koch brothers donated to him, contributing toward the "$31 million in his campaign coffers, all but one percent from corporate donors." "I will not take one dime from corporations."
On healthcare: she supports "a Medicare single-pay system for all … and when I say all, I mean undocumented people as well." (She also advocates for drivers licenses for undocumented people)
On education:  she is for Federally-funded schools across New York State, believing that the government is siphoning money off the public schools to fund charter schools creating a vicious cycle of catering to those easiest to educate leaving the others to fall even further behind. The 52 year old mother of 3 is a product of NY public school system and wants it available free for her children as well as all in NYS.    
On women's rights: She is a fierce advocate of a woman's control over her own body, especially abortion rights (and delivered a huge rally for that the following Tuesday in NYC)
Other issues:
"We need to expand rent regulation across the state." "I will legalize marijuana" and get "victims of the racist war on drugs out of jail" and "I will hold fossil fuel billionaires accountable for poisoning our communities"
 "I will make New York a real Sanctuary State … We need to pass the New York Dream Act so that the Dreamers can have access to public education."
She considers New York a "logical" center of resistance, "and we can see it again when we have real progressive values coming out of Albany."
She is encouraged by the "blue wave" in which "there are so many gay and trans people, so many women running for office."


The sparse but enthusiastic crowd was most supportive.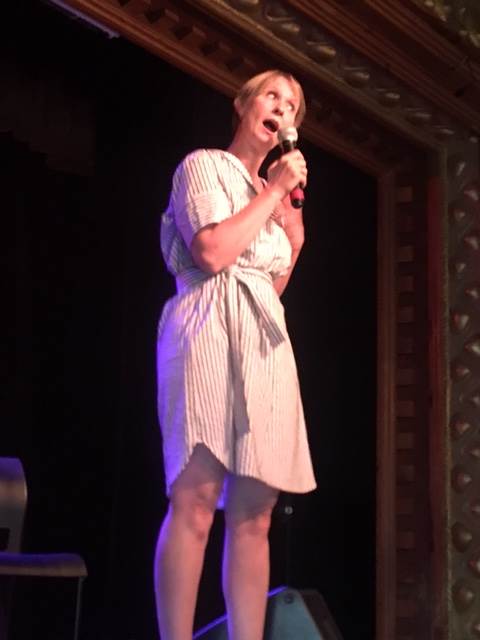 "I believe we are a wealthy state and I believe we have everything we need here, if only we get our priorities straight"

Visit www.cynthiafornewyork.com and vote on September 18.