ATCA members gathered at Club 135 at Industrious in midtown Manhattan for ATCA's New York City 2022 Reseated & In Person Conference.
Photo: Martha Wade Steketee
The ATCA New York City 2022 Reseated & In Person Conference
By Deirdre Donovan
Hats off to Scott Bennett, David John Chávez, Jay Handelman, Lou Harry, Bill Hirschman, Frank Rizzo, Martha Wade Steketee, and Maren Scriven Swensen, who were the driving force behind the American Theatre Critics Association's (ATCA) New York City 2022 Reseated & In Person annual conference in November. It was the first time since Fall 2019 that ATCA had gathered in the same physical space.
While ATCA presented virtual conferences in 2020 and 2021 during the pandemic lockdown, this in-person conference reminded us of how wonderful it is to be physically present with other ATCA members in a room or elsewhere. What's more, one had the opportunity to see live theater performances over the weekend. The conference's schedule was designed, in fact, to accommodate attendees' theater trips.
Friday, November 11
ATCA's executive chair David John Chavez welcomed all to the conference on Friday, which kicked off with a continental breakfast at the elegant Club 135 at Industrious in midtown Manhattan. Everybody noshed on pastries, bagels, and beverages—and, of course, chatted about everything under the theatrical sun.
The first session, "Visibility, Access, and Advocacy," was a vibrant discussion with the Asian American Performers Action Coalition (AAPAC)'s co-founder Pun Bandhu and creative producer Clint Ramos on the representation of Asian American artists in theater today. Moderated by Chavez, the trio of presenters remarked on some advances in the industry (this season's new musical KPOP features a mostly Asian cast and writing team). But they also noted that under-representation and lack of opportunities for Asian-Americans in the industry still persist. Beyond the exclusion issue, the recent hate-crimes against Asians reported in the media was discussed. Everybody agreed that education was vital to dispel negative myths on Asian Americans and that the powers-that-be in the theater world need to be more open-minded when it comes to considering Asian Americans for key positions and roles in theatrical producitons.
The next session shifted our attention to a new theater book, jointly written by the New York Times chief theater critic, Jesse Green, and the late Mary Rodgers: "Shy: The Alarmingly Outspoken Memoirs of Mary Rodgers." Martha Wade Steketee moderated the program, deftly encouraging Green to tell us about his journey with this uniquely-structured biography. Green explained the book's genesis and how it slowly evolved over two years. But the most interesting moments by far were when Green shared anecdotes about working side-by-side with Mary Rodgers and how they attempted to capture the truth of her life into a literary form. Before the session ended, Green fielded questions from the ATCA critics on his illustrious career as a theater critic, sparking a lively conversation.
Don Roy King, Bonnie Comley, Stewart F. Lane, Lou Harry. Photo: Martha Wade Steketee
Next up was a segment on Pro-Shooting with Broadway HD. Lou Harry chatted with Bonnie Comley, Stewart F. Lane, and Don Roy King on how deals are made to video record and present Broadway shows for the general public. A flyer also was handed out during the presentation on a newly minted educational program, partnered by The Broadway Educational Alliance (BEA) and WPBS-TV, "At This Stage: Steam on Stage and Screen," which is committed to making the theater more accessible and inclusive to students in middle school and high school.
ATCA's conference-goers had a real chance to pit their theatrical wits against each other during a conference break, with attendees forming small groups and responding to pre-written questions on Broadway theater history. Can you name the ten longest-running musicals in Broadway history? Where is Shakespeare's Measure for Measure set? These brainteasers, and many others, allowed game participants to strut their stuff when it came to theater history.
The conference's first day wrapped up with "Perspectives in Criticism: Helen Shaw." Shaw, the newly-annointed critic at The New Yorker magazine, spoke to us about her ever-evolving career as a theater critic. Moderated by Martha Wade Steketee, Shaw recounted her experiences at Time Out, New York magazine, and, most recently, The New Yorker. Shaw confessed that she serendipitously got into theater writing when renowned journalist Jeremy McCarter asked her to write some capsule reviews for New York magazine for the New York City International Fringe Festival. Shaw jumped in with both feet, and has never stopped penning top-tier reviews. Shaw stayed after her presentation to mingle and chat with the attendees, making for a perfect ending to the conference's first day.
Saturday, November 12
Conference-goers were invited to two delicious tours on Saturday morning: Broadway Up Close and Focus Center Stage: 50 Years of the Theatre on Film and Tape Archive.
For the early birds, Tim Dolan, owner and tour guide of Broadway Up Close, invited us to discover the secrets hidden in the nooks and crannies of the historic Hudson Theatre. Starting out in its Tiffany glass-lit lobby, Dolan led us through the entire theater, pointing out gargoyles, the "ghost light" on stage (it remained on throughout the entire pandemic lockdown), and the most comfortably spacious seats in a Broadway theater. He also noted that some famous actors and actresses have graced the Hudson stage, most notably Ethel Barrymore in the theater's inaugural production, Cousin Kate, in 1903. And when it comes to theater superstitions, Dolan had a raft of them to share. To wit: Before a performance, the actor Robert McClure will jog through the house and physically touch every seat to establish a personal connection to each theatergoer attending that day's matinee or evening's performance.
If that tour was scrumptious, so too was the one at the Theatre on Film and Tape Archive (TOFT) at the New York Public Library for the Performing Arts at Lincoln Center Plaza. Patrick Hoffman, the curator at TOFT, served as our tour guide for its current exhibit, "Focus Center Stage: 50 Years of the Theatre on Film and Tape Archive. After listening to Hoffman's terrific introduction that traced the timeline of TOFT and how its founder Betty L. Corwin developed this renowned theater collection, conference-goers strolled through the exhibit and watched and listened to selected videos via headphones attached to the library's wall. If one ever wanted to take a deep dive into theater history, this was the place to begin.
Sunday November 13
The Hard Rock Hotel in Midtown Manhattan served as our second home for the conference's final day. The program began by honoring Brittani Samuel and Billy McEntee, the recipient of the Medina Prize and the Helbing Mentorship Program, respectively. The ATCA Medina Prize and Helbing Mentorship Program are both in their inaugural year, and judging from Samuel and McEntee's glowing faces when receiving the award, they clearly are godsends to these young writers just starting out in the field of theater criticism.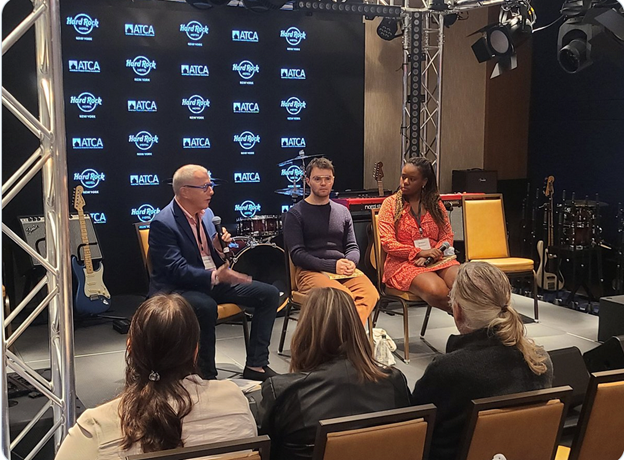 Chris Byrne, Billy McEntee, Brittani Samuel. Photo: Martha Wade Steketee
The focus on young artists continued in the next session, entitled "Beyond Broadway: The Education & Enrichment of Future Artists & Audiences." Susan E. Lee, founder of the Broadway Education Alliance, moderated a three-way conversation with John Prignano, Chief Operating Officer and Director of Education and Development, Music Theatre International, Amelia Belovesick, Curriculum Development Specialist at WPBS-TV at Watertown, New York, and Zach Stevenson, Director of Marketing at NETworks Presentations. The panel had a dual interlocking message that they highlighted: "The arts must be at the core of life-long learning; and young people must be exposed early to the arts.
The new musical, Kimberly Akimbo, was brought to the fore, with a presentation by its bookwriter and lyricist, David Lindsay-Abaire, and composer, Jeanine Tesori. Lindsay-Abaire and Tesori were joined by two of the show's breakout stars, Justin Cooley and Bonnie Milligan. In a conversation presided over by Jay Handelman, the four artists described how the show has evolved since it moved from Off Broadway to Broadway. And Cooley and Milligan shared what it was like to be performing on the Great White Way.
The capstone to the conference was a trip to the Museum of Broadway, which covers over 300 years of Broadway history. It was a fitting wrapup to the three-day weekend that focused on so many facets of the theater today.