Kismet's last official weekend of the 2020 season sparkled with events that reminded us of yesteryear: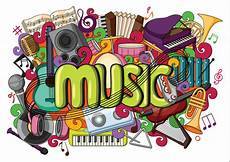 The season climaxed at the Out courtyard in a joyous evening with Tim Mooney and four of his band. Though they produced the previously announced "subdued dinner music" the excitement they generated could not be contained and it was hard to obey the no dancing rule.
Thanks to the Out and Tim for recreating some of the magic of the past
(no pictures were allowed)
NOTE: many of our seasonal renters are requesting extensions on their stay since the season started late for  many
 (the word Halloween crops up)
the KLAW flea market was resurrected at Caroline's Eyegasm home
(a trip in itself)
check this out
http://theaterscene.com/KLAW_ANNUAL_FUNDRAISER_2020.html
note from KLAW president Bradlee:
Thanks to Caroline, who tirelessly put together a recent Mini Flea Market, KLAW earned $1000. Also thanks to Katherine Kornblau of Fair Harbor for donating the proceeds of sales of her jewelry at the event. We have also received several other donations, one from a new Facebook fundraiser. I submitted an application to the Rescue Bank of GreaterGood.org or cat food.
We still a long way to go to make it through the winter, but as they say, every little bit helps

Newsday got our stalwart citizens in video touting our community
Jake  (Beach & Vine)
Greg Peccarino  (Margaritavillas rent by week, day)
happy drinkers : Tim & Carrie, Ginny Butler, Jen of Brown Sugar
https://www.facebook.com/groups/463266433717209/
WELCOME HOME!!!
Grace and Mallory Wood, Taryn Phelan, Morgan and Whitney Boulton, Sara and Perri Baker, Casey Licari and brother Nick's fiancé Megan did an island wide pub crawl Friday before Labor Day
They stopped in each town for a drink starting at Davis Park at 10 AM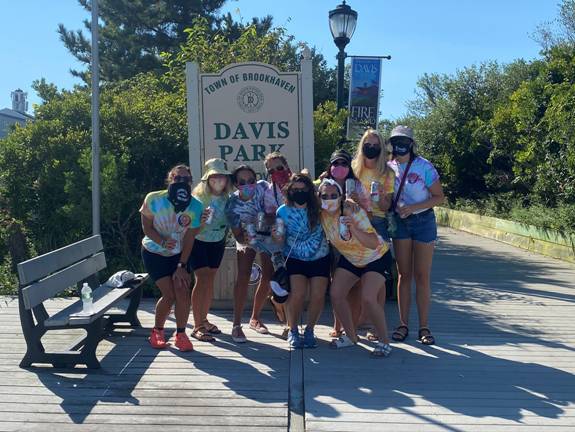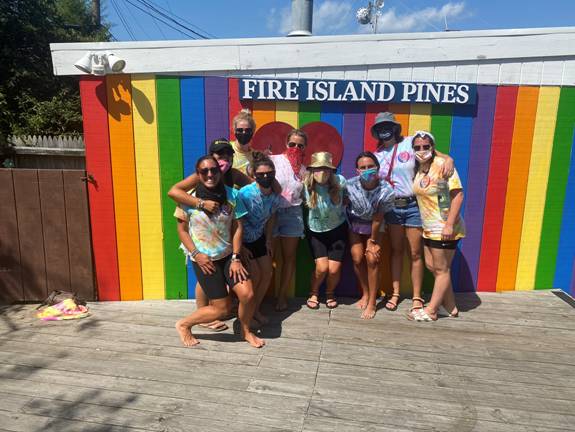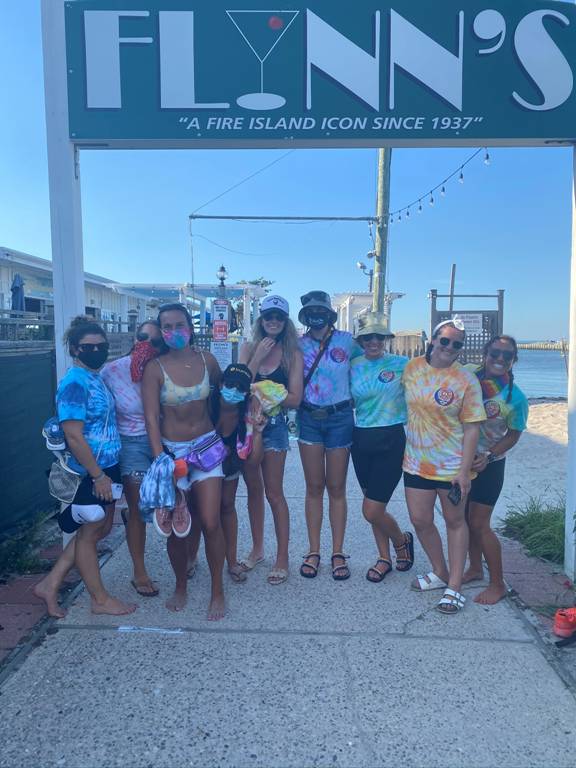 They were welcomed home at the kismet Inn at 10:30 PM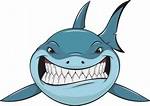 On a more sober note: There have been multiple shark sightings in and around Kismet waters.
One About 30 yards from shore
but we are on our own...
September 7th was the last day of Town of Islip lifeguard coverage at our ocean beaches which includes Kismet, Fair Harbor, Dunewood, Atlantique, and Seaview. As with previous years, Labor Day weekend will close our summer season at the beach.
Thomas S. Owen
Warnings: High surf and large sweeps are predicted on the beaches this weekend through next week. As there are no lifeguards anymore, people should be extremely careful if they decide to go swimming

VOTING
September 2, 2020.
New York State launched an online portal where all registered voters can request an absentee ballot if you are worried about in-person voting due to COVID. There's no need to wait — you can request an absentee ballot for the November 3rd election today. (Please note that you must already be registered to vote at your current address. If you aren't registered to vote, or need to change your voter registration address, visit elections.ny.gov for more info.)
New Yorkers have options in the way to cast a vote this elections: In addition to voting by absentee ballot, you can vote early in-person at your Early Voting polling place from October 24 to November 1 (there are nine days of Early Voting). And of course, you can still vote in-person on Election Day, November 3rd. Whatever option feels safest is up to you — just make sure your voice is heard.
Ever Upward,
Governor Andrew M. Cuomo
From Fire Island Association
1. VOTER REGISTRATION
Register to vote or change your voter registration to Fire Island by mail by October 9th. Use your Fire Island address for "where you live" and use your winter address for "where you get mail."
Here is the link for the Voter Registration form: https://www.elections.ny.gov/NYSBOE/download/voting/voteregform-eng-fillable.pdf
Mail to: Suffolk County Board of Elections, Yaphank Avenue, P. O. Box 700, Yaphank, NY 11980
2. ABSENTEE BALLOT APPLICATION – please note there is an Absentee Ballot Application and an Absentee Ballot
Request your Absentee Ballot NOW – just in case. You do not need to use it if you decide to Vote Early or vote on Election Day. In addition to existing reasons to obtain an absentee ballot, New York State has proscribed that "illness" shall include the "risk of contracting or spreading a disease that may cause illness to the voter or to other members of the public.
For the first time in our state's history, all registered voters can request an absentee ballot (under the "temporary illness" excuse). Here is the link for the absentee ballot application:
https://www.elections.ny.gov/NYSBOE/download/voting/AbsenteeBallot-English.pdf
Absentee ballots will be mailed out by Suffolk County BOE beginning September 18th. Once you receive your Absentee Ballot, you can use it as follows:
1. Put it in the mail ensuring it receives a postmark no later than November 3
2. Drop it off at an Early Voting poll site between October 24 and November 1
3. Drop it off at a poll site on November 3 by 9pm
4. Drop it off at your county Board of Elections Office starting September 8 through no later than November 3 by 9pm
3. EARLY VOTING
In addition to absentee voting, New Yorkers can also take advantage of Early Voting. For nine days, from October 24 to November 1, registered voters can cast their vote in-person at an early polling site. There are 12 Early Voting sites in Suffolk County.
Here is the link for Early Voting Sites and Hours by Day:
https://suffolkcountyny.gov/Departments/BOE/Early-Voting-Sites-11-3-2020
Here are the 4 locations most accessible to Fire Islanders:
Early Voting Sites for General Election of November 3, 2020
Babylon Town Hall Annex​​​​Dix Hills Fire Department
281 Phelps Lane​​​​​115 E Deer Park Road
North Babylon NY 11703​​​​Dix Hills NY 11746
Islip Town Hall Annex​​​​Knights of Columbus
401 Main Street​​​​​96 2nd Avenue
Islip NY 11751​​​​​​Brentwood NY 11717
4. ELECTION DAY
Tuesday, November 3rd is Election Day. There will be voting on Fire Island on this day only at the Ocean Beach Community House for Town of Islip residents and at Ocean Bay Park for Town of Brookhaven residents.
5. ADDITIONAL INFORMATION
You may use this link to confirm that you are a Suffolk County registered voter:
https://voterlookup.elections.ny.gov/
Police: Suffolk has seen at least 8 shootings, 1 fatal, over past 2.5 weeks
Police say they normally respond to more shootings in the late summer months, but this year there has been a 22% increase in people opening fire in Suffolk County
HAPPY NEW YEAR
to my Jewish friends
and may I extend Best wishes for a
happy, healthy
and peaceful new year
...and that's Kismet!!!
September 9 thru September 20
Kismet Fall Schedule 2020
Monday-Friday
Use Main Terminal Mon.-Fri.
| | |
| --- | --- |
| Bay Shore Kismet | Kismet Bay Shore |
| | | |
| --- | --- | --- |
| 7:00am | | 7:50am |
| 10:00am | | 10:50am |
| 1:00pm | | 1:50pm |
| 4:00pm | | 4:30pm |
| 6:00pm | | 6:30pm |
| 8:00pm | | |
Saturday-Sunday
Use Saltaire Terminal unless noted otherwise.
| | |
| --- | --- |
| Bay Shore Kismet | Kismet Bay Shore |
| | | |
| --- | --- | --- |
| M7:00am | | 8:00amM |
| 10:00am | | 10:30am |
| 1:00pm | | 1:30pm |
| 4:00pm | | 4:30pm |
| 6:00pm | | 6:30pm |
| M8:00pm | | 8:30pmM |
The current ferry schedule is in place until Sunday, 9/20. After that, they will announce the schedule on a week-to-week basis.