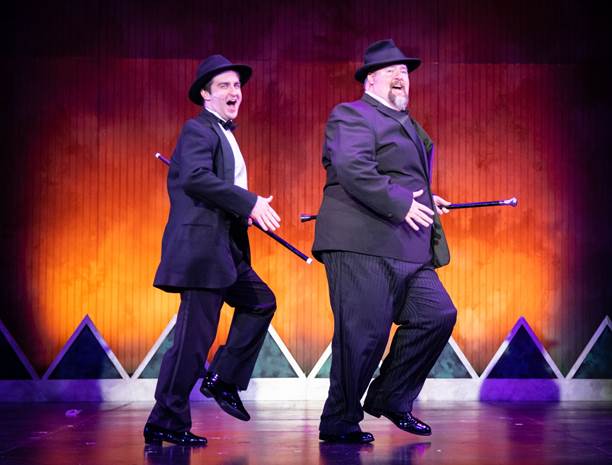 Richard LaFleur and Jason Simon                  Photos courtesy of Photographer, Russ Rowland
The Producers
                    By Karen Wahlberg and Denise Gibson
The Producers dominated the 2001 Tony Awards, setting a record for most nominations—15—then setting the record again for most awards won with 12, including Best Musical, Score, Book, Director, and Actor (Nathan Lane), and all the musical design awards. With a track record like that this show is a slam dunk for success and a great way to launch the Argyle Theater's second season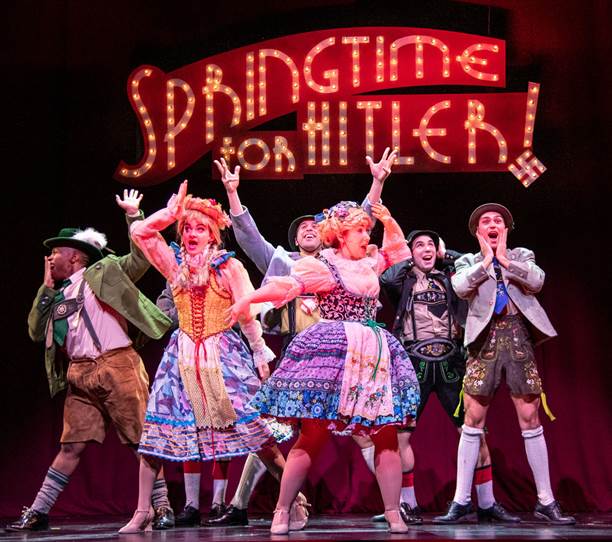 This edition of Mel Brooks' and Thomas Meehan's The Producers left no laughs unheard as you take a gay romp towards producing the ridiculous satirical production of "Springtime for Hitler". 
The cast was set with Jason Simon playing the ruthless, swindler Producer Max Bialystock and paired perfectly with panic stricken Accountant, Leo Bloom played by Richard LaFleur. The entire cast under the direction of Evan Pappas feeds beautifully off of each other from start to finish.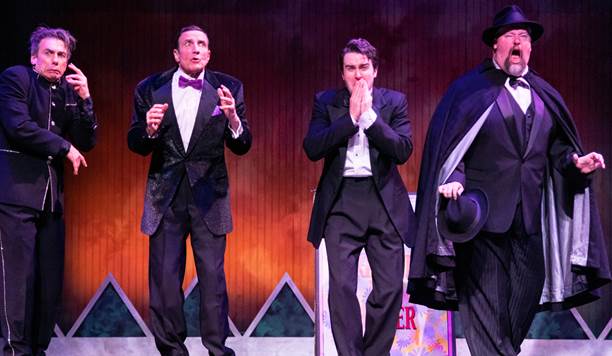 Jon J. Peterson, John Salvatore, Richard LaFleur and Jason Simon                 
Show stopping performances are happening throughout the entire show.  The detail of enriching every character with joyful playfulness is especially evident during "Keep in Gay" featuring Jon J. Peterson, as Carmen Ghia and John Salvatore as Roger DeBris.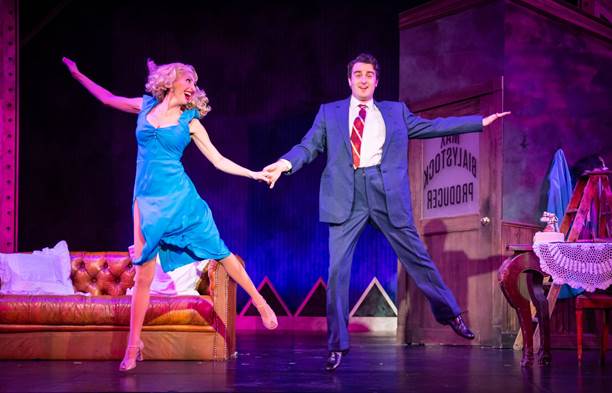 You will be once again blown away by Franz Liebkind as played by Cody Marcukaitis and again by Gina Milo as the playful sexy, Ulla.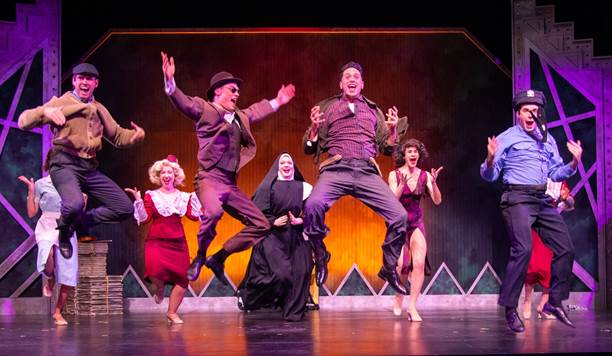 This musical is beautifully and hilariously choreographed by Antoinette Dipietropolo.  
The fun and in-sync dance numbers by the ensemble: Kyra Christopher, Jerome Doerger, Courtney Fekete Carissa Fiorillo, Heather Klobukowski, Ryan Koerber, Gerard Lanzerotti, Ashley Gale Munzek, Matthew Rafanelli, Robert Serrano, Ryan Gregory Thurman, Erica Wilpon will also have you laughing through the intermission.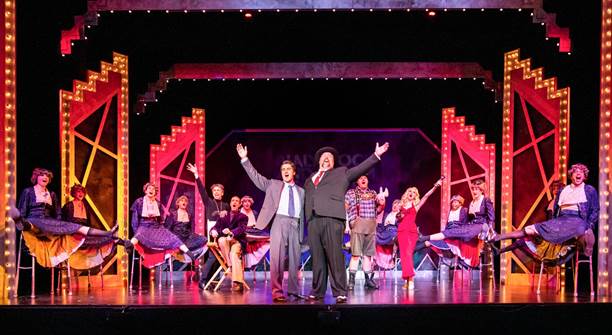 No expense was spared for wardrobe.  From the glamorous Opening Night scenes of gowns & tuxedos to the unforgettable Bavarian food-themed costumes during the play within the play, you will truly be impressed.  You will scream with laughter as each one reaches center stage and might even crave Octoberfest in Spring.
The latest production of the Argyle Theater will definitely launch a successful second season of shows.  The Father and son team of Mark and Dylan Perlman have brought a piece of Broadway to the South Shore of Long Island.  Everyone should come out and spend a fun evening in Babylon Village.
The Producers: March 14th - April 20th
The Argyle Theater
34 West Main Street
Babylon, NY 11702
631.230.3500
Upcoming shows for the second season:
Million Dollar Quartet: May 16th – June 23rd
Legally Blond: July 11th – August 25th
The Full Monty: September 12th – October 20th
Miracle on 34th Street The Musical: November 14th – December 29th
Disney's The Little Mermaid: January 16th – February 23rd, 2020
Cabaret: March 12th – April 19th, 2020
Editor's note: about this Theatre
By Jeanne Lieberman


 The Argyle Theatre, the newly renovated and historic theatre on Main Street in the Village of Babylon, NY, opened in Spring, 2018 with the musical Guys and Dolls, the first show in a full roster of plays, musicals, concerts and other performing arts. The theatre will offer six annual main stage productions featuring performers from Actors Equity Association, the union for professional stage actors.
The much-anticipated performance venue has been brought back to life by Mark and Dylan Perlman, a father-son duo behind the $3-million project. Seaford residents Mark Perlman, psychologist, and Dylan Perlman, actor, have long dreamed of bringing high-quality live theatre to Babylon, NY.
The Argyle Theatre has a rich history of entertainment reaching back to 1921 when a newspaper article in the Babylon Leader announced plans for a "$100,000 Theatre for Main Street." With a 1,500-seat capacity, the new Capitol Theatre was expected to be "the finest theatre on the South Side." The new entertainment venue would not only benefit residents, it would help Babylon become a more attractive summer resort for vacationers.
A 1923 playbill advertised daily performances ranging from vaudeville to adaptations of Broadway shows such as The Hero and East Side West Side.
In 1925, the Suffolk County theatre re-opened under new ownership as the BabylonTheatre, delighting audiences with its many modern improvements including a flashy electric marquis. An advertising campaign to surrounding communities was so successful that 500 people had to be turned away on opening night. It was obvious that the Babylon Theatre was poised for success.
Throughout the following decades, the Babylon Theatre survived two fires and several different owners as it continued operating as a modern cinema house until 2014.