Arielle Jacobs and Jose Llana. (Photo: Billy Bustamante, Matthew Murphy, and Evan Zimmerman)
Here Lies Love
By Cammy Paglia
The story of Imelda Marcos is taking Broadway by storm in the musical Here Lies Love. This show is a spectacle like none that has gone before.
The concept, music and lyrics of Here Lies Love are the brainchild of David Byrne, with additional music by Fatboy Slim.  A retelling of the story of Ferdinand and Imelda Marcos, the show depicts a nightmarish regime of dictatorial bloodbaths and mayhem imposed upon the Filipino people. It leaves one thunderstruck. Even if you are not Filipino nor were alive when the Marcoses were in power, Here Lies Love will give you an aching heart.
The historical accounts of Ferdinand and Imelda Marcos are presented with great clarity. A bit of a brush up course in this subject matter would make for a more enriching experience, but it is certainly not necessary (the Playbill contains an historical overview of the plot, complete with a charted timeline). The show does an excellent job of transmitting the essentials of the Marcos's kleptocracy of greed and tyranny.
Here Lies Love is the first ever Broadway production comprised of an all-Filipino cast. Jose Llana has the role of Ferdinand Marcos. His performance is a bit flat compared to Conrad Ricamora's Ninoy Aquino -- Ricamora's depiction of Aquino's demise is particularly shattering. Arielle Jacobs plays a beautiful and vivacious Imelda Marcos. The performance this reviewer experienced showcased Reanne Acasio as the understudy for Lea Salonga. While this initially was somewhat of a letdown, Acasio in the role of Aurora Aquino did not disappoint.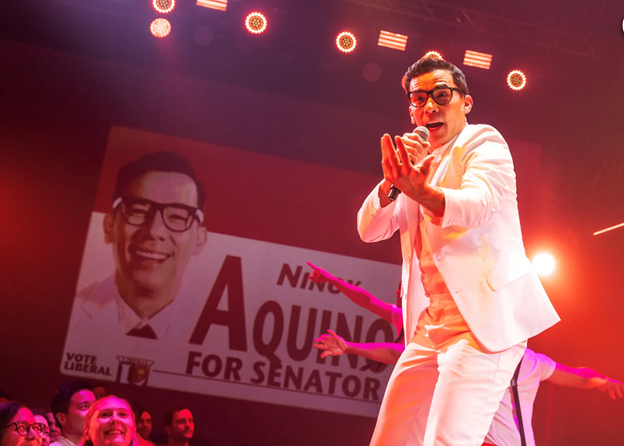 Conrad Ricamora ((Photo: Billy Bustamante, Matthew Murphy, and Evan Zimmerman)
Imelda's maid and nanny, Estrella Cumpas, played by Melody Butiu tells a heart wrenching tale of her deep devotion to the young Imelda who spurns her, once she ruthlessly gains wealth and power. You would need to be made of ice to not feel her betrayal.
Here Lies Love is a multi-media undertaking that pushes the envelope of creativity. Moving stages as well as moving actors challenge the senses as video screens surround you, displaying many things besides what is happening in the theater. These screens engulf the proceedings from every angle. (It's also important to know that flashing strobe lights, smoke, loud music, and noises permeate the show.)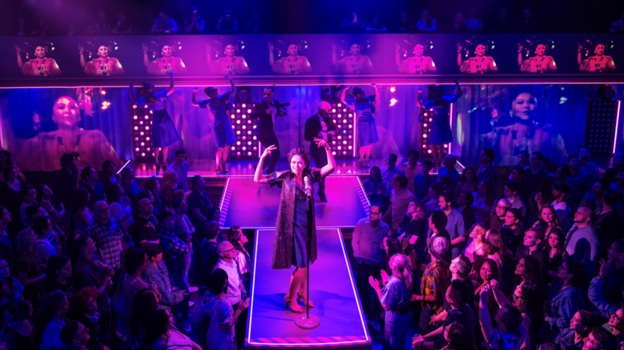 Arielle Jacobs (Photo: Billy Bustamante, Matthew Murphy, and Evan Zimmerman)
Video clips capture the fashion of the 1950s and 60s (costumes by Clint Ramos). A case in point is the marvelous depiction of the wardrobe accessory of the day, Jackie Kennedy's iconic pill box hat, impeccably worn by a flashy, bedazzling Imelda as she jets around the globe. As well as visuals of Imelda and Ferdinand Marcos, other images incorporating the historical chronology of events are presented – among them, Jackie Kennedy, George Hamilton, and Nikita Khrushchev.
Surprisingly, there is no mention of Imelda's 3000 pairs of shoes, but if one observes carefully, snazzy high heels adorn Imelda's feet. 
The audience faced many challenges as turning your head one might find a performer standing on the upper level, right next to the seating area, belting out a tune. Even though the usher explains that a particular area next to the seating space was to be left open for actors to perform, their close proximity is unexpectedly exciting.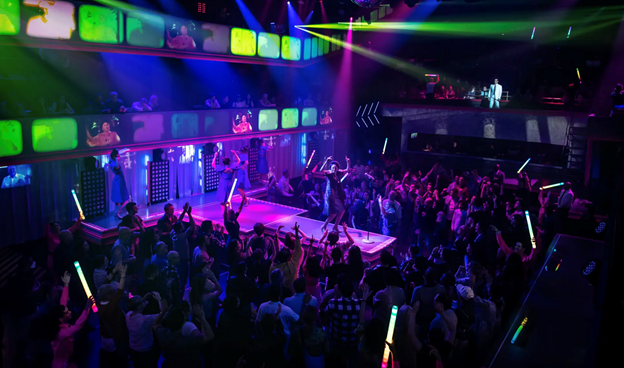 (Photo: Billy Bustamante, Matthew Murphy, and Evan Zimmerman)
The set transforms into various venues with the main action taking place in a discotheque where audience members are incorporated into the storyline as dancers and guests. Their images are also projected onto the video screens as they become part of the experience, as when Ninoy Aquino, Ferdinand Marcos' political rival and later his prisoner pulls in random people from the audience. When Aquino puts his arm around each person, their DeMille-like closeups also project on to the multiple video screens.
The show's director, Alex Timbers, tasked with a colossal undertaking, certainly delivers. David Korins, Justin Townsend and M. L. Dogg are credited with scenic design, lighting design and sound design respectively. Their efforts are nothing short of ingenious.
Stage manager Ryan Gohsman, would be well equipped if he had his head on a spinner, as would all involved in Here Lies Love -cast members, theatrical personnel and audience alike. There is so much to take in; the show, from a purely sensory perspective, is breathtaking.
When Imelda Marcos insistently sings that everything she did was for love, your heart will go out to the Filipino citizens, and also to the actors in Here Lies Love, who give their all, showing great pride in their heritage and their people.
Here Lies Love
Broadway Theater, 1681 Broadway
Through January 7, 2024; Tickets, $139-299