Kismet Update: The Summer That Wasn't
I apologize for the seemingly sad note on the summer 2020
I never doubted that there would be a season even when advised otherwise
The spirit of Kismet, regarded rightly by many as the friendliest town on the island, would rise again

And it did
In lieu of the traditional events we were blessed by extraordinary great weather and the joy of just being here sufficed for many,
enhanced by the absolutely friendliest of our service people from the restaurants to the shops to  the market
often under strange constraints.
Kismet has been my summer home for 45 years and I would never desert or doubt it
(potential drowning not withstanding)
So I am confident it will return to its former energy
and congratulate all who accommodated the
new virus dictated rules
and kept us healthy and carefree.
Meanwhile. as observed from my veranda, the average age
of this summer's Kismet residents is 7.
The average age of the herds of unmasked day trippers is 15.
Where are the grownups? An entire generation is missing.
At this time last year I would be happily listing all the events for this holiday weekend including competing music events at the Inn and the Out
(which were All FREE)



Alas there are but two:
To compensate for the premature canceling by the band for last weekends music The Out is providing two events
Tradewinds  Sat 5:30-9
Tim Mooney's band Sun 5:30-9
Reservations Advised as seating is limited
From the Out:We are not having bands , we are having dinner music with 3 to 4 people performing.
Please note that there is no dancing

Aside from the July 4 parade of decorated houses (thank you Sam)
and Linda Knoth's Sandcastle competition
all other traditional activities have been scrapped due to the virus.
The closest to an old fashioned mega event was Dawn's birthday so creatively celebrated on the sidewalk in front of their house.
Other events
NONE
NADA
No last free movie
No book club
Pilates and yoga
No Block parties
No Flea Market
No Bake Sale
No Duck Races
No Comedy Night
No KFDA mega fundraiser
Etc Etc Etc
On the bright side, former KCA President Bill Jenks,
revered for achieving the new sidewalks Kismet needed so badly for so long, advised that this week we have finished paying the taxes on them.
(Note: Marsha Hunter, who did much of the work to get the Kismet sidewalks, announced at the last KCA meeting that the bonds had been fully paid for. )

Our KCA election, so heated last Fall (pale compared to the current one)
is seemingly settled with
Gary Leone as president
Frank Boulton as vice president (has not accepted nomination yet)
Wendy continuing as secretary
Jane Mooney treasurer (running unopposed)
Tom Licari second V.P.
Official election expected this week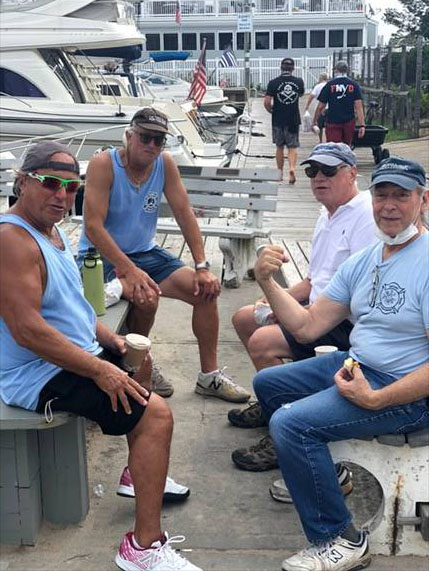 One little known long term tradition is the weekly
Saturday Power Breakfast celebrated these 20 years Tom Licari, Charlie U, Peter and Mike Fiore (Mel was quarantined in F H) this year instead of The INN, which no longer opens for breakfast, by the flagpole

Rosh Hashanah this year begins Friday evening Sept. 18. Regrettably, due to the COVID epidemic, a service at the Firehouse cannot be conducted this year. Other sites in FH were considered but a number of concerns stood in the way.
We wish everyone a Shana Tovah, a rapid end to the epidemic, and a meaningful holiday period of reflection.
(no word yet on Saltaire's church availability as venue)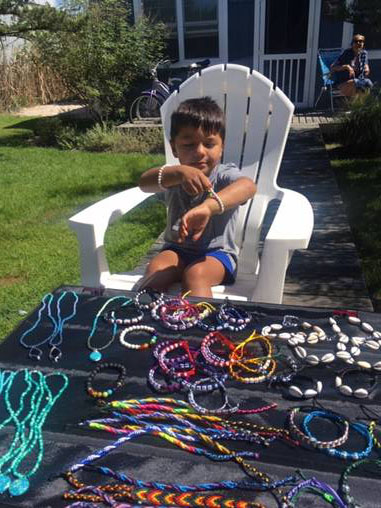 Enzo new Kismet salesman models his wares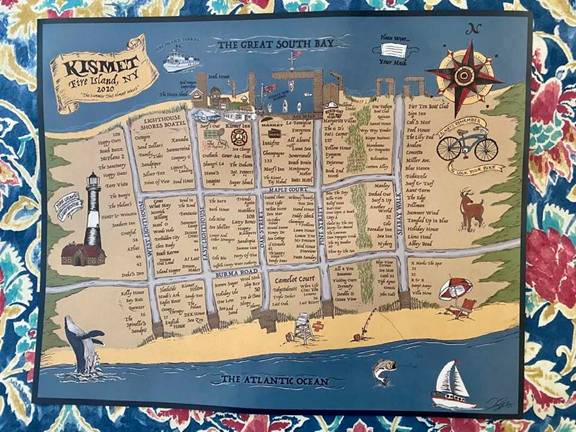 For sale
Our beach town! Kismet, Fire Island 2020. Most folks name their places to make it easy to remember. Of course we have numbers for our Fire Department.
Thanks to the KFDA ( Auxiliary) for creating this wonderful memory. Let me know if you want to buy one!
Patti Lyon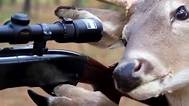 Deer Management plans: Another slaughter this winter?
Although not officially confirmed the original plan to continue culling the herd through sharpshooters or even amateur gunman as previously stated (although contraceptive measures have been tried and proven effective) is likely to repeat last winter's nightmare.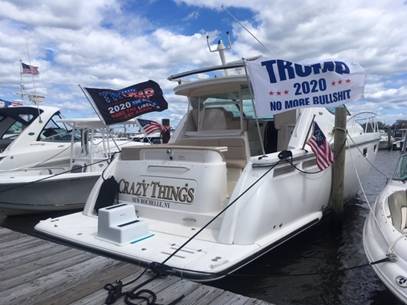 Is this really necessary?
Flags read: Trump 2020 Stop the Bullshit
Trump 2020 make the Liberals cry again
Coming up: international Coastal Beach Cleanup
Islip is lending supplies
please wear mask and gloves call Sam for details
Sunday 9/27 8;30 meeting seabay & beach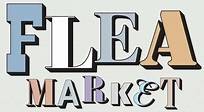 Mini FLEA MARKET
Sunday September 6
3-6 pm 133 Pine Walk
Books, Beach Coverups, and lots of good other stuff.
Benefit for Kismet League for Animal Welfare
A 501c3 non-profit organization
August 17 thru September 8
Kismet Summer Schedule 2020
Use Saltaire Terminal for All Trips Unless Marked M: Use Main Terminal
Monday-Sunday
| | |
| --- | --- |
| Bay Shore Kismet | Kismet Bay Shore |
| | | |
| --- | --- | --- |
| M7:00am | | 7:50amM |
| 9:00am | | 9:30am |
| 11:00am | | 11:30am |
| 1:00pm | | 1:30pm |
| 3:00pm | | 3:40pm |
| 5:30pm | | 6:10pm |
| M7:30pm | Mon. thru Thurs. Only | 8:00pmM |
| 7:30pm | Fri. thru Sun. Only | 8:00pm |
| M9:30pm | Except Sun. | 10:00pmM |
Legend
M - Use Main Terminal
- Trips will not run Monday, Sept. 7
- or Tuesday, Sept. 8
…and that's Kismet!!!