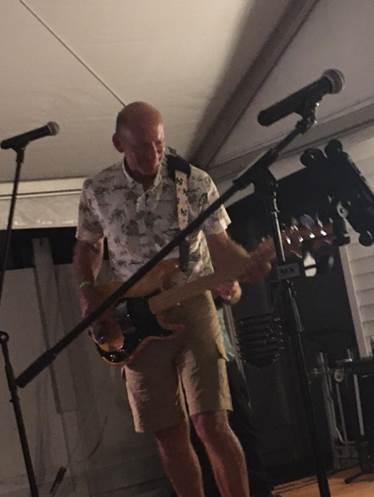 OVER THE MOON WITH MOONEY
I am certain that when America's newest astronaut Richard Bransen went into orbit the energy generated by Mooney and Friends was easily spotted as it pierced the atmosphere over Kismet - be it the Inn or Dive's courtyard-
which the band ignites whenever they take the stage.
While each member of this boisterous bunch twinkles terrifically as they generously generate their own considerable wattage they give new meaning to " blow the roof off (or tent in this case)" when they combine In their legendary endless final set.
Credit drummer Mike Regal  who provides the booster shot with his persistent pulsating searing solo - cardiacs take care as it will effect your heart rate (I myself have levitated off my scooter in an earthly version of weightlessness)
When I first saw Tim was "auditioning" with a small combo at the end of the Out bar on a weekday night and thinking "wow! the owner of  the ferries plays the guitar!"
It seemed all very tentative, Mooney a little uncomfortable and humble in the  mini spotlight.
But excellence is its own press agent and Mooney's music was instantly accessible and kind of homey while being intensely sensual and still contemporary.  Who knew????
Mooney's band is greater than the sum of its parts who shine mightily as each is generously given star turns:
this from Tim Mooney, comments by Jeannie
"The band is Jen Corpuz (awesome singer),I remember when she was an occasional  add on  now like the guest who came to dinner and mercifully stayed a cherished staple.
Dave Goldman (guitar/trumpet/vocals), Whom I remember sitting nervously on the sidelines nursing his drink while awaiting/hoping for the chance to sit in. Now he  frequently takes over with his muti-instrument versatility and congenial personality
 Mike Regal (drummer)  see above
 Kurt Rasmussen (guitar/vocals)  whose seductive base guitar provides the underpinning from which the others jump off,
Bobby Sarnowski (keyboard/vocals) who supports and enhances each player
and me.
Tim is the glue that keeps it together and adds his own distinct flavor

We have a very eclectic song list, difficult to categorize. Everyone in the band has a different music appreciation and we bring that to the songs we choose. We do cover a lot of ground musically. There is something for everyone (we hope).
The band came together over years of "open mic nights". Our late friend John "Big Daddy" Struck started the whole thing. Through the years I joined John (2003), then Kurt, then Mike (who owns The Homestead restaurant in Oyster Bay) started open mic night on Wednesday's. That is where we found Jen, Bobby and Dave. The rest is 3 to 4 years of playing and practicing together.
I hope you had a good time Saturday night. We had a blast.
Tim"
Kismet has no need to import cover bands when we have our own
Keep it local!!!

What more can one say than "THANK YOU"
the pictures tell it all:
INN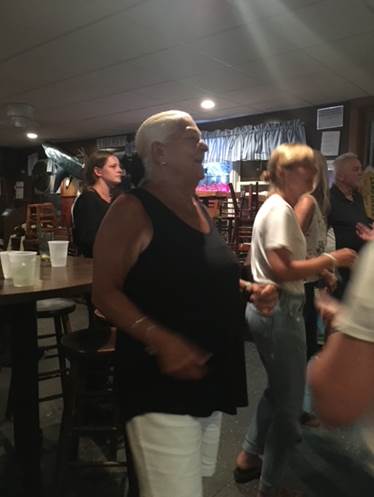 DIVE