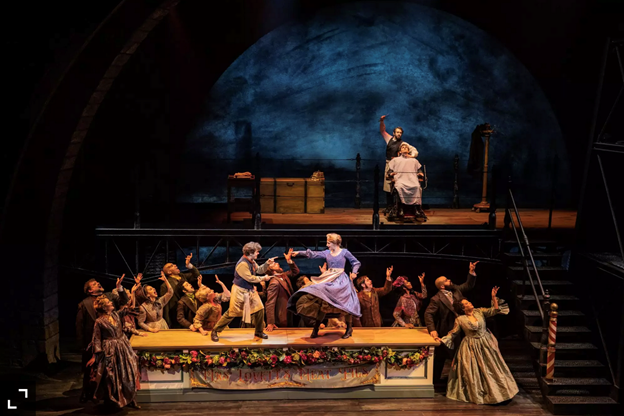 The cast of Sweeney Todd (Photo: Matthew Murphy and Evan Zimmerman)
Sweeney Todd
The Bloody Demon Barber of Fleet Street returns in full glory
By David Schultz
A full-throated revival of Stephen Sondheim's operatic musical has returned yet again to quiver the soul and chill in equal measure. A 1973 play adapted by Christopher Bond proved intriguing enough to prod composer Stephen Sondheim to team up with long time director Harold Prince to create Sondheim's most operatic musical in 1979, opening to raves and a plethora of Tony Awards.
Many productions have opened since then with varying success. No revival since the original production had the physical and financial means to fully display the work in its immense scale until now. With the passing of Sondheim in November 2021, anything with his name attached is box-office gold. This current revival is selling out on a regular basis and is proving to be a highly coveted ticket, much of the intense interest no doubt due to the casting of Josh Groban. (More on that later.)
The well-known plot concerns Benjamin Barker (Josh Groban), unjustly imprisoned for fifteen years on trumped up charges, as he escapes his prison and returns to London with revenge on his mind. The vile Judge Turpin (Jamie Jackson) had defiled Barker's wife and had kept Barker's daughter Johanna (Maria Bilbao) as his ward, with the lecherous thought of marrying her.
Upon returning to his old stomping grounds, Barker finds his old tonsorial parlor in disrepair and discovers an odd woman, Mrs. Lovett (Annaleigh Ashford), toiling away in a wretched pie shop on the lower level. Mrs. Lovett informs him that his wife took poison and that the evil judge has designs on his virginal daughter.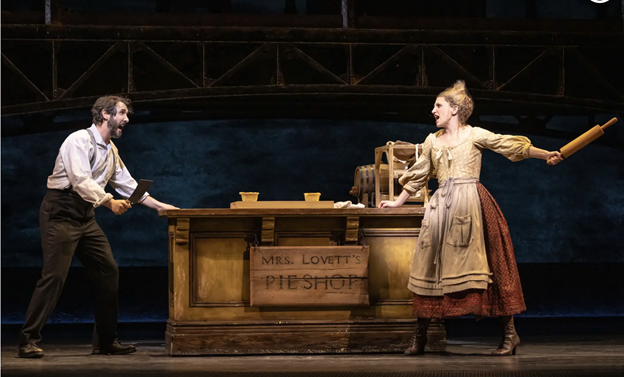 Josh Groban and Annaleigh Ashford in Sweeney Todd. (Photo: Matthew Murphy and Evan Zimmerman)
Since the pie business is drying up, the two of them come up with a dastardly plan. While Barker, who has by now changed his name to Sweeney Todd, awaits the chance to slit the throat of the judge…and with "the price of meat, what it is, do you get it? Good you got it," the duo devises a demented plan to serve each other's needs, and to serve the hungry masses with delectable new ingredients.
The various denizens of the city are disheveled and wretchedly poor, and unaware of what is about to happen to their city, much less the ingredients of those crunchy, thick pies that they suddenly crave. A bedraggled beggar woman (Ruthie Ann Miles) hovers in the background, wailing that evil and mischief are in the air. The lovelorn sailor Anthony Hope (Jordon Fisher) swoons over Johanna, unaware of her sordid history and connection to Sweeney, until later on.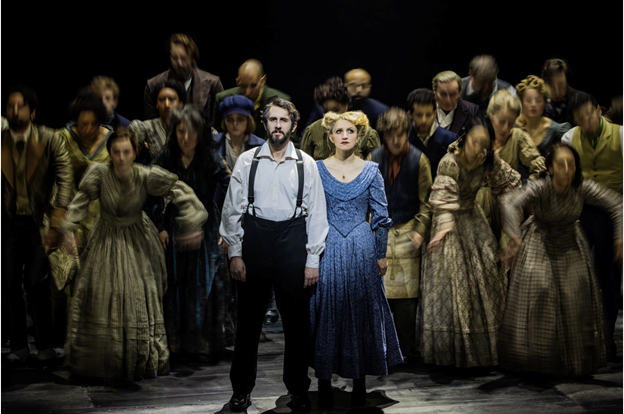 Josh Groban and Annaleigh Ashford in Sweeney Todd. (Photo: Matthew Murphy and Evan Zimmerman)
The production has all this and more, but is hindered by a few factors. First and foremost, the casting of Mr. Groban. Many in the audience roared with loving admiration with his first appearance, as they would a rock star. Groban is softer and less demonstrably a monster of a man than other performers have been. He has the Groban fans lapping it up the entire evening, rarely revealing the complex trauma and rage contained within. He is so dammed nice, that the audience seems to agree and go along with his murderous ways, without many qualms.
Annaleigh Ashford compels with her reading of a loony, lonely woman searching for love…. even if a bit of murder pops up now and then. Her grasp of Sondheim's lyrics is spot on as she consistently seems to surprise herself and the audience with her improvisational vocal tics.
Everyone in the cast is at the top of their game musically. Gaten Matarazzo as the baker's boy helper, Tobias, brings a soft gravitas to his role. Mention too goes to Nicholas Christopher as Pirelli, perfectly sleazy and smarmy in his tonsorial shaving duel with Sweeney earlier in Act One.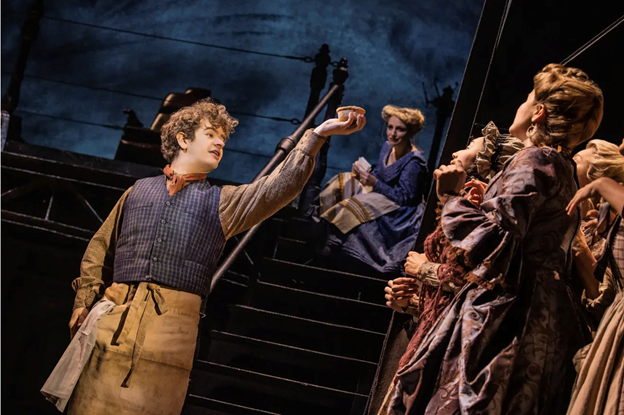 Gaten Matarazzo in Sweeney Todd. (Photo: Matthew Murphy and Evan Zimmerman)
The overall sense of foreboding and excessive creepiness has been oddly muted in this production. The joyful love-in with the two charming leads does negate some of the mixed emotions one should have toward these murderous, craven souls.
The first act is unusually light-hearted, with an almost boulevard comedy aesthetic. The musical's dark edges hover on the outskirts; when the second act finds it its footing and gets to the meat of the matter, the drama spirals to its bold and bloody climax.
Putting that aside…who can quibble with a glorious 26-piece orchestra in full bloom with original orchestrations by Jonathan Tunick. Steven Hoggett's spastic, zombie-like choreography recalls the 1980's Michael Jackson Thriller video — birdlike arm movements and jerky spasms seem to be his calling card in this production.
Lighting by seasoned pro Natasha Katz works delirious magic with her razor-sharp effects in the cavernous theater. The set design by Mimi Lien is perfection; the production does echo ghostly remnants of Eugene Lee's original. The highly vaunted chair that Sweeney uses to dispatch his victims works, but lacks the sheer horror and dread it should inspire; perhaps the audience almost gives a pass to SweeneyGroban as he sends them to their maker "impeccably shaved". 
Director Thomas Kail obviously loves this work. His crowd-pleasing, rabble-rousing, overarchingly light take on this demonic barber does delight the eye and ear. Even though my secret wish is for a darker rumination on this musical, who can quibble when confronted with such a masterpiece. Yet, the sold-out crowd roared with laughter at times, their enthusiasm draining the show of its violent intensity, even as the standing ovation audience jumped to their feet as the musical reached its corpse riddled finale. 
Sweeney Todd
Playing at The Lunt -Fontanne Theater. 
205 West 46th Street. 
(212) 575-9200.
Tickets: $173-$659.  https://sweeneytoddbroadway.com/tickets/
Ticket Lottery $30.
Open Run