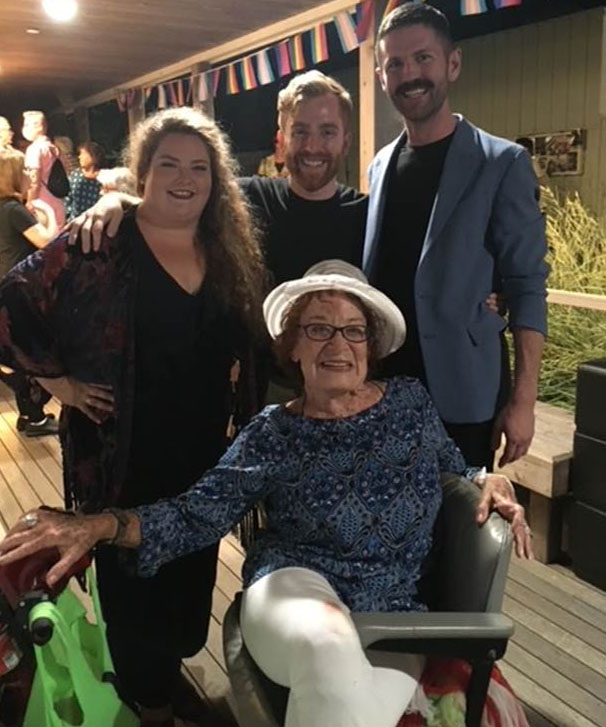 Gillian Hassert, Kyle Torrence, Jeanne Liebeman & Matthew Stephens
Over the Piano
                 Songs and stories told over the piano

By Jeanne Lieberman
 
For the many of us starving for the return of live musical theater
The Cherry Grove Arts Project provided a talented trio as much needed solace.
Indeed any live music and vocals would have been gratefully received
but we were lucky to have these stellar performers.
Credit music Director/pianist Matthew Stephens for masterminding the evening by choosing a list of 22 mostly recognizable and beloved Broadway songs and cleverly intertwining them with the ample talents of Kyle Torrance, a man of many voices from operatic to Broadway belter to cabaret to hilarious falsetto as Little Mary Sunshine ("Little Bit of Good" from Chicago) later in the show.
Lest the evening get too saccharine, a perfect foil for this multi talented young man is Gillian Hassert who contributed a sarcastic comedic flair along with her mellifluous vocals.
The opening "Hello Dolly" medley is irresistible to any theater nerd and the house was in their hands but, immediately after Stephens' inventive approach combined "Almost Like being in Love" with  "Oh, My Feet" (Most Happy Fella) and  the romantic, optimistic "Ten minutes ago (I met her)" with the hard edged "10 cents  a dance ".
Kyle got  the lyrical traditional standards like "Hold My Hand" while Gillian delivered the iconoclastic "Down with Love".
These clever combinations were both amusing and attention grabbing to the knowledgeable Grove crowd. .
While I was enjoying these offerings immensely it wasn't until almost halfway through when a straight forward and sincere rendering of "Suddenly Seymour"  struck a chord  and I suddenly became teary at this favorite of mine, filling me with nostalgia at what we all missed these past thirteen months. 
I was  saved from an emotional breakdown by two versions of "Lover Come Back to Me" which Kyle delivered in the traditional operetta style and Gillian teamed with a jazzy version. Something for everyone.
Both regaled with trials and terrors of the painful rite of passage to most musical theater aspirants: Auditions  Gillian reminding of how the finishing climax to a song she was singing was cut off by her rejection. Kyle's repartee recounted a favorite but very difficult song called "Anthem"  that he thought was unique only to discover that many others use that song and few finish it and so, for this audience, he persisted in singing it in it's entirety to the applause of this audience.
Several songs later the satisfying chestnut "You're not sick you're just in love"  got the crowd going and the finale "Happy Days" with its upbeat optimism crowned an evening of hope and optimism with the return of the Broadway Musical just weeks away.
Thank you, Cherry Grove, for clearing the way to that glorious goal and thank you Kyle, Gillian and Matthew, who shaped it so beautifully, for leading the way back to the dream come true. 

1. Hello Dolly Medley
2. Almost like being in love/ooh my feet
3. Ten minutes ago/ten cents a dance
4. Hold My hand
5. Down with Love
6. She's a woman
7. Toothbrush time
8. Piano Bar Medley
9. Suddenly Seymour
10. Lover Come back to me (two ways)
11. Bill
12. Anthem
13. Little Bit of Good
14. Poor unfortunate souls
15. Waitin
16. No one is alone
17. What baking can do
18. Dont rain on my parade
19. You're not sick your just in love
20. Jenny's Blues
21. I'd give it all for you
22. Happy Days