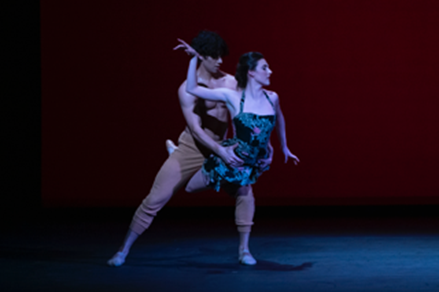 (Left to right: Roman Mejia, Tiler Peck in "Cornbread"
Photo: Paula Lobo

Twyla Now
by Deirdre Donovan
Twyla Now, breezed into New York City Center in mid-November, much to the delight of her fans. A medley of old and new works, it was a rare opportunity for dance aficionados to see the choreographer's work through a bi-focal lens, merging the past and present.
Tharp, who turned 80 this year, was quoted in a recent New York Times article that all four dances in the City Center program had a "community" theme and that "each one of the dances is my hope for a perfect world."
First up was "Cornbread." When it debuted at the Brooklyn Academy of Music on April 10, 2014, the New York Times critic Brian Seibert thumbed his nose at it, noting that Tharp's work felt less like a stand-alone creation than a high-class endorsement of the band." Well, the good news is that its latest incarnation at City Center landed on its terpsichorean feet. When dancers Tiler Peck and Roman Mejia of the New York City Ballet entered, they took immediate command of the stage, executing pirouettes and fouettés with verve. Fueled by the rollicking rhythms of the string band Carolina Chocolate Drops, and wearing folksy outfits (costume design by Santo Loquasto), they upheld the ballet tradition without being a prisoner to it.
"Second Duet" was all motor power, physically amazing, bravura in motion. Performed by dancers Cassandra Trenary and Aran Bell of the American Ballet Theatre (Jacquelin Harris and James Gilmer performed it on November 17th), this dance, in its world premiere, had the audience on the edge of their seat. Trenary and Bell finessed gymnastic-like maneuvers, boxing movements, and weight-lifting routines to fine effect. According to Tharp, this duet is about "superhuman strength and trust." So be prepared to see two dancers pushing the envelope of the dance form and relentlessly testing each other's physical endurance. This pas de deux is not for the faint of heart.
Things got more intriguing in "Pergolesi." Tharp originally choreographed this dance (it was then entitled, "Bare Bones") as a duet for herself and her former lover and collaborator Mikhail Baryshnikov. The two powerhouses, then middle-aged, performed it on a 22-city tour, premiering in Columbus, Ohio on November 27, 1992. So who were the new stars at City Center? None other than Robert ("Robbie") Fairchild and Sara Mearns. Fairchild, well-known for his years as principal dancer with the New York City Ballet, has gained more star-voltage in recent years for his forays into New York theater with An American in Paris (Tony nomination) and Monster in Mary Shelley's Frankenstein at the Signature Theatre. That said, Sara Mearns was no second-fiddle. A principal dancer at the New York City Ballet, she has a fierce reputation for taking on challenges. In "Pergolesi," the challenges are many, and on the evening I attended, I witnessed both Fairchild and Mearns pull off the most intricate dance steps with ease. The most astonishing thing about this dance? Fairchild and Mearns never touch.

(Left to right: Robert Fairchild, Sara Mearns in "Pergolesi"
Photo: Paula Lobo
"All In" wrapped up the program. With music by Brahms, 14 dancers took the stage, made-up of the 7 aforementioned professionals and 6 young ensemble members (Brady Farrar, Savannah Kristich, Zoe Liebold, Jaiden Galàn Roman, Alycia Williams, William Woodward). Tharp intended this dance to be a merging of the past and the future, with the professionals and up-and-comers of the dance world strutting their stuff side-by-side. Tharp also choreographed it so that swaths of her 3 former works could float in and out of the finale. Sound surreal? A bit. But it was a lot of fun to watch, and the dancers looked like they were having a helluva good time on stage.
What more is there to say? Tharp continues to be astonishing at 80. Whatever is next for her, you can bet it will make a noise.
At New York City Center, November 17-21.
131 West 55 Street.
For more information on future programs at City Center, visit www.nycitycenter.org.