Dive : Joy and Sorrow
Under one roof
By Jeannie
On a nasty night Dive was faced with a challenge.
At a time when the country was grieving the death of 13 Marines defending our country in Afghanistan, the previously schedule effervescent Tim Mooney and Friends band was driven indoors at the Dive by inclement weather.
The problem was how to accommodate these divergent emotions, joy and sorrow, under one roof.

Frankie, the Dive's owner, suggested to Taylor Figgiani, it's manager, that something should be done to commemorate the country's loss marines.
She immediately consulted the three servicemen in her employ:
Kevin McCormack – Marine
Chris Gennaro – Army
John Grayer - Marine
Together they came up with the beautiful memorial table meticulously adorned with an individual place setting in front each name of a fallen serviceman and a candle, and to keep it real, a glass of beer.
According to Taylor reactions were of sadness, some tears. Others showed their appreciation in more Kismetic ways: some bought shots for the fallen Marines which were placed on their plate, some left money for their families which the staff quickly gathered to send to the appropriate destination.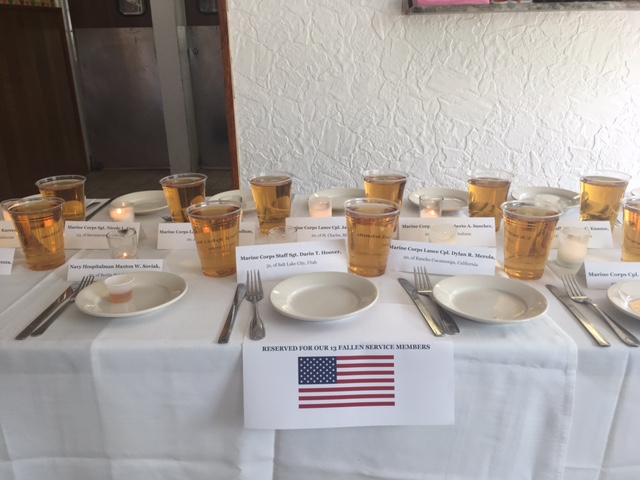 At the opposite end of the venue, in convivial contrast, Mooney and his band of Merrymakers were brightening the dark night with their own brand of cheer, their sunny sound enhanced by Dive's close quarters.
All in all it was a microcosm of our nation, and a true representation of our wonderful community,

"God bless America" was the last selection the Mooney band played ending evening appropriately.
God bless Kismet!
In Memoriam: Lance Cpl. Dylan R. Merola, 20, of Rancho Cucamonga, Cpl. Hunter Lopez, 22, of Indio, and Cpl. Kareem M. Nikoui, 20, of Norco. Middle Row from left: Staff Sgt. Darin T. Hoover, 31, of Salt Lake City, Utah, Cpl. Daegan W. Page, 23, of Omaha, Nebraska, Sgt. Johanny Rosario Pichardo, 25, of Lawrence, Massachusetts Cpl. Humberto A. Sanchez, 22, of Logansport, Indiana, and Lance Cpl. David L. Espinoza, 20, of Rio Bravo, Texas. Bottom Row from left: Lance Cpl. Jared M. Schmitz, 20, of St. Charles, Missouri, Lance Cpl. Rylee J. McCollum, 20, of Jackson, Wyoming, Navy Corpsman, Maxton W. Soviak, 22, of Berlin Heights, Ohio, Army Staff Sgt. Ryan C. Knauss, 23, of Corryton, Tennessee and Sgt. Nicole L. Gee, 23, of Roseville, California