INTERVIEW: FINS SUPERINTENDENT ALEXCY ROMERO
By Laura Schmidt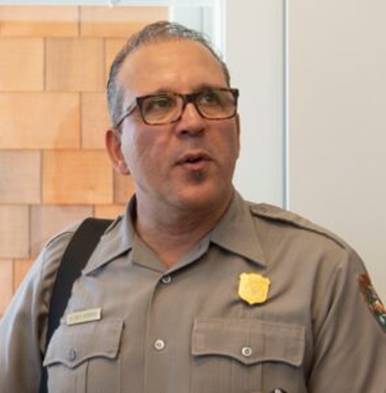 Alexcy Romeroís appointment as superintendent of Fire Island National Seashore (FINS) was announced in August 2018, and he took office the following October. He is a native New Yorker with a bachelorís degree in environmental science from the State University of New York at Old Westbury. With a three decade career in the National Park Service, his prior appointment was as superintendent of George Washington Memorial Parkway in the Washington, D.C. metropolitan area. While at the Fire Island helm for less than a year, Romero has already made some controversial decisions during his tenure, including the culling of the white-tailed deer population within Fire Island National Seashore jurisdiction at William Floyd Estate last March; plans are presently underway to expand this operation. Romero intends to continue on Fire Island proper at least through the year 2020.
Fire Island News (FIN): What are some achievements that youíve been proud of this summer thus far as superintendent?
Alexcy Romero (AR): Oh, thatís a very good question. I would say itís reaching out to the communities through their scheduled Town Hall meetings. I had one last Saturday, July 27. [I] have another one scheduled [August] 10, the other one scheduled [August] 24, just focusing on the vulnerability study, FIMI, FIMP, and driving, so actively engaging the communities. Working with the Fire Island Lighthouse Preservation Society on replacement of the steps. And, again, I think this summer season has been focused on outreach and civic engagement. Working with non-profit groups regarding the Carrington tract and seeing how we could work together to utilize the facilities that fulfill the National Park Service mission. So thereís a couple things in the works.
FIN: Regarding one of the Town Hall meetings held in July, you mentioned the addition of driving restrictions on the island. Is there anything new to report regarding this?
AR: Weíre still using the Blue Book as our regulations. Thereís some changes that we can make under the current Blue Book but what the Town Hall meetings are focusing on is fact-finding, testing the assumptions. Iíve heard a lot of concerns from the interactions that Iíve had with communities regarding driving. So [we ask] very simple questions that weíre just looking for responses from the community just to make sure that weíre on the right track. To make sure that we are making informed decisions based on community concerns or issues. So thereís no changes, just fact-finding
FIN: On the same subject of island transportation, since some Kismet and Saltaire community leaders expressed concerns with the new Fire Island Pedicab service Ė they were concerned with it blocking emergency vehicles or other cars Ė have there been any conversations discussing this issue?
AR: Well, Iíll be honest with you, there is both, people expressing concern and there are people that are actually applauding this new experience to access Fire Island. So, there are people that are very happy with having two Ė weíre talking about two Ė pedicabs, leaving from Field 5 to the old fire house, that are transporting probably four people every hour compared to the hundreds of people that are walking from Field 5 to Kismet. So weíre talking a small fraction of people that are being transported. Itís not what you see in New York City with a whole bunch of pedicabs, weíre talking about two pedicabs transporting four people probably every hour. So itís not a huge influx of people that are being transported. And the other thing I wanted to point out is that the permit that was issued, was issued through the state at Field 5, and they were just coming through our property.
FIN: Regarding the Deer Management Environmental Impact Statement that was entered in the Federal Register at the end of 2015, now that itís been fully implemented this year, what can be expected this upcoming fall with this removal plan?
AR: Right now, we are still figuring out Phase Two. One thing has been identified: we have to work with our partner agency, with the [National] Park Service, and we are not Ė we have not engaged with them because of staffing issues that theyíre trying to resolve now. So we donít have a plan, a strategy or a timeline until theyíre able to backfill behind some positions in order to begin the planning process. So thereís nothing set just yet.
FIN: Will Phase Two still involve the removal of deer?
AR: Yes, it would involve the culling of deer. Yes.
FIN: Ok. Many Fire Islanders as well as some animal rights groups have not been pleased with the way by which the deer culling has been conducted. Would you and FINS consider non-lethal methods in the future to appease these groups?
AR: In the future, I guess, yes, we will explore all options. We, many years ago, used a contraception method for up to 10 years as a study, and right now itís not considered a study unless itís 10 years or more so we were advised to stop using this as a study. What we will look into in the future is other methods. Of course, they have to be state-approved. Right now, PZP [an immunocontraceptive] is not state-approved, and weíre just following the standards of the state in order for us to begin implementing contraception in the future. But, yes, we will explore other options in the future to maintain deer population. And the other thing I wanted to mention, the study for contraception has shown in areas to be effective and other areas not to be effective. And thereís a number of things that we can provide in the future to share.
FIN: Did you explore other options such as deer repellents, deer-resistant plants, or visual or auditory deterrents?
AR: I canít speak to that right now. I would have to talk to my Chief of Resource Management regarding that, but I understand that the study was comprehensive in exploring all options. But I canít confirm that.
FIN: Would you be able to say some of the reasons non-lethal options were denied during the planning process?
AR: Again, Iím going to have to confirm that with my Chief of Resources and get back to you.
FIN: Regarding the Seashoreís claim that deer are ruining growth in the Sunken Forest, were you at all concerned about the agreement made when Wildlife Preserves deeded Sunken Forest to FINS in 1966, which stated that these lands must be maintained in their natural state and act as a sanctuary for the wildlife that exist within it? Was this a concern that was brought up when creating the deer management plan?
AR: Thatís a legal matter right now that I canít speak to until itís settled.
FIN: At what point will the deer culling come to an end? Is there a goal population number to be reached and do you think it will still be ongoing in 2020?
AR: Deer management will continue in 2020, and beyond, as necessary. Deer densities of 20 to 25 deer per square mile have been shown to allow for a healthier, more diverse forest habitat, which can support a healthy deer herd as well as other native wildlife. This initial deer density goal will be maintained until vegetation is given ample time to recover from over-browsing. Information collected through deer and vegetation monitoring will guide future management actions. The deer density goal can be adjusted if and when vegetation goals are reached.
FIN: What are some things that are at the top of your list to accomplish by the end of 2019?
AR: I would say to continue working with the Army Corps of Engineers in finalizing the FIMP and FIMI beach nourishment process, coordinating those efforts by issuing the proper permits to complete FIMI, and in parallel tracks completing the necessary steps for the Fire Island to Montauk Point plan with the Army Corps to have the final draft signed off and approved by the Secretary of Army and Interior in Washington, D.C.
Remaining scheduled NPS Town Hall meetings take place at Saltaire Village Hall on Saturday, Aug. 24, from 10 a.m.-noon; and at Woodhull Elementary School, Surf Road, Corneille Estates, on Thursday, Sept. 12, from 6:30-8:30 p.m.