By Jeannie
The ubiquitous Club Cumming, newly opened for an event filled week  in Cherry Grove, is newest edition of the Alan Cumming's  successful club in NYC, where Alan collaborated  with owners Benjamin Maisani and Darren Dryden ("I Knew nothing about running a bar") and Grove's own gay nightlife promoter Daniel Nardicio, who brought it here.
Club Cumming began spontaneously in Alan Cumming's Cabaret dressing room while he was appearing on Broadway for his friends and celebrities who would visit nightly after each performance.  He personalized it with his own cups and napkins, vegan soup, Campari kicked in and eventually had neon light and a doorman. One could soon find versions in Los Angeles, New Orleans, and Edinburgh, Scotland.
Cumming prefaced the evening stating he wants his club to be a home for everyone of all ages, all genders, all sexualities, who all enjoy letting go and making some mischief. "No judgments, no attitude, no rules, except kindness, acceptance and fun"
The July 6 show, 9 PM Saturday night, offered a pungent potpourri of performers, some hits, some misses, ranging from a hyperactive tranny, to a deceptively charming folk singing rebel, to a dour diva, to a neophyte coat check girl and bartender making their debut appearances in the Grove, clearly delighted with the typically generous reception the Grove always gives, to a rousing pull out the stops drag queen.


Cumming commenced the evening with a somber selection, "Love and Love Alone," by Kander and Ebb, from "The Visit."
Hyperactive trannie Daphne Always resembled a jumping jack as she sang "She's Passable," (take off on Cinderella's "Impossible" then brought the house down with a similar re-interpretation of  "Money Money Money," calling it her "boob song," - "I'm a tit man's girl" for "In a rich man's world;" and then a version of  "It's Oh So Quiet" bringing to mind the Betty Hutton classic.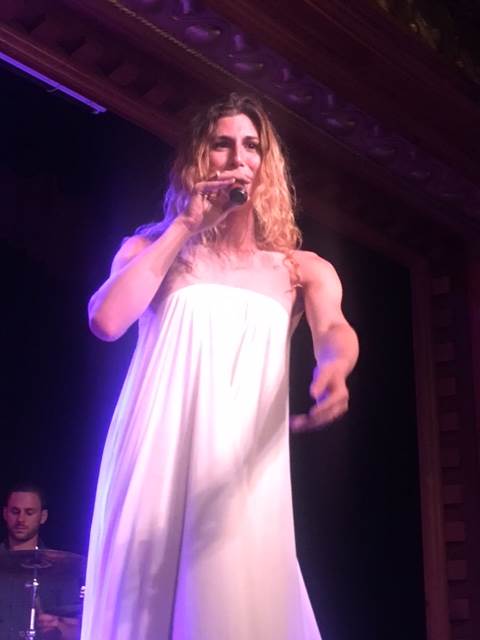 Rebel folk singer-songwriter Jill Sobule had the compliant crowd singing along with her political song  "When they say they want our American back,/Well, what the fuck do they mean?"


Then she segued into a paean to the first person who broke up with her in 6th grade
"You will never love me
And this I can't forgive
and this will always bug me
As long as I will live"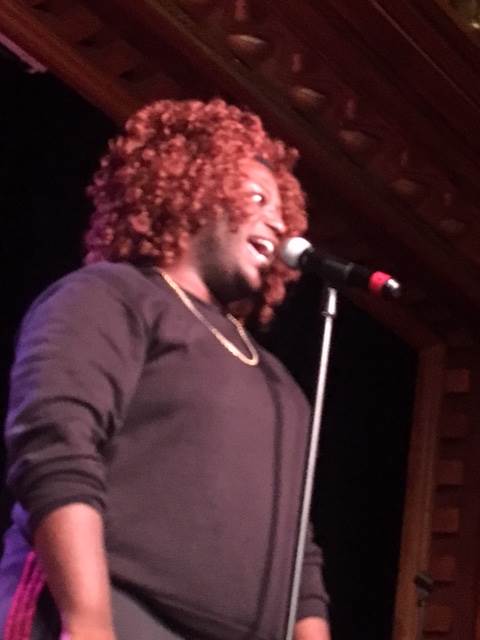 The powerful Larry Owen kept everyone in suspense as she donned his furs wig
"I am Oprah I don't need a husband, I have a Stedman"
Then became Bernadette Peters locked in a black body delivering a very credible version of "Sunday in the Park with George"
…As Viola Davis his high point was enlisting Cumming to join in a yoga class.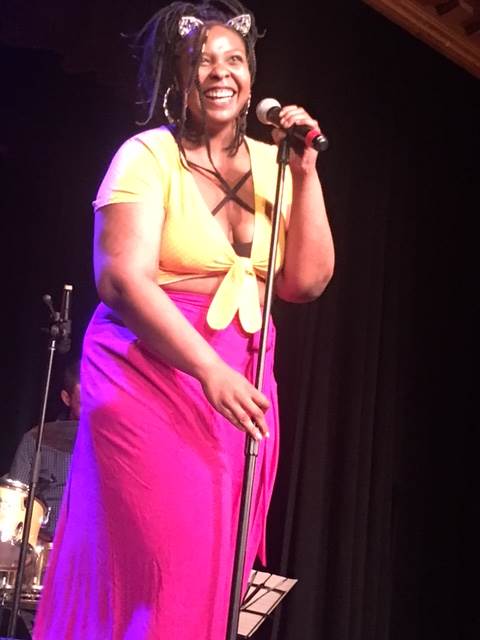 Alissa Todd, bartender turned chanteuse, reflected the delight with which she was received as she sang "Breathe," from "In the Heights." Followed by a more recognizable "My Baby Just Cares for Me" and then turned serious with an ominous "Daddy Lessons."
Catherine Cohen delivered a seemingly stream of consciousness patter
embracing sexually liberated comments in "It's Just that Time of Year," and closed with a deliberately shocking "Kick Back and Take a Shit in the Streets."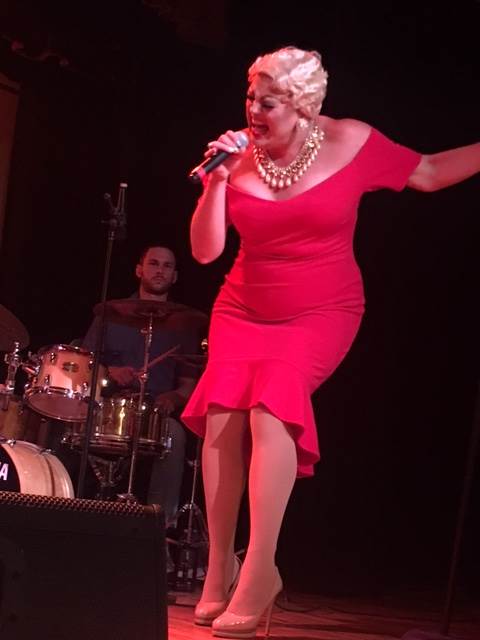 Ellia J. Garland took on the classics as she belted out a bluesy "I Wanna Be Around to pick up the pieces," a slithery "Summertime," a gutsy "Everybody's Girl," and then bravely approached the sacred gay anthem "Over the Rainbow" touching everyone in the crowded house.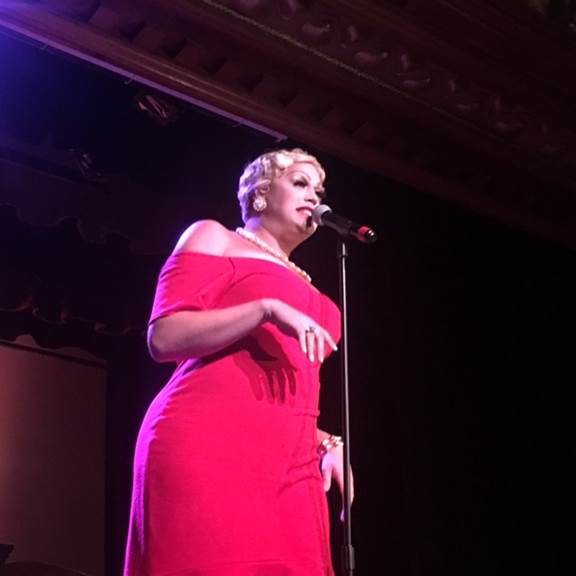 Cumming closed with a mixed medley including "How Far I'll Go" and "Part of That World," and "The Cold Never Bothered Me Anyway."."
 The cast convened for an optimistic "Tomorrow" from Annie.
Throughout the diverse evening the very versatile band proved their capabilities under the guidance of music director/pianist Lance Horne,  drummer Riccardo Belletta, cellist Steven, and clarinetist, saxophone player, and accordionist Andre.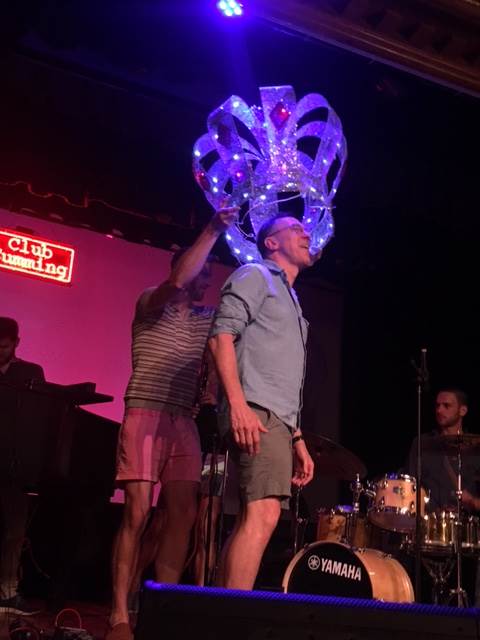 Gay nightlife promoter Daniel Nardicio was crowned
"King of Cabaret"
In retrospect there was something for almost everybody and all left satiated. Cumming's obvious enjoyment of the genre was evident throughout the evening.  Indeed the Grove was fortunate to have the star of screen, TV and stage grace its shores.