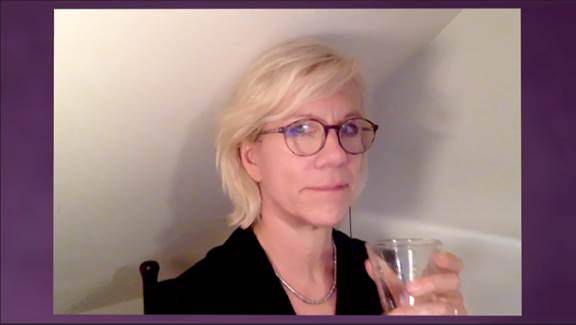 Juliet Stevenson as Lillian Hellman
Little Wars
                   by Deirdre Donovan
What if literary lionesses Gertrude Stein, Alice B. Toklas, Dorothy Parker, Lillian Hellman, Agatha Christie, and anti-fascist freedom fighter Muriel Gardiner had a dinner party, and you could be that proverbial fly on the wall? Well, that's pretty much what you can do by watching Steven Carl McCasland's imaginative drama, Little Wars, a streamed production that is available through February 14th.
Directed by Hannah Chissick, this play comes to your screen with plenty of feminine fury. Set at the country home of Gertrude Stein and Alice B. Toklas in the French Alps at the brink of World War II, this all-female drama offers you a slice of history, juicy confessions from its celebrated women, and all the wit that you would expect from pen-wielding femmes gathered at the same table.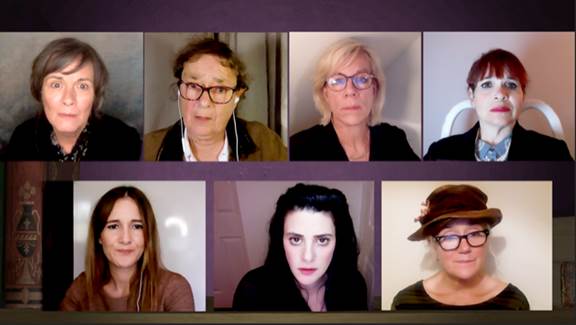 The cast of Little Wars: (top row, left to right) Catherine Russell, Linda Bassett, Juliet Stevenson, Debbie Chazen (bottom row, left to right) Sarah Solemani, Natasha Karp, Sophie Thompson
Photos by John Brannoch
Little Wars arrives with a star-studded cast: Juliet Stevenson leads the cast as the formidable Lillian Hellman, accompanied by Linda Bassett as the no-nonsense Gertrude Stein, Catherine Russell as the devoted Alice B. Toklas, Debbie Chazen as brash-tongued Dorothy Parker, and Sophie Thompson as the inimitable mystery writer Agatha Christie. Rounding out the cast are Natasha Karp as the maidservant Bernadette, and Sarah Solemani as the anti-Fascist fighter Mary / Muriel Gardiner. This is a true ensemble effort, with each veteran performer completely disappearing into the skin of their character.
Okay, the play is talky. But how could it not be, given this sorority of titanic personalities who speak as if each word that left their lips was ex cathedra? Little Wars is awash with their witticisms, some sparkling like diamonds in the rough, others stinging like acid.
There is, of course, some juicy gossip sprinkled throughout. Indeed, you'll learn early on how Stein (Bassett nails her part) and Toklas (the superb Russell) met and fell in love in Paris. They soon were inseparable, even though same-sex romantic relationships were taboo in their day. Indeed, Gertrude Stein's brother strongly disapproved of their affair and bluntly called them "abnormal."
Then you have Lillian Hellman (kudos to Stevenson for her spot-on performance of the pundit), the author of Little Foxes (it was gloriously revived on Broadway in April 2017), The Children's Hour, and Watch on the Rhine—to mention a few. Yes, her work is dissected by her dinner-mates, with some kind and not-so-kind comments on it.
No question you will see cat fights among these famous authors. "You're a hack," Stein snarls to Hellman, accusing her of the literary sin of venting her anger with a pen. But Hellman one-ups Stein later on, pointing a finger at each of her contemporaries who have borrowed, sooner or later, from their personal experiences to write an essay, a poem, a book, a drama, or memoir. Or as she bluntly puts it: "'Don't we twist the things that happen to us and sell them between two hard covers?"
Of course, Stein and Hellman aren't the only writers raising a ruckus here. Dorothy Parker (Chazen is well-cast as the bibulous writer), who was a founding member of the Algonquin Round Table, wants her say too. You might think that you know everything worth knowing about Parker. But think again. Little Wars reveals Parker's more tragic side. You will hear about her secrets here and what went on behind closed doors at the Algonquin—and beyond.

Sophie Thompson as Agatha Christie in Little Wars
Then there's Agatha Christie (Thompson plays her with unruffled conviction), the grand dame of the detective novel. Ever wonder about the time she famously disappeared for 11 days in 1926 when she was in the midst of a divorce from her first husband Archie Christie? Well, you will get the inside scoop from the author herself in this production.
True, I would have liked if McCasland had managed to write a bit more on what made this writer tick (and the foibles of the other authors too). After all, wouldn't it be great to hear how Christie was inspired to write The Orient Express or Then There Were None?) But, then again, this is a truncated version of Little Wars, clocking in at less than two hours.
Although you can get caught up in the gossip, there's true gravitas to the play. And, even though you'll hear about the grim political landscape from all gathered at the table, it's the New Jersey psychiatrist Muriel Gardiner (Solemani plays her role with the earnestness of Mother Teresa), who first goes by the code name of Mary, who is the most prescient person at the table when it comes to sensing war is at their doorstep. The character Gardiner eventually drops her mask halfway through the play, becoming transparent about her current mission and why she was invited to this dinner party.
If it's a war story you want, go no farther than listening to the tragic one told by the maidservant Bernadette. No, I won't be a spoiler here. But her tale about how she happened to become Stein and Toklas' domestic worker will send chills down your spine—and ultimately warm your heart.
The title, of course, suggests those "little wars" (think back-biting) that are so often fueled by the professional jealousy among writers. But McCasland has deepened its meaning by deftly tucking it into the play's dialogue. The character Dorothy Parker, in fact, has the honor of delivering what may well be the best line of the play: "It's not the tragedies that kill us, you know, it's the little messes, the little wars."
Yes, there are tons of streamed productions that you can watch this winter. But Little Wars is one that will stick in your memory long after the snow melts.
Through February 14th, 2021 Running Time: 1 hour; 53 minutes.
Little Wars can be purchased through www.broadwayondemand.com. Rental is only $9.95 and is good for 48 hours.
Please note: Falling Stars, another work from the UK, conceived and written by Peter Polycarpou, showcases the music of Charlie Chaplin, Irving Berlin, Vincent Youmans, Meredith Wilson and other composers of the Golden Era and also is available through February 14th, 2021, and can be purchased through www.broadwayondemand.com. Rental is only $9.95 and is good for 48 hours.