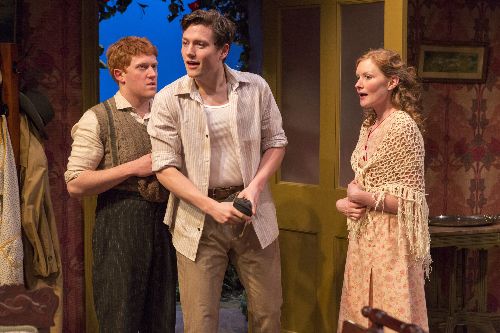 Have an Online Mint
             By Marc Miller
Till we're all in theaters again, the Mint is helping us cross the desert with a string of compelling past productions.

Happy New Year. Sometime in 2021, it's way too early to say when, but September seems a fair guess, we'll be back in theaters, enjoying a collective experience that has been denied us for a little short of a year so far. Masked? Two or three seats apart? No clue.
Meantime, we've been subsisting on the stage offerings of various cable networks and theater company websites, as well as other spartan online ventures. Disney+'s Hamilton probably won it more subscribers than anything else ever will, and Netflix's The Prom engendered an astonishingly mixed reaction on Facebook and other platforms. Its Ma Rainey's Black Bottom seems poised to win multiple awards. Theater is turning up in other unlikely forms, too: Richard Nelson wrote What Do We Need to Talk About? in the form of a Zoom call and presented it, very effectively, on the Public Theater's site in April. And Seth Rudetsky's daily webcast at Starsinthehouse.com features twice-weekly Zoom plays, which stay up for a couple of days (one highlight from the summer: Leslie Uggams' delicious Madame Arcati in Blithe Spirit).

Then, bless them, there's the Mint Theater. The Theatre Row resident company, dedicated for 25 years to reviving forgotten and near-forgotten American, British, and Irish plays from the first half of the 20th century, has kicked off what it calls its Silver Lining Streaming Series, presenting several notable past productions at minttheater.org. They're free, and they're good.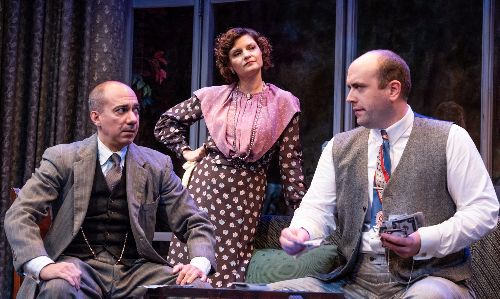 Evan Zes, Mary Bacon, and Geoffrey Allen Murphy in DAYS TO COME by Lillian Hellman, directed by J.R. Sullivan. Photo by Todd Cerveris
First up, and running through February 21, is Lillian Hellman's Days to Come (a pointless title, by the way). This is a strange one. Hellman's follow-up to her hit from two seasons before, The Children's Hour, it shows a similar healthy liberalism and concern for real-world issues other playwrights, except maybe Clifford Odets, were paying scant attention to. But it was a seven-performance flop, and it became something of an obsession for Hellman. She kept tinkering with it, finishing a new version in 1971, the version the Mint is using.
This 2018 production, graced with a gorgeous art deco set (by Harry Feiner), takes place in the well-appointed Ohio living room of Andrew Rodman (Larry Bull), a brush factory co-owner coping with labor struggles and wrestling with equally decent and evil impulses. A complicated man, he's sympathetic to the workers' plight and really wants to give them the 60 cents an hour they're demanding. But he disastrously decides that the best defense is to bring in scabs, in the form of evil, corrupt Sam Willkie (Dan Daily) and a couple of goons. The stage is set for murder, not to mention adultery, class conflict, possible insanity, timid comedy—Hellman's narrative is unusually overstuffed. It's also compelling, though, and if you wonder what issues audiences cared about in 1936, she offers a pretty complete menu. Her dialogue's lively, and she learned fast to unclutter her narratives: Her next play was The Little Foxes.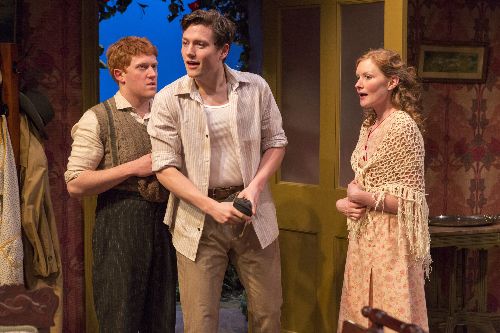 David Friedlander, Jon Fletcher and Wrenn Schmidt in KATIE ROCHE by Teresa Deevy Photo: Richard Termine
There's more on the way. Katie Roche (February 1-March 28) is the 1936 work of one Teresa Deevy, an Abbey Theater stalwart the Mint has championed several times. The 2013 production focuses on its flighty title character (Wrenn Schmidt), a lower-class domestic having a hard time choosing between the high-born Stanislaus (Patrick Fitzgerald) or the young firebrand Michael Maguire (Jon Fletcher). She does choose, though, a third of the way in, and the rest of the play is mostly about weighing the consequences of one's choices. It's a rather lackadaisical little work, but, like most of the Mint's output, glowingly acted, and a window into a time and place we're not often offered.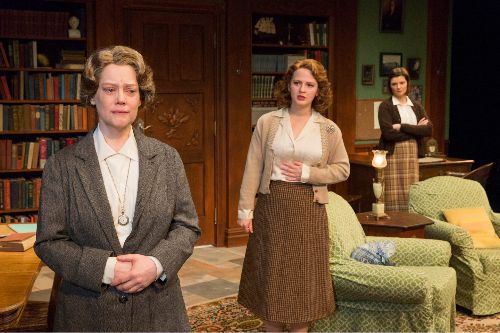 Kellie Overbey, Emily Walton, and Mary Bacon in WOMEN WITHOUT MEN by Hazel Ellis. Photo: Richard Termine.
Also Irish, and livelier, is Hazel Ellis's 1938 Women Without Men (February 22-March 21). Set in a Protestant girls' private school outside Dublin, the 2016 production deals with the conflicts, petty jealousies, and underhanded behaviors among the teachers and a couple of the snippier students. Jean Wade (Emily Walton) is the dewy-eyed new English and history teacher whose optimism we just know is going to be severely tested, and harsh, haughty Miss Connor (Kelly Overbey) is the most formidable among the motley faculty. It's a bit static, and Ellis's analysis of what these women need and lack—in a word, men—is highly debatable. But the student-teacher rubric and all-female banter, while they'll remind you of other plays (The Children's Hour again, and Stage Door), are performed to a fare-thee-well by another excellent cast.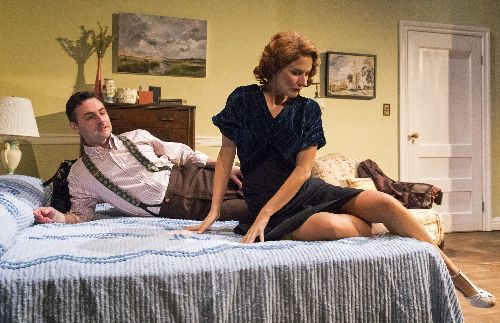 Max von Essen and Elisabeth Gray in YOURS UNFAITHFULLY by Miles Malleson. Photo: Richard Termine.
The Mint has taken special interest in the British actor-playwright Miles Malleson, whom you may remember as a letter-perfect Reverend Chasuble in the matchless 1952 filming of The Importance of Being Earnest. But he had quite a life before that, enjoying an open marriage and expounding on that very controversial (for 1933) subject in Yours Unfaithfully (March 22-May 16). Stephen (Max von Essen) and Anne (Elisabeth Gray) are happily married, but Stephen's in a creative funk, and Anne decides that perhaps an extramarital fling with Diana (Mikaela Izquierdo) might revitalize him. Which it does, and with the addition of Stephen's friend Dr. Kirby (Todd Cerveris), the possibilities multiply. It's a wordy but worthy effort, and one not afraid to end ambiguously, without the predictable happy ending.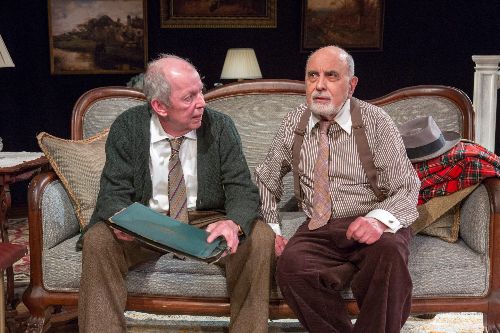 Jonathan Hogan and George Morfogen in A PICTURE OF AUTUMN by N. C. Hunter. Photo: Richard Termine.
One of the Mint's "newest" plays, A Picture of Autumn (March 29-May 3), is from 1951. N.C. Hunter's comedy has Chekhovian echoes, about an aging family in an aging mansion. I didn't see it, but Terry Teachout in The Wall Street Journal gave the 2013 production a near-rave, calling it "a big, generous play, exquisitely written, both funny and touching."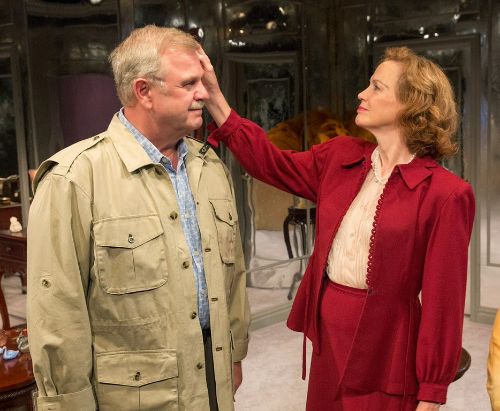 Cliff Bemis and Kristin Griffith in THE FATAL WEAKNESS by George Kelly. Photo: Richard Termine
The Fatal Weakness (May 17-June 13) is a minor work of a major playwright, Pulitzer Prize winner George Kelly (uncle, for what it's worth, to Grace). His 1946 comedy had a so-so Broadway run, 119 performances, but Teachout called the Mint's 2014 revival "far from a dusty museum piece, a tough-minded serious comedy about the high price of upper-crust adultery." The dialogue crackles, and Cynthia Darlow, as a compulsive gossip, earns top acting honors. But then, the acting's always terrific at the Mint, and these six well-shot recordings, aside from lubricating the no-theater desert we've been enduring for nearly a year, ought to perform a valuable service: Let's hope they expose a wide online audience to the Mint's matchless ability to exhume works that never should have been buried, and whet the appetites of serious theatergoers once we're all back in the theater. It'll happen.