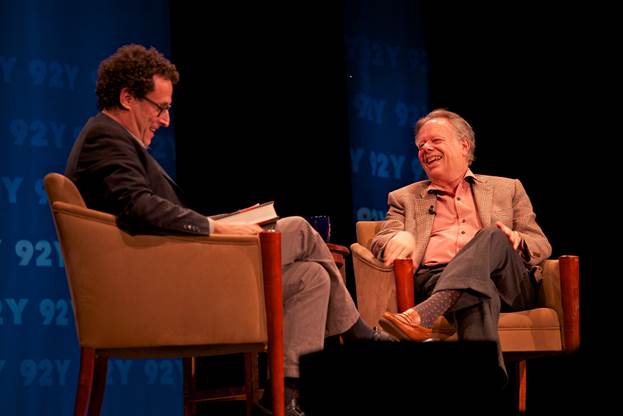 Tony Kushner and John Lahr                                photo by Nancy Crampton
                                                             by Joel Benjamin
The new biography of Tennessee Williams, Mad Pilgrimage of the Flesh was the subject of a sit down with its author, John Lahr chatting with playwright Tony Kushner at the Kaufmann Concert Hall of the venerable 92nd St. Y's Tisch Center for the Arts.  These two fine writers, both with theatre bona fides, discussed Lahr's book, whetting everyone's appetite to read this fresh take on Williams' checkered career.   Mad Pilgrimage focuses on the interdependence of Williams' mental and emotional health and the quality of his writing.  As Williams got older and more drug and alcohol addled, his writing suffered.  Even so, throughout the discussion, Tennessee Williams' importance as a writer was emphasized, his later works examined and deemed more worthwhile than their original critical reception might indicate.
Lahr, in an unusual take on his subject, structured Mad Pilgrimage as Williams' life illuminating his writing rather than as an incident-driven biography.  Lahr was privy to previously unreleased material such as letters, drafts of plays and diaries which proved Williams did not have writers' block as previously assumed, but that he poured a great deal of effort into personal correspondence and notebooks to the detriment of his artistic work.  It also became clear from this dialogue that other people, particularly Elia Kazan, for better or worse, helped shaped Williams' writing, sometimes leading to rancorous split-ups.
Williams, by all indications, wasn't very good to his friends, treating his longtime lover dreadfully and dropping people by the score.  His worst decision, at least according to Lahr was Williams' association with the colorful Maria St. Just who wound being the de facto manager of his posthumous career.  She single-handedly stonewalled all requests for productions and for access to materials necessary to write anything approaching a worthwhile biography forcing Williams' reputation into a black hole from which it is slowly emerging.  Perhaps his poor relationships were a product of the "bloodbath of a marriage" he group up witnessing.
Lahr disabused us of the notion that Williams did nothing to help the gay world, pointing out several gay characters and the fact that he never hid his sexual identity, although he considered himself apolitical and generally dodged direct public scrutiny.
The audience was also treated to some personal information about both Kushner and Lahr.  Lahr's funniest comment involved asking his mother whether his father, the legendary Bert Lahr, was Jewish.  "He wasn't Jewish. He was a star," said his mom!  Kushner, for his part partly identified with Williams' need to distance himself from life, having felt the need to cocoon with his husband when the "outside world" became too unbearable.
For once, questions asked by audience members were intelligent and to the point including comments by Dick Cavett who chimed in about Maria St. Just.  Cavett had had his own dealings with St. Just in preparing his legendary chat show and found her appalling.
Upcoming in this series:  Marlon James & Laila Lalami (10/6), Marilynne Robinson & Colm Tóibín (10/20) and a reading of Dylan Thomas' Under Milk Wood directed by and starring Michael Sheen (10/26).
John Lahr and Tony Kushner on Tennessee Williams – September 29, 2014
The Voice Of Literature Series of the 92Y Unterberg Poetry Center
92nd Street Young Men's & Women's Hebrew Association
1395 Lexington Ave. between 91st and 92nd Sts.
New York, NY
For Tickets and Information for this series and other events:  212-415-5500 or www.92Y.org