Anthony Rapp in Without You
Anthony Rapp's Without You
By Cammy Paglia
Anthony Rapp's powerful Off Broadway one-man show, Without You, has been extended through June 11th. It is that good. Not only is he the star of the show but he also wrote it; much of the material is from his New York Times bestselling memoir. Rapp takes his audience by storm with a generosity of spirit that seems to have no bounds.

Directed by Steven Maler, the show takes you through Rapp's many intense life experiences. He covers topics that most people can relate to in some manner or other. He recalls his days as a financially challenged Starbuck's employee, his rehearsal and casting as Mark Cohen, a documentary film maker in Rent, the Pulitzer Prize winning musical, and the death of that show's creator, Jonathan Larson.

Rapp has many poignant moments throughout this performance and the death of Jonathan Larson coupled with the passing of his dear mother from cancer certainly represent a journey that is nothing short of traumatic. He also shares his difficulty in telling his mother he is gay in the middle of the AIDS epidemic.

His mom was his biggest fan, however. Her love for him and vice versa is evident throughout the show. She took him to Chicago for many auditions when he was growing up (Rapp is originally from Illinois) and helped to cultivate his love of the theater. He recalls his mother coming to see him perform in  New York City in Rent and looking up at her in the balcony while on stage, a memory he cherishes.

Despite the heartbreak in this tale, Without You is uplifting and at times exuberant. It is truly entertaining. Of course, Rapp has quite a few monologues to achieve continuity and clarity in this unique genre of storytelling. He delivers them with great sincerity.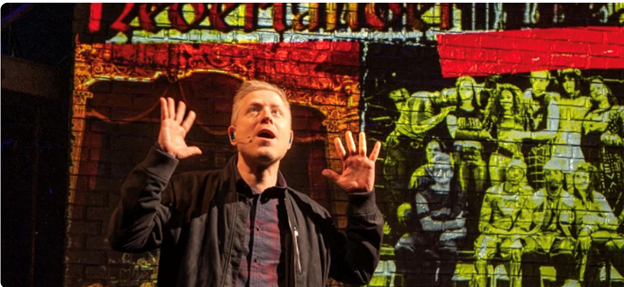 Anthony Rapp in Without You

This solo show features wonderful music from Rent and original songs by Anthony Rapp, Joe Pisapia, Daniel A. Weiss and David Matos. Some of those very enjoyable song titles are: "Losing My Religion ", "Without You", "Back in New York", "La Vie Boheme", "Rent", "Carry Me Home", and "Seasons of Love". Let it be said that this is not an exhaustive list.

Additional arrangements for Without You are by Tom Kitt, the recipient of too many awards to enumerate but some of them are the Pulitzer Prize for Drama, the Outer Critics Circle Award, an Emmy, a Tony and a Grammy. Brian Ronan is responsible for masterful sound design. The very creative scenic design as well as the lighting are the brilliant work of Eric Southern.
Specific mention should be made of the scenery and lighting. It stands out behind Rapp, where the audience sees a brick face that portrays apartment buildings in the East Village. It is also the backdrop for projected pictures of Anthony's mother, Jonathan Larson and many other interesting images.
Anthony Rapp in Without You

One of the most memorable ones is the projection of a shadow of a cowboy on a horse. This is superimposed quite artfully and is shown while Rapp, donning a cowboy hat and holding a condenser microphone developed in the year 1918, sings one of his original songs called "Wild Bill". It is the name his mom gave to her cancer. This number is most enjoyable and the shadowed cowboy looming in the background appears to be galloping straight into the audience.

It is a privilege to watch Anthony Rapp as he digs deep into his very being to share this collection of intimacies about his life. To do so in ninety minutes seems like a daunting task. Nevertheless the music, the monologues and even apologetically sharing his hand at playing the guitar, are all made to look rather easy. The very engaged audience comes away with the feeling that Anthony Rapp just gave it everything he's got and even a little more.

Without You will stay with you for quite some time. Bravo to the multitalented Anthony Rapp. Go see this marvelous production. You will love it. After all love is at the very core of this story.

Anthony Rapp's Without You
New World Stages, Stage 5
340 West 50th Street
New York, NY 10019
90 Minutes—No Intermission
For TicketsCall: Telecharge at
212 239 6200
or use the Website:
telecharge.com
Through June 11, 2023