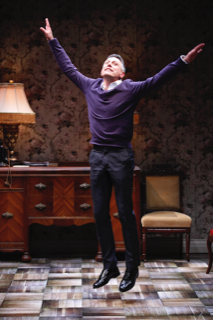 The Patsy
By Deirdre Donovan
Certainly, the Transport Group's revival of its 2011 production of The Patsy by Barry Conners is a thing to see. Performed as a farcical solo show by six-time Obie Award winner David Greenspan at the Abrons Arts Center, and directed by Jack Cummings III, it is like nothing else currently on stage in New York.
Like Greenspan's solo rendition of Eugene O'Neill's Strange Interlude at the Irondale Center (2017) in Brooklyn, The Patsy satisfies both our need for old chestnuts and experimental theater. This drawing room comedy was a hot ticket when it premiered on Broadway in 1925. And it became even more popular when it appeared on the silver screen in 1928, with stars Marion Davies and Marie Dressler, auteur director King Vidor and producer William Randolph Hearst.
The plot? It's a modern-day Cinderella story, with Patricia Harrington (she's the eponymous "Patsy") as our young heroine. She's fallen head over heels with the sincere Tony Anderson, who was dumped by her older sister Grace when the swanker Billy Caldwell crossed her path. As the story unspools, the quarrelsome Mr. and Mrs. Harrington have plenty to say about their daughters' romantic prospects, a country club scandal, and their different perspectives on society with a capital "S."

David Greenspan in The Patsy
Photo: Carol Rosegg
Mr. Harrington, a successful but weary salesman in groceries, tries to protect his favorite daughter Patricia from empty worldly pursuits. Mrs. Harrington, a whining social-climber who yearns to see her daughters well-married, indulges the whims of her scheming daughter Grace. To further complicate things in this dysfunctional middle-class family, there will be cameo appearances by Sarah Buchanon, a friend of Billy Caldwell (and thorn in the side of the jealous Grace) and a taxi cab driver.
When the lights go up, Greenspan gracefully jumps on stage. But rather than diving immediately into the play proper, Greenspan begins with a recitation of stage directions, mapping out the physical stage and early 20th century props. But don't expect to see everything that Greeenspan mentions to take on a three-dimensional reality on stage (the actual cube-like set is by Dane Laffrey; the protean lighting by Mark Barton). In fact, Greenspan seems to adopt a role not unlike that of the famous Chorus in Henry V. Indeed, he is inviting us to suspend our disbelief and come along with him on an imaginative venture into a creative realm.
Theatergoers who tuck into a seat at the Abrons Arts Center won't be disappointed. Greenspan gives a sensitive interpretation of the central role of Patricia, and in the ear-piercing scene when Mr. Harrington refuses to buy a new automobile for the family, and snaps, "You've got just as much chance of me buying another automobile as you have of seeing a Swiss battleship sinking off the coast of Nebraska," he is truly fine. In fact, Greenspan does everything with his eight characters that a clear-eyed understanding of the play can yield.
Take the character Patricia. She is determined to change herself from a wallflower to poised woman of sparkling wit. To achieve her dream, she has sent away for a mail-order catalog that promises to transform her into a wizard of repartee. Greenspan, with his histrionic flair, makes Patricia's self-improvement mission both funny and touching. Indeed, we soon find ourselves rooting for the socially-awkward Patricia and hoping that she ultimately will get her guy.

David Greenspan in The Patsy
Photo: Carol Rosegg
Greenspan, dressed in slacks and a V-neck sweater, doesn't don any costumes or wigs throughout the show. But, incredibly, he can slip in and out of the skins of multiple characters—mother, father, daughters, and boyfriends--in any given scene without missing a beat. The most magical moment in the play? No question it's when Patricia and Tony share their first quivering kiss.
A brisk directorial pace is set by Jack Cummings III (he's the co-founder and artistic director of the Transport Group Theatre Company), giving us no time to question how Conners' naturalistic play for eight characters could possibly be pulled off as a one-man show.
No wonder Greenspan is singular in the downtown theater scene and applauded so enthusiastically for his bold innovative performances. In his current solo rendering of The Patsy, he redefines the comedy genre, retools a forgotten masterpiece, and makes us see theater with new eyes.
Through April 30th.
At the Abrons Arts Center (at the Henry Street Settlement), 466 Grand Street, Manhattan.
For more information visit www.transportgroup.org.
Running time: 80 minutes with no intermission.