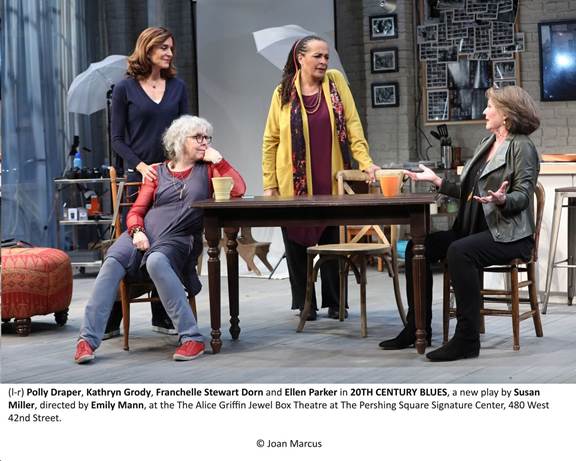 by Arney Rosenblat
20th Century Blues spotlights four thinking attractive women over sixty who articulately and touchingly demonstrate that they will not let the passage of time make them invisible or irrelevant.
The circle of life is the natural order of the universe. However, it becomes an increasingly less abstract concept with each passing year as Danny, a now prominent photographer and one of Sue Miller's leading characters in 20th Century Blues observes, "I used to think that old people came into the world that way. There were babies. Children. Adults. And old people. It didn't sink in for a long time that one person, including me, would actually change inexorably, from one to the other. That one person could embody all those opposing forms."
Though 20th Century Blues offers no ground breaking insights or shattering truths, it does offer an engaging compassionate look at growing old with dignity, style and grace. The story focuses on four women who became friends some forty years ago when they met in jail after a protest... "It was the '70s. You were no one if you didn't spend the night in jail," says Danny. This is where Danny began an annual ritual at which she photographed her friends as they moved through their lives having children, gaining degrees, forging careers. finding and losing love
The women are a diverse group. There is the aforementioned photographer Danny, portrayed with exuberance by Polly Draper, the glue of the group, who is divorced, has an adopted son and a 91 year-old mother in early stages of dementia. There is Gabby, played with amusing warmth by Kathryn Grody, who is a veterinarian, breast cancer survivor and "widow in-training" as she describes it trying to establish a more independent personae because statistics indicate that her husband will likely die before her. There is Mac, a grounded down-to-earth Franchelle Stewart Dorn, who is an African-American gay investigative reporter that has broken her share of barriers but is now facing early retirement as her publication moves to scale back its print side and expand its on-line presence. Rounding out the quartet is Sil, who is a chic successful real estate broker and most conflicted over the ravages of time after having been dumped by her husband and in constant competition with a youth culture so as to stay on top in her career, a role beautifully captured by Ellen Parker.
At this fortieth annual reunion chronicling the passage of time on the faces of these friends a new wrinkle is added to the event, Danny has been offered a retrospective at MOMA and 18 minutes in a Ted Talk requiring her to secure releases from her colleagues so that she can display her photographs of them highlighting the essence of her work. "It's a formality," she says, "You're just agreeing to let me exhibit the work I've been doing with you for the last forty years...to show you  ...so people can see what actual women look like over four decades of their lives."
As Danny recounts at the Ted Talk which opens the play, these women illustrate her generation. "They have something to tell you. Their faces say what I can't" since they have been a part of the key historic and social events of the 20th century. It is each woman's response to Danny's request that their images spanning forty years go public that creates the dramatic conflict of the play. It also spotlights the impact of what it means to be closer to the end, rather than the beginning of one's life, a stage where a younger generation makes an individual feel invisible and irrelevant. A feeling which certainly is not relegated only to the female gender of our society.
Says Gabby, "On my entire walk through this city no one looked at me." Reflects Mac over a T.S Eliot quote, "I grow old. I grow old. I wear the bottom of my trousers rolled....I used to think the rolled trousers were the style of how you dressed when you got old. I seriously didn't understand the implication. That…this guy's pants were too long because his...bones demineralized and he got...shorter."
Whether or not she expected it, Danny is met with resistance from her friends concerning the display of the unvarnished photos recounting the evolution of their lives. Sil feels threatened by the circulation of the increasingly unglamorous photos of her tallying "the forty years of our gradual decline...I don't want to be a mirror. I don't like the idea of being assessed by how I weathered the years." Mac is concerned that "all this attention might resurrect something from the past you don't want to deal with again." Only Gabby is amenable to having the world see her with gray hair and an increasingly lined face.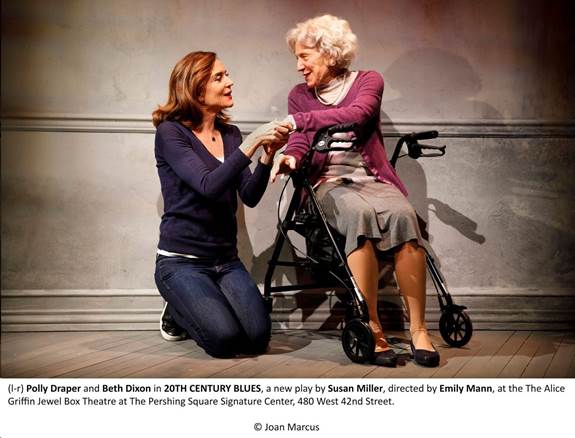 Ms. Miller expands the focus of her play beyond the stories of these four late middle-aged women rounding out the circle of life picture by adding Danny's mother Bess (touchingly realized by Beth Dixon) and thirtyish techie son, Simon ( a charismatic Charles Socarides) who is deeply committed to both his mother and grandmother.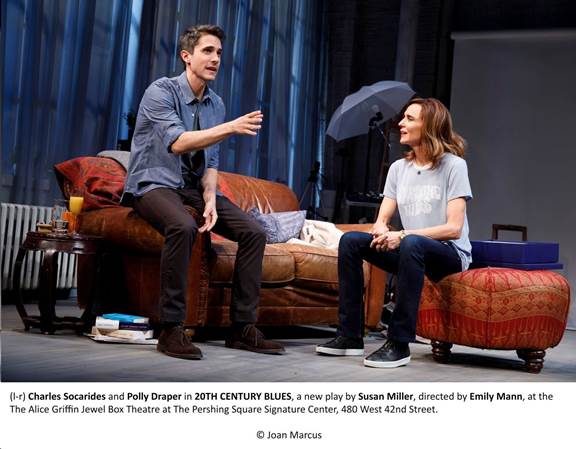 She also gives a respectful nod to Wendy Wasserstein's landmark plays Uncommon Women and Others and The Heidi Chronicles which address a number of similar issues though Wasserstein conveys an innate anger concerning the compromises life imposes on her characters while Miller conveys empathy For anyone over the age of forty, Danny's observation of the public's perception of aging really hits home, "She got so old...Like it was a crime...Like she did it purposefully to affront us."
The play eventually comes full circle closing at the Ted Talk where Danny lovingly reveals the photos of her friends as they change through the cycle of life.
Director Emily Mann has helped each actor fashion a fully three-dimensional character making the women's interaction loving, tense and real. This is accented by Jennifer von Mayrhauser's complementary costuming. The smooth scenic shifts between the Ted Talk, extended care facility and Danny's loft owe much to the skill of scenic and projection designer Beowulf Boritt
20th Century Blues
Off Broadway play
One hour forty minutes
Pershing Square Signature Center, 480 W. 42nd Street, Midtown West
Closing Date January 28, 2018