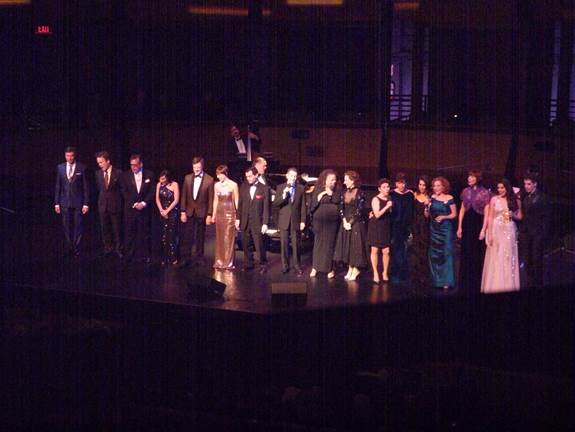 Photos by Maryann Lopinto
The Mabel Mercer Foundation showcased singers, musicians, and composers at The 25 Annual Cabaret Convention at The Rose Theater for four glorious nights.
                                                            By Linda Amiel Burns
Donald Smith founded the Mabel Mercer Foundation in 1985 to perpetuate the memory and spirit of its legendary namesake and to promote public interest in the classic popular song and the art of cabaret.  Since that time, hundreds of singers, composers and musicians have had the opportunity to showcase their talents. When Donald Smith passed away in 2012, the torch passed to singer KT Sullivan who continues the tradition giving veteran artists and young performers the opportunity to get recognition and perhaps work. This year, the 25th Anniversary was celebrated by four nights at Jazz at Lincoln Center's Rose Theater with a different theme each evening. Some of the shows lasted for three hours or more so there was a lot to cover of this massive and mostly successful undertaking.  Here are some of the hightlights:
"I LOVE A PIANO: CELEBRATING THE GREAT TRADITION OF THE SINGING PIANIST" – Monday, Oct. 20, 2014
The charming 29-year-old jazz violinist Aaron Weinstein hosted the evening and opened with a great rendition of "I Want To Be Happy."  This concert celebrated singing pianists and many were very well-known such as Barbara Carroll ("Lonely Town"),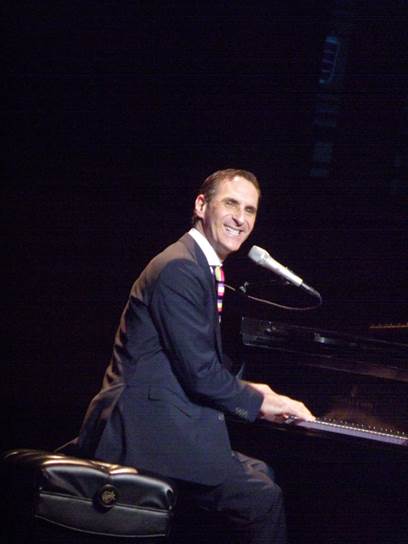 Mark Nadler ("Bobo's"), Steven Lutvak, composer of Gentlemen's Guide who performed "I Love Sabella" from that show and the comic "Bagel maker To The Czar," his signature cabaret song,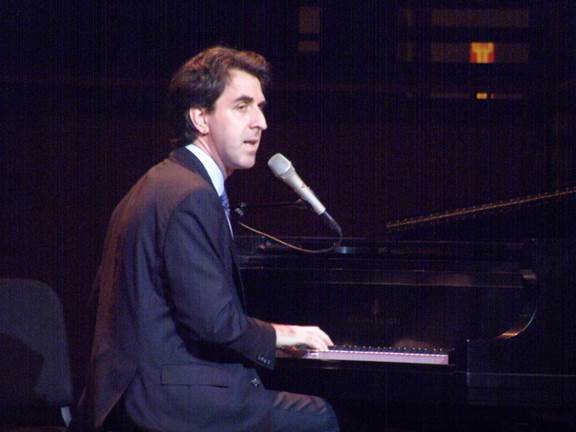 Tony winner, Jason Robert Brown, sang a song from Bridges of Madison County as well as from his upcoming show Honeymoon in Vegas, Steve Ross (gorgeous Piaf medley), The Carlyle's Loston Harris ("I'm Old Fashioned"), Daryl Sherman (Tribute to Blossom Dearie), and Charles Cochran ("You Stepped Out of a Dream").  The hot new talents included Tony Desare who sang a song from a new musical he wrote as well as played the "Saber Dance Boogie, Eric Yves Garcia ("Lose That Long Face"), Australia's Matt Baker (Gershwin Tribute), Devin Bing ("Fly Me to The Moon"), Alex Leonard ("Intimate Nights") and Liam Ford ("Have You Got Any Castles?") who received the Julie Wilson Award made possibly by Linda & Peter Hanson. Others in the cast: Nellie McKay, Alexis Cole,
"QUIET PLEASE, THERE'S A LADY ON STAGE: A CELEBRATION OF JULIE WILSON'S 90TH BIRTHDAY!
Tuesday, Oct. 21, 2014.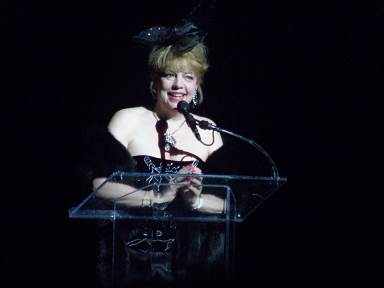 Hosted by KT Sullivan, this evening was a tribute to the beloved Julie Wilson on her 90th Birthday. The legendary diva sat in a box and received one well-deserved accolade after another. Some of the most moving was Wayne Hosford singing "There Is Nothing Like a Dame" and mentioning 40 songs with woman's names in them and ending with a tribute to Julie.  Ann Hampton Calloway wrote a special song on the spot with word suggestions from the audience.  Kevin Spiritas was the standby for Hugh Jackman in The Boy From Oz and never went on.  He told the story of Peter Allen attending one of Julie's show and people were talking, so he sent a napkin over with this message and it became the song "Quiet Please There's a Lady On Stage."
Marilyn Maye, with Billy Stritch at the piano, sang "I'm Glad There is You" to Julie with special lyrics and and an inspirational version of "I'm Still Here." The great Carol Woods, with Tex Arnold at the piano, sang one of Julie's signature songs, "Don't Ask The Lady" and a strong "Here's To Life." The surprise of the show was Julie's son actor Holt Macallany who read a letter from President Clinton congratulating Julie on her birthday.  He sang an animated "That's Life" and then gave an emotional tribute saying that he was lucky to have such a wonderful mother.  Others in the large and talented cast were: Kevin Dozier, Mara-Faye Wright, Lonnie Watts, T. Oliver Reid, Karen Wyman, Marissa Molder, Christine Andreas, Lauren Fox, Elizabeth Sullivan, Tony Sheldon, Valerie Lemon, Cole Rum bough, Maxine Linehan, Shana Farr, Marieann Meringolo, Nathan Chang, Corinna Sowers Adler, Deborah Silver.
SOMETHING SORT OF GRANDISH: THE MUSIC OF BURTON LANE, THE LYRICS OF YIP HARBURG.  Wednesday, Oct. 22, 2014
This evening was hosted by Jeff Harnar and Andrea Marcovicci who opened with the title song from Finian's Rainbow.  Songs in the show could include music that Burton Lane wrote with other lyricists, and ones that Yip Harburg had other composers write the music with him. This was one of the best evenings of the convention as each performer introduced the next.  There were over 20 singers, so it helped the pacing of the show and moved it along.  Lynn Lane, the widow of Burton Lane was introduced from the audience.  Rita Gardner of the original Fantastiks fame, sang a beautiful "How Are Things In Glocca Morra?"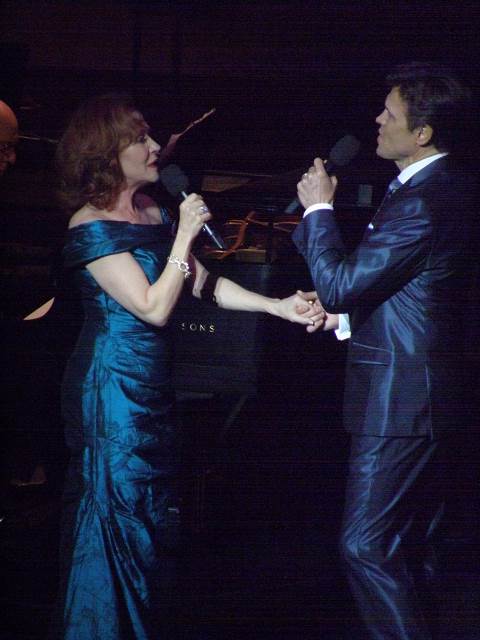 Anna Bergman's lovely soprano was perfect for "Right As The Rain," followed by the superb Brent Barrett's "She Wasn't You." Together they sang a gorgeous duet of "Too Late Now" that nearly brought the audience to tears.  Richard Holbrook, who has made a miraculous recovery from a serious illness, related the story of Burton Lane discovering Judy Garland and sang, "Anything Can Happen In New York." Gabrielle Stravelli's extraordinary style worked on "I Could Go On Singing" and "Old Devil Moon."  One of the most talented of the newcomers is Jennifer Sheehan who sang, "Here's To Your Illusions" and received The Donald Smith Award, made possible by Adela & Larry Elow.  Carole J. Bufford was sensational on "Down With Love" and "Brother, Can You Spare a Dime" as was Christine Andreas with an animated "What Did I Have?"  Eric Comstock sang, "On That Great Come and Get It Day" and Barbara Fasano "The Eagle and Me" from Bloomer Girl.  Together they sang the timeless duet of "How About You?"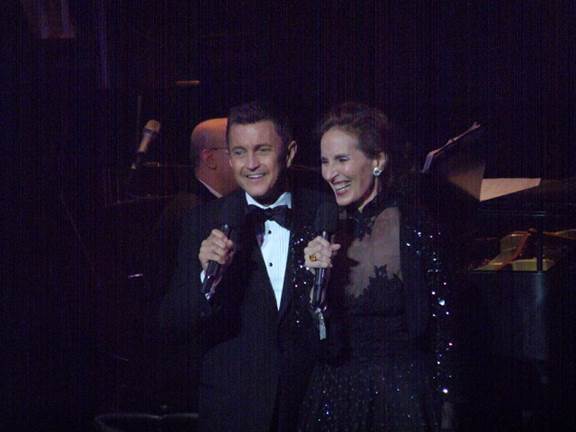 Andrea Marcovicci sang a tender "Moments Like This" and Jeff Harnar a rousing "Come Back To Me" before they dueted on "You're All The World to Me."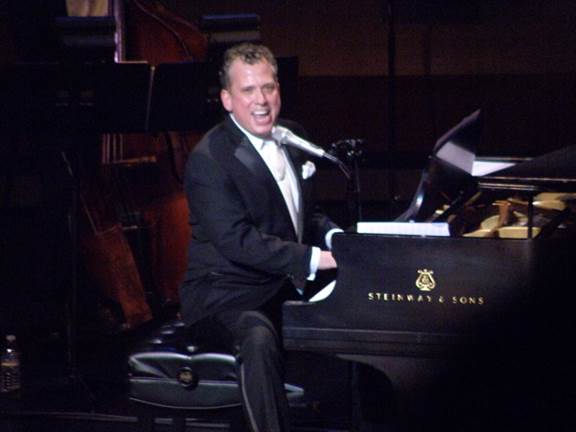 Others in the terrific cast: Billy Stritch, Jim Caruso, Sally Mayes, Iris Williams, Karen Akers,, Natalie Douglas, Anthony Nunziata.  The show closed with the entire cast on stage singing the iconic "Over the Rainbow."
COME ON AND HEAR: THE SONGS OF IRVING BERLIN
Thursday, Oct. 23, 2014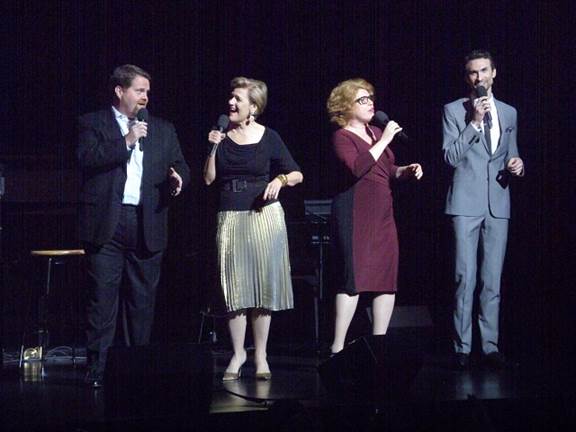 A double counter point Karen Mason JohnTracy Eason Klea Blackhurst and Kristoffer Lowe
The host for this evening was Klea Blackhurst who is known mostly for her Ethel Merman shows and starred in a revival of Call Me Madam. She announced that Mary Ellen Barrett, Berlin's daughter was in the audience.  Klea opened with Berlin's first big hit, "Alexander's Ragtime Band." What slowed the pace of the show was that she had to enter after each singer to introduce the next one.  Klea has a large personality and won the audience over, although she should have worn more glamorous attire to host the final evening. The lovely Karen Oberlin was terrific on "They Say It's Wonderful" and a medley of "Pack Up Your Sins and Go to The Devil" with "Let Yourself Go."  Broadway's John Treacy Egan sang "Puttin On The Ritz" and Stacy Sullivan, with Jon Weber at the piano, scored with a medley of "Always/ Remember" and "Cheek to Cheek."  Nicolas King, who is in his twenties, was accompanied by the esteemed Mike Renzi and sang a great arrangement of "Change Partners" with "Let's Face The Music" and finished up with "Let Me Sing And I'm Happy."
Don't Tell Mama's Sidney Myer is always a smash hit and he wowed the crowd with "Bad Bad Man" and "When the Midnight Choo-Choo Leaves for Alabam."  Cabaret star Karen Mason, always entertaining, performed "Stepping Out With My Baby" and "I Got Lost In His Arms."
Anita Gillette starred in Berlin's Mr. President and had a personal relationship with the master who called her up often to chat.  She sang Robert Ryan's song "It's Lonely in The White House" and admitted to "pushing 80" but you would never know it as she is still in great voice. Although Peggy Eason has been blind since birth, she is a very positive person and sang "Count Your Blessings."  As a young girl, she won a Girls Scout's contest (Berlin gave all the financial rights to this song to this organization) and sang a strong rendition of the "God Bless America."  Klea ended the show with a song like no other, the anthem for the entertainment world "There's No Business Like Show Business" from Annie Get Your Gun.   Others in the cast were: Rebekah Lowin, Spider Saloff, Celia Berk, Kristoffer Lowe, Tammy McCann.