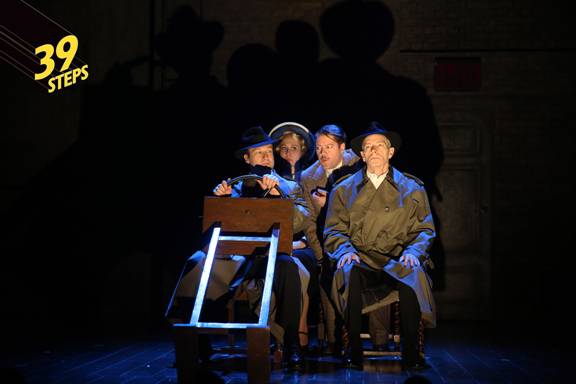 Billy Carter, Brittany Vicars, Robert Petkoff, Arnie Burto   Photos by Joan Marcus
                                               by Dorothy Marcic
Going to see 39 Steps at the Union Street Theater is part film noir, part physical comedy, and part brilliant acting, with four characters playing so many parts you shouldn't even try to count.  Spend your time watching them as they transform, sometimes back and forth within seconds, to various characters having different costumes and wigs, not to mention accents from Russian to English to Scottish.
The play is a satire on John Buchan's 1915 mystery novel, one of 5 about his very British hero, Richard Hannay. Or one could more honestly say it is a satire on Alfred Hitchcock's 1935 film.  Some of the many wonderful gags involve using names of other Hitchcock films, such as The Lady Vanishes, Vertigo, etc.  They even managed to imaginatively include the shower curtain scene from Psycho.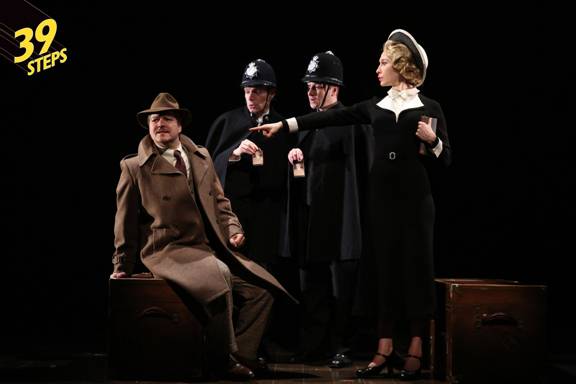 Robert Petkoff, Arnie Burton, Billy Carter, Brittany Vicars
Richard Hannay is leading a rather boring life when he comes in contact with a beautiful Russian spy, who warns him about some dangerous agents, The 39 Steps, and how he must get to a far-off location in Scotland to save the country. And then she dies right there, from a knife in the back. On his way to Scotland, he meets a cast of characters on the train, in the hills, in a small lodge, and in the large estate, which is his destination.  When the chief agent, known as "The Professor" realizes he knows what is going on, he shoots Hannay, but after the intermission, we learn the bullet was embedded in the Bible in his pocket. More chases, more characters, with Hannay handcuffed to a beautiful and wary young woman, until the showdown at the London Palladium, where the Professor is confronted and finally killed, but Hannay ends up with the girl and lives happily ever after with her and the baby they have later on.  If you didn't follow that, no matter, just go there and enjoy the talent, including Peter McKintish's wonderfully period costumes to the sparse set, which is easily turned into another location through the clever use of a single door or window, or a long swath of fabric to simulate a river.  A couple of times there is creative lighting (by Kevin Adams) behind a large scrim, where shadows of stick people and dinosaurs tell the story of Hannay eluding authorities. At other times the lighting and fog are used to enhance the comedy or the feeling of the setting. And the sound by Mic Pool is wonderful, including some very dramatic song clips, which you might keep circling in your brain way after you leave the theater.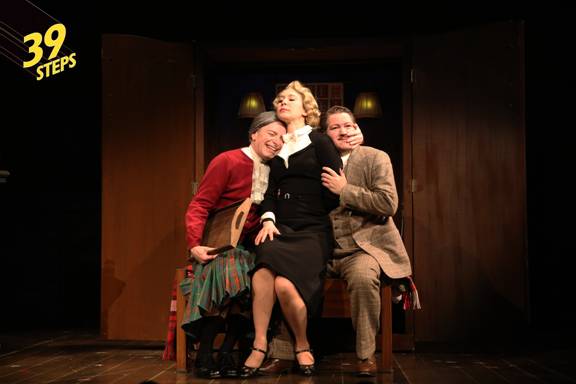 Arnie Burton, Brittany Vicars, Robert Petkoff
Ably acted by Robert Petkoff as Hannay, with Billy Carter and Brittany Vicars in a multitude of roles.  Especially noteworthy was Arnie Burton as the fourth member of the cast, who was also in the original Broadway play for over 700 performances.  Director Maria Aitken did a fine job of using the actor's abilities and keeping the pace and comedy at warp speed.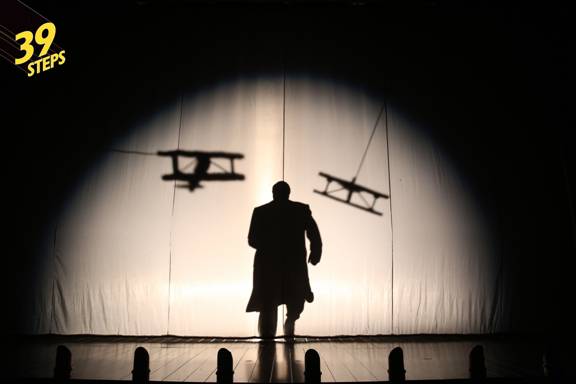 Robert Petkoff
It's the kind of play almost anyone can enjoy. The mature audience members will catch the satire and references to other films and literature. Younger people, and tourists from elsewhere who have limited English, will delight in the outlandish physical comedy.
Union Street Theater
100 E. 17th St.
New York, NY
800-982-2782
Open-Ended Run
Tickets: $39 - $89