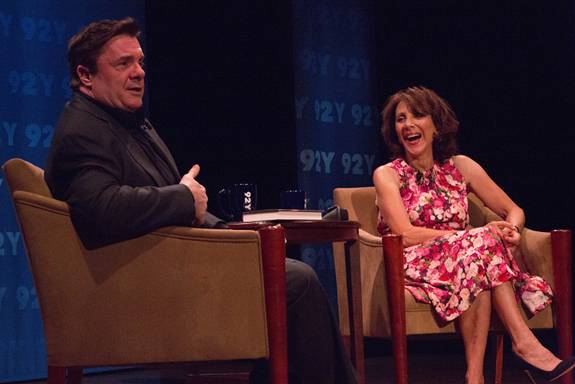 Andrea Martin in Conversation with Nathan Lane
by Linda Amiel Burns
The 92nd Street Y launched its new season of TALKS with 2 Tony winners in conversation – Nathan Lane interviewing Andrea Martin about her new book, "Lady Parts."
What is TALKS? According to the series description at the 92nd Y, it is about conversations with the "people who inspire a world of ideas, to entertainers known the world over, finding the best minds, the brightest stars and compelling issues."
The fall season of the series began the evening of September 14 at Kaufman Auditorium with two very talented and funny actors in conversation. Nathan Lane served as the moderator and interviewed his friend and colleague Andrea Martin, who had just written a new book entitled "Lady Parts."
She said that it was not an autobiography but stories and incidents that she remembered about her life. Writing made her feel very vulnerable but the result was worth the effort.
Many people think that Andrea is Canadian as she starred in the famed SCTV Series and now lives in Toronto. However, she grew up in Portland, Me, went to Emerson College in Boston and got cast in You're a Good Man, Charlie Brown two weeks after arriving in NY, and later in the original production of Godspell.
Andrea talked about her career, her family and the conflict and guilt that working mother's experience. Her two sons are now 31 and 33; the older is getting married soon.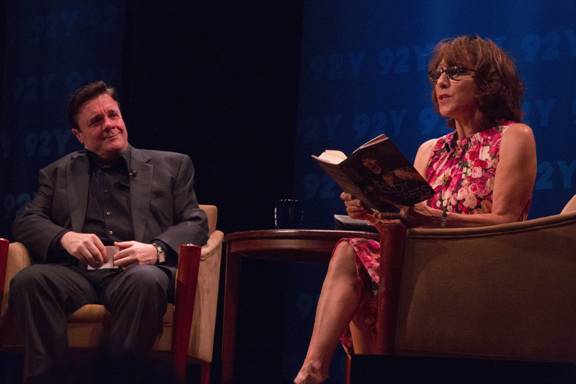 Photo credit: Joyce Culver.
Andrea read several excepts from the book: her diary at age 11, growing up watching the Ed Sullivan Show and various variety acts including "Chimps in Tutus", her Tony wining role as Berthe in Pippin, and a chapter about a dinner party at comedian Steve Martin's house where all the guests chimed in to name her book. It was hilarious as Steve felt that "Perky Tits" was the right title and Andrea did a whole riff on that, saying that Costco would not sell a book with such a title. Finally we learn that Nathan's husband came up with the name "Lady Parts" and she felt that this was perfect.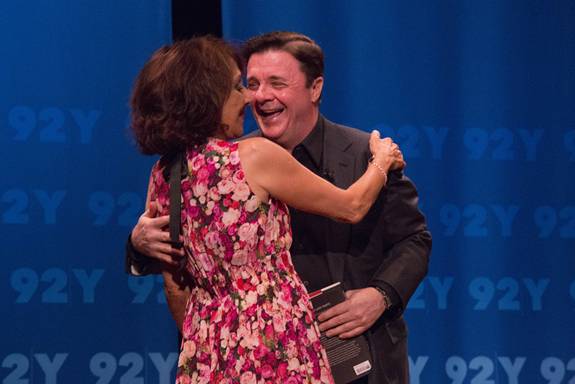 What was very apparent was the friendship and respect that Nathan and Andrea have for each other and it was hard for either of them to keep a straight face. Audience members were given cards to ask questions and at times Nathan could barely read them as he was laughing so hard at Andrea's responses. One thing she did stress was that every person has to find their unique voice and it was obvious that these two Award winning actors are one-of-a kind and have a unique voice in everything they do.
Nathan Lane is teaming up again with Matthew Broderick, his co-star in The Producers, in Terrence McNally's It's Only a Play. Andrea's next film, Night at the Museum 3, opens in December. After the conversation ended, Andrea left the stage and a desk was set up outside the auditorium for her to meet and greet her fans and sign her new book.
Upcoming 92Y Talks….visit 92Y.org
http://www.92y.org/Uptown/Events/Lectures
or phone 212 415-5500 for the schedule.