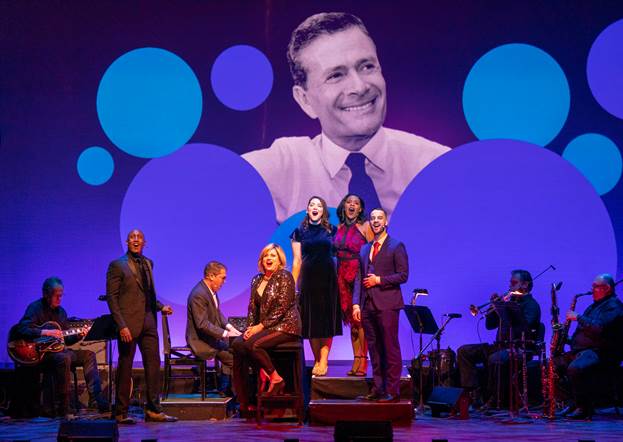 Quentin Earl Darrington, Cady Huffman, Bryonha Marie Parhan, Andrea Ross, and Ryan Vona.
92Y Lyrics & Lyricists: Jerry Herman,  You I Like
                          by Deirdre Donovan
"When they passed out talent, Jerry stood in line twice."  Carol Channing's endearing quote for Jerry Herman still makes theatergoers smile.  And why shouldn't it?  The lyricist-composer gave us the scintillating scores to Hello, Dolly!, Mame, and La Cages aux Folles, to mention just a few.
In the 92Y's recent tribute to the legend, entitled "Jerry Herman: You I Like," New Yorkers had the opportunity to celebrate the musician with a song-fest of his signature works.  Broadway musical director and composer Andy Einhorn hosted the event, assisted by 5 Broadway and regional performers:  Quentin Earl Darrington, Cady Huffman (an original cast member of La Cage aux Folles), Bryonha Marie Parhan, Andrea Ross, and Ryan Vona.  The five artists alternated in presenting 26 showtunes (sixteen in Act 1; ten in Act 2) from Herman's oeuvre during the two-hour evening. 
The presentation of course had special significance to everybody assembled in the Theresa L. Kaufmann Concert Hall.  Herman passed away only two months ago, on December 26, 2019.
Einhorn wasted no time in getting the program launched.  And what better way to launch it than with a rousing overture that presented Herman's most popular hits, all rolled into one?  Many of the pieces would be reprised during the show, with their rhythms and rhymes in full swing. 
This concert was for the ears and eyes.  And, naturally, audience members oohed and aahed over Herman's most popular songs.  But beyond this aural feast, they also could enjoy  a visual one by looking at Herman's picture on a large screen on stage.  It showed him with a twinkle in his eye and as the very soul of optimism.
Einhorn doubled as narrator and pianist during the show.  Yes, it was fascinating to watch him tear up the piano one moment and then transition seamlessly into storyteller the next.   He provided the audience with lots of nuggets from Herman's biography, tossing in some delicious anecdotes for good measure. 
Herman, he noted, was born in Manhattan but raised in Jersey City, New Jersey.  He was the only child of middle-class Jewish parents who had a natural bent for music and the arts.  His father Harry was a gym teacher and, during the summer, a coach at camps in the Catskill Mountains.  His mother Ruth worked as a singer, pianist, and eventually became an English teacher.  Herman worshipped her, and her death from cancer at age 44 was a severe blow to him.
Einhorn masterfully balanced his patter with the songs.  He would serve up biographical tidbits on the iconic artist and then segue into tunes that could thematically comment on, and compound, his narration.
The first two numbers, "I Belong Here" and "It's Today," warmed up the audience just fine.  But it was "Put on Your Sunday Clothes" from Hello, Dolly!" that really raised the room's temperature.  Einhorn, who was the musical director of the 2017 Broadway revival of Hello, Dolly! (with Bette Midler), obviously relished resurrecting this song for all the Herman devotees in the audience.
The rest of Act 1 progressed at a brisk clip, with a number of sure-fire hits: "It Takes a Woman" (Hello, Dolly! again), "Look Over There" (La Cage aux Folles), and the titular "You I Like" (The Grand Tour). 
Other standouts?  Well, if pressed, I would add "Time Heals Everything/I Won't Send Roses" (Mack & Mabel), both of which poignantly address human pain. 
In Act 2, a medley of Herman's eponymous showtunes filled the air.  Aptly titled "Title Song Medley," it featured snippets of Mame, Milk and Honey, Dear World, La Cage Aux Folles, and Hello, Dolly!
That said, the really meaty number was "I Am What I Am" from La Cage Aux Folles.  Einhorn pointed out that this song became a kind of gay anthem during the AIDs crisis.  And it took on personal meaning for Herman too, who was openly gay.
The strength of the presentation, in fact, is that there was something for everyone.  Indeed, if you found any musical number NOT to your liking, all you had to do was wait another moment and the next one might be the cat's meow. Take "Confession to a Park Avenue Mother" from Parade and "I Don't Want to Know" from Dear World.  They might not be considered Herman's A-list, or rank among his top ten, but they sure mesmerized the crowd at the 92Y. 
The real knockouts of Act 2?  Well, if push came to shove, I would say "A Little More Mascara" from La Cage aux Folles and "Before the Parade Passes By" from Hello, Dolly! had a little extra something.
The real tearjerker, however, was the closing song," I'll Be Here Tomorrow" from The Grand Tour.  And whether you believe in ghosts or not, the spirit of Herman seemed nearby as this song made its musical arc.
Indeed, the entire program was an initiation into the theatrical magic of Herman's songs.  And, as the curtain came down and folks exited onto Lexington Avenue, you could hear some people humming snatches of Herman's songs.
February 22 through 24
At the 92 Street Y, 1395 Lexington Avenue (at 92nd Street)
Reviewed at press performance on Monday, February 24
For more information on the 2020 Lyrics & Lyricists series, visit www.92Y.org or phone 212.415.5500
Running time:  2 hours with one intermission
Next in the series is "George Gershwin: You've Got What Gets Me"