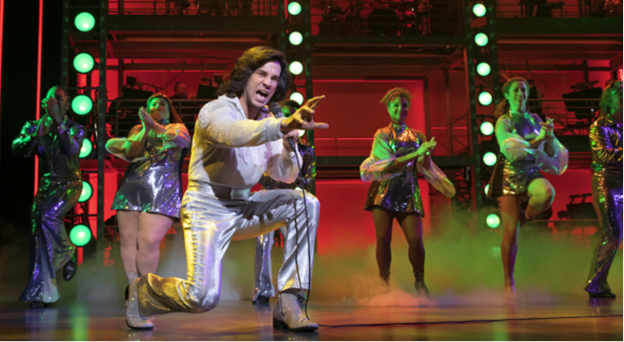 Will Swenson and Ensemble in A Beautiful Noise. Photo by Julieta Cervantes
A Beautiful Noise
By Julia Polinsky
Essentially, A Beautiful Noise is a Neil Diamond cover band concert presented on a Broadway stage with superb talent and skill, and an aging-star-talking-to-a-shrink framework. The audience loves it.
LOVES it.
Some jukebox musicals disguise, or enhance, their repurposing of pop stars' back catalog – Head Over Heels or Jagged Little Pill, for example tell actual stories that have zero to do with the pop stars that spawned them. Some jukeboxers just go straight for biography with a fragile frame. A Beautiful Noise definitely, and popularly, falls into that second category.
With over $14M in grosses since the first preview in November, it's hard to argue with A Beautiful Noise's success. Apparently, the straightforward jukebox musical has its place, and judging by A Beautiful Noise's popularity, that place is putting people in Broadway seats. Everyone around me was happy and singing along; they'd have flicked their lighters if they could.
Thereby hangs a tale (book by Anthony McCarten). Basically, the show presents an aging star, Neil Diamond Now (Mark Jacoby) whose third wife and family have decided that he's hard to live with and urged him to Talk To Someone. The Doctor (Linda Powell,), who is young enough to need to look up his music in a book of his lyrics, uses Neil's own words to prompt a reluctant Neil Now to talk about his past.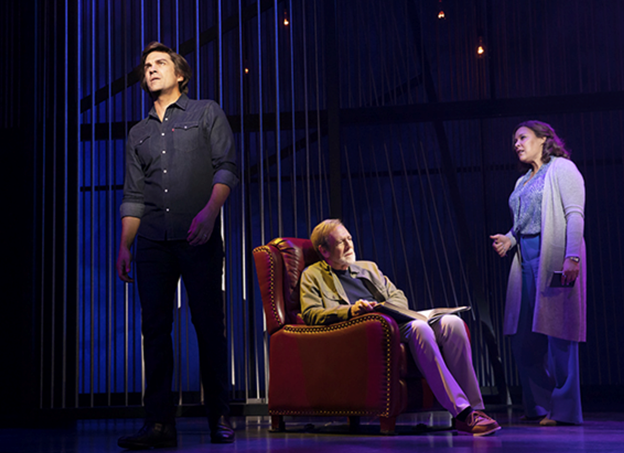 Will Swenson, Mark Jacoby, and Linda Powell in A Beautiful Noise. Photo by Julieta Cervantes
There's the obligatory jukebox musical how-I-got-famous professional drama about Neil Diamond Then (Will Swenson) trying out his songs for a famous promoter of songwriters who sees what he can be (Bri Sudia), selling songs that become other acts' hits, ("I'm A Believer" "Red, Red Wine"). Soon, Neil Then gets a tryout from Fred Colby (Michael McCormick), the visionary owner/promoter of the Bitter End.
Tryout succeeds; success on success follows. In a plotline so barely believable it must be true, Neil Then signs a bad contract with a caricature scary Mob bad-guy (Tom Alan Robbins). The barely believable part is that he manages to get out of it by the mercy of the Mob guy's front man (Tom Alan Robbins).
Neil Then starts to make real money. Neil Diamond wrote 10 Top 10 hits and sold 140 million albums. 9 Grammy Award nominations, two wins. Rock and Roll Songwriters Hall of Fame. Kennedy Center Honors. Neil Then was a musical force. A power. And it cost him; two failed marriages – each wife gets a song to herself – and crippling self doubt, the subject of the show.
Will Swenson, Mark Jacoby and Ensemble in A Beautiful Noise. Photo by Julieta Cervantes
Neil Then's chronic depression gets lots of play – clouds are referenced often. But Neil Then comes alive when he's performing, and so the nice Jewish boy from Brooklyn becomes a mega-huge pop star.  Will Swenson's somewhat dispassionate acting of Neil Then contrasts with his very passionate performance of Diamond's songs. Interspersed with memories of family drama with Wife 1, Jaye (Jessie Fisher) and Marcia, Wife 2 (Robyn Hurder) those songs come thick and fast.
Neil Then sells out stadium after stadium, living on the road, wearing more rhinestones than a ballroom dancer, writing and performing the pop-music soundtrack of the 60s and 70s. "Cracklin' Rosie." "Song Sung Blue." "Forever in Blue Jeans." "Holly Holy." "I Am… I Said." "America." Song after song, hit after hit – until the 800-pound gorilla of his catalog practically brings the singing, swaying audience to its feet.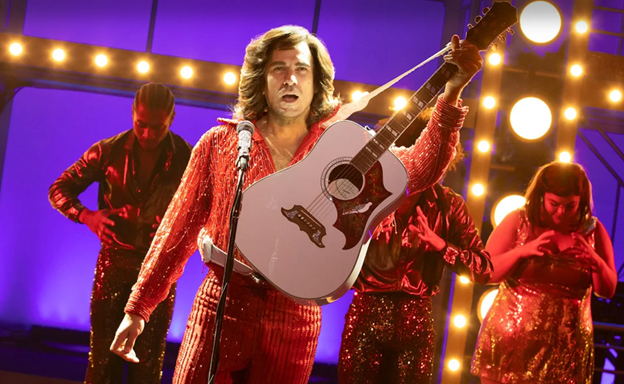 Will Swenson and Ensemble in A Beautiful Noise. Photo by Julieta Cervantes
Face it: everyone in America has heard "Sweet Caroline," and most have sung along – after the show, 44th Street rings to the voices of audience members belting out the chorus, complete with the "Bah Bah Bah" and "So Good! So Good! So Good!."
A Beautiful Noise presents the songs in that odd Broadway/stadium concert hybrid that is neither concert nor theater but something of both.
Backed up by a stupendous band and a knockout dance ensemble (the dancers are better than Steven Hoggett's choreography), Neil Then, resplendent in scads of sequins and gravity-defying 70s hair, wails out Diamond's songs, occasionally breaking the theatrical fourth wall and interacting directly with the audience: that's like a concert.
Ensemble singing and dancing: more Broadway. It goes back and forth, until by the end of Act II, it's mostly unabashed concert. And yet – the Doctor and Neil Now have almost the last word – before the Big Concert Finish.
Is A Beautiful Noise feel-good? Yes. Is it eye-filling (scenic design by David Rockwell) and tuneful? Yes. Are there any surprises? No. Will the audience have an enjoyable evening in the theater? Absolutely yes. Sometimes, that's enough.
A Beautiful Noise
At the Broadhurst theatre
261 W. 47th St.
Running time: 2:15, with one intermission
Tickets, $84.50-368.50; https://www.telecharge.com/Broadway/A-Beautiful-Noise-The-Neil-Diamond-Musical/Overview