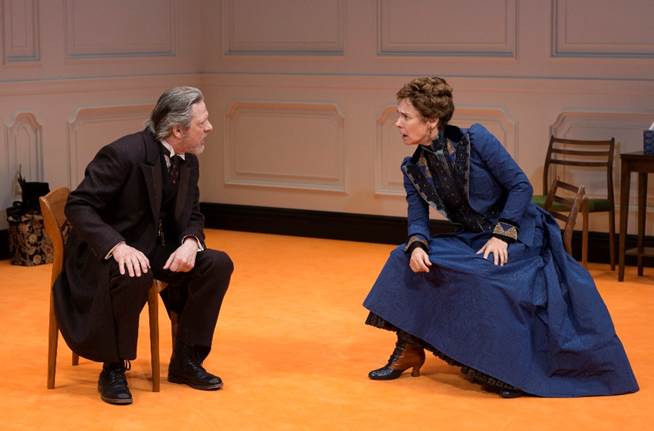 †††††††††††††††††††††††††††††††††††††††††††††††††††††† By Ron Cohen
Since 1879, Nora Helmer, the heroine of Henrik Ibsenís A Dollís House, has been repeatedly slamming the door on her stultifying marriage, leaving behind household, husband and children. Now, in a sequel boldly written by Lucas Hnath and forthrightly entitled A Dollís House, Part 2, itís 15 years later, and Nora returns to that home for the first time. Her return, of course, creates problems for all concerned, but it also gives audiences something to celebrate.
†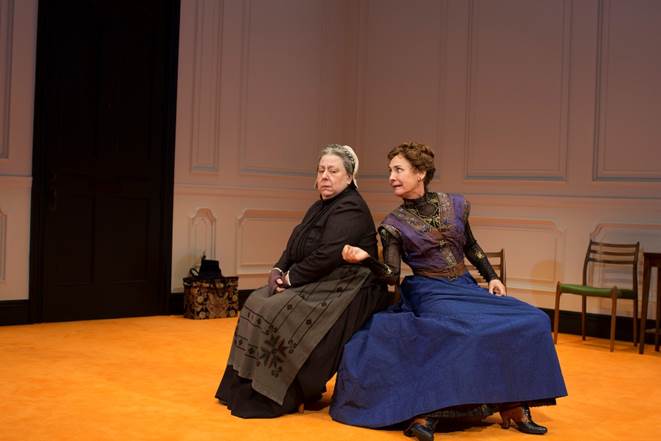 Jayne Houdyshell and Laurie Metcalf in A Dollís House, Part 2. Credit: Brigitte Lacombe
Hnathís earlier efforts include the well-received Off-Broadway plays The Christians, Red Speedo and Reading of an Unproduced Screenplay About the Death of Walt Disney. With A Dollís House, Part 2, he is making his Broadway debut, and itís an auspicious one. His elegantly provocative script has been given an immaculate production, appreciatively directed by Sam Gold and performed by a quartet of illustrious actors, whose program bios are loaded with one award after another.
Laurie Metcalf is a spectacular Nora, getting supreme support from Chris Cooper as her husband, Torvald; Condola Rashad as their daughter Emmy, and Jayne Houdyshell as the familyís long-time housekeeper, Anne Marie.
In Hnathís compelling post-Ibsen narrative, Noraís returning knock on the door is answered by a happily surprised and tearful Anne Marie.† Among the first things we learn as they converse is that Nora hasnít done too badly at all. Using a pseudonym, she has become a popular author, with writings promoting the demise of the institution of marriage. The fly in her ointment, though, is her recent discovery that Torvald never filed for divorce. Under her status as a still-married woman, some of the things she has done in her life are illegal and could be her undoing. She has come to get Torvald to finally obtain that divorce.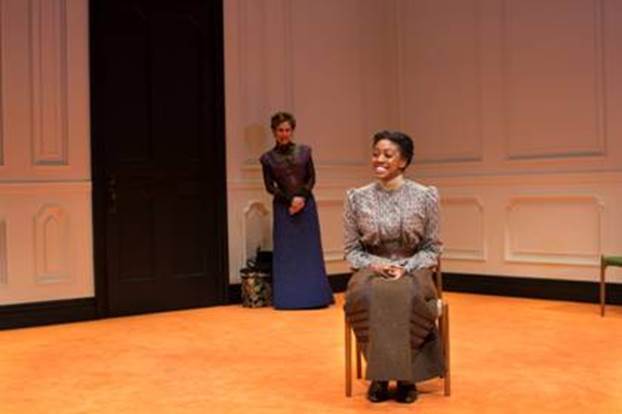 Laurie Metcalf and Condola Rashad Credit: Brigitte Lacombe
That, for several reasons, is a request not well received, the main reason being that in Torvaldís society it was finally assumed that Nora was dead. That assumption has given the family, along with the sympathy involved, certain benefits not easily returned.
Nora vainly seeks assistance in her plight from Emmy, the daughter she abandoned, as well as Anne Marie. Finally, she must bring her case to Torvald himself. These conversations sparkle, as the characters debate the ever-pertinent question of self-interest and self-fulfillment versus love and marriage, the place of women in that equation, and the tenets of society in general. Itís a gabfest revealing character, prompting laughter and piquing the intellect, with an incisiveness and wit worthy of George Bernard Shaw. And Hnath winds it up, after some twists in plot and an intermission-less 90 minutes or so, with a surprisingly bittersweet but unsentimental conclusion thatís deeply satisfying.
Gold, a director known for his overtly conceptual revivals of such plays as Picnic and the current production of The Glass Menagerie, lets Hnathís script play out with a welcome sense of spontaneity and immediacy. The only few outrť touches include the marquee which hangs over the set before the showís start, spelling out the title in lighted, block letters, and the projections onto the set which announce a characterís name at the start of a new scene. The focus is squarely on the performances, abetted by Miriam Buetherís good-looking but spare set design depicting the entrance hall of the Helmer home and David Zinnís apt period costumes.
Metcalfís Nora reveals one nuance after another, lightening a steely intelligence with humor and sometimes punctuated with exasperation, both with her own thinking and the world at large. Cooper elicits genuine sympathy for Torvald, a well-meaning man befuddled by the hand that fate has handed him, while Rashad makes the against-all-odds cheery and well-balanced Emmy totally credible. Houdyshellís Anne Marie happily mixes servitude with gumption and a fondness for four-letter words. Most importantly, a sense of truth pervades each of these performances.
A Dollís House, Part 2 revivifies the old-timey concept of a play of ideas, the sort of thing Ibsen himself used to do, and does it with vivacity and smarts.† It makes for a most worthy addition to a Broadway landscape dominated by musicals, and if it takes a village of some 25 producers to get it there, letís give thanks to each and every one of them.
Broadway play
Playing at the Golden Theatre
252 West 45th Street
212-239-6200
Playing until July 23