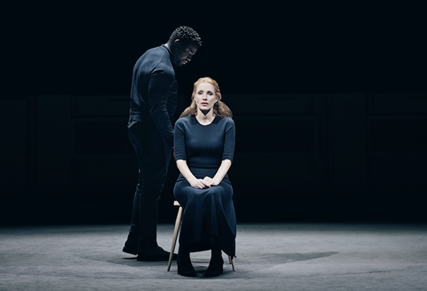 Okieriete Onaodowan and Jessica Chastain.† Photo by Emilio Madrid.
A Dollís House
By Deirdre Donovan
Itís been almost a century and a half since Henrik Ibsenís A Dollís House premiered in Norway in 1879.† But this domestic drama is hardly ďold stuff,Ē in playwright Amy Herzogís new version, and under the astute direction of Jamie Lloyd.† Starring Jessica Chastain as Nora, this current revisiting of Ibsenís masterpiece at the Hudson Theatre is something to celebrate.
A Dollís House, in many ways, is a quite traditional play based on a blackmail plot that only in its last scene takes an astonishing turn.† For those who need a quick refresher on the plot, here it is in a nutshell:† Nora once forged her dying fatherís signature on a loan she received from the lawyer, Nils Krogstad, to restore the health of her husband, Torvald Helmer. Krogstad, who always knew Nora forged her fatherís signature, decides to confront her with it years later when her husband, as the new bank manager, fires him from his job. Threatening to expose her deceitful act to her husband, the underhanded Krogstad gives Nora a way to save her reputation: she will use her influence with her husband to rehire him at the bank.
Whereas this complicated situation is intriguing to watch throughout, the real twist in this drama is when the conventional ending of forgiveness, reconciliation, and restoration of the familial order doesnít occur at the denouement.† Instead, Nora forces her husband into a discussion that promptly concludes with her feminist declaration of independence.† Itís hardly a spoiler to say that Nora leaves Torvald and her three children.† But what makes the ending so compelling is its subtlety.† Nora is quiet as a church mouse as she departs.
It's this same subtlety that Chastain brings to her Nora, which makes her performance a brilliant one.† She never overacts her iconic part or strains in delivering her indelible lines.† She trusts Ibsenís language to work its magic, and it does.
Before the play proper begins, the audience sees Chastain sitting in a chair on stage that rotates in mesmerizing circles for twenty minutes.† It creates a sense of a woman trapped in a situation that has yet to be outlined by her consciousness.† As the other characters join her on stage in folding chairs, the playís opening dialogue between Torvald and Nora is intoned:†
Torvald:† Do I hear something chirping out there?
Nora:† Tweet tweet tweet!
Torvald:† Is that a little bird?
Nora:† Yes it is!
The playful conjugal relationship between Torvald and Nora is masterfully established by Ibsen from the get-go.† Nora is portrayed as her husbandís little songbird rather than as a woman who is his equal.† Ibsenís drama was once described by the renowned critic Harold Clurman as a ďlove story in reverse.Ē† And, indeed, the audience will witness in this two-hour drama how a loving couple slowly devolve into strangers who are no longer able to live together in the sacred institution of marriage.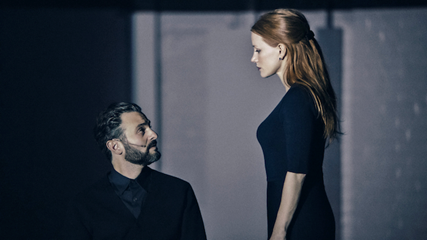 Arian Moayed and Jessica Chastain in A Dollís House. Photo courtesy of A Dollís House.
Chastain is supported by a top-notch cast, with a few particularly outstanding performances.† Thereís the excellent Arian Moayed who plays her husband Torvald, a lawyer who will soon become the new bank manager, and is widely considered a pillar of the community and ideal spouse to Nora.† Jesmille Darbouze convincingly portrays the widow Kristine Linde, Noraís old friend who unexpectedly shows up on her doorstep, in need of a job.† Okieriete Onaodowan inhabits the slimy lawyer Krogstad with a suitably oily personality.† And Michael Patrick Thornton is well-cast as Dr. Rank, the terminally ill family friend whoís in love with Nora.
Herzogís streamlined version of Ibsenís play makes the three-hour drama clock in at just under two hours.† Remarkably, the original power of the work isnít diluted in this retooled script.†† And what it lacks in flowery language, it makes up for in contemporary verve.†
Consider Chastainís Nora explaining to Kristine that perhaps someday she will reveal to her husband that she took out a loan to save his life.† Instead of her character reciting the antiquated phrase ďmany, many years hence,Ē Herzog reinvigorates her language by making it sound more natural and down-to earth: ďMaybe.† When weíre older and Iím not as attractive.† Then it might be a good idea to have something up my sleeveóĒ
Soutra Gilmourís set, lit by Jon Clark, is minimalism to the nth degree.† Props are practically nonexistent in this production, prompting the actors to become quasi-mimes at time and audience members to suspend their disbelief, and then some.
Gilmour and Enver Chakartashís mix of ink-black and indigo-blue costumes enhances the mood and atmosphere of this classic that doesnít end happily-ever-after.
The cast of A Dollís House.† Photo courtesy of A Dollís House.
Ultimately, it is the living texture of a production that makes it fly.† And, with Jamie Lloydís swift pacing, and the radiant Chastain leading an efficient cast, this Dollís House never drags but is executed with amazing dispatch.
While many have pointed out that Noraís conversion in the play is too sudden to be credible, others have argued that what makes Ibsenís drama succeed is having an actress worth her salt perform Nora.† To this end, Chastain is heaven sent:† She makes the protagonistís turnabout plausible by her creative acting.† When Chastain delivers her final speech, a spellbinding tract for feminism (and individualism), the theater is so quiet that one can hear the proverbial pin drop.† Indeed, it allows the audience, not only to hear Noraís speech verbatim, but to reflect back on the protagonistís naÔve youthfulness, her loving dependence on Torvald, her yearning for a better life, and her anguish on discovering that she no longer loves her husband.† It is this unified fabric of Noraís character that Chastain projects that makes her performance unforgettableóand this Dollís House worth seeing.†
Through June 10th.
At the Hudson Theatre, 141 W. 44th
Street, midtown Manhattan.
For more information, visit www.adollshousebway.com
Running time: 1 hour; 50 minutes.