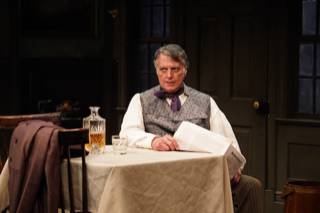 Robert Cuccioli
Photos: Carol Rosegg

A Touch of the Poet

                                         By Deirdre Donovan

You won't find a more satisfying drama on a New York stage than Eugene O'Neill's A Touch of the Poet, in a vigorous revival at the Irish Repertory Theatre this spring. Directed by Ciarán O'Reilly, and playing on the Francis J. Greenburger Mainstage, this production is a godsend to O'Neill fans and for those who simply like a play that wrestles with the Big Questions.

A Touch of the Poet is, like most of O'Neill's works, rather long-winded in its dialogue and complicated in its plot-line. But it's worth retelling the talin broad strokes here, largely because it is one of the playwright's most fully-realized dramas and the tragic lessons tucked in it are profound.

Set in a grimy dining room of Melody Tavern in a village a few miles from Boston in 1828, the story centers on Major Cornelius ("Con") Melody, a braggart Irishman who emigrated to the United States and is determined to prove his worthiness to the Yankee town men. His CV? He purportedly grew up in an Irish Castle, the son of an Irish aristocrat (the town gossip whispers that his father came by his money by mercilessly squeezing money from his poor tenants). Con was educated at fine schools and groomed to be a gentleman. And when the time came for him to serve in the Napoleonic Wars, he did so with distinction, even being recognized by the Duke of Wellington for his exemplary service in the 1809 Battle of Talavera.

But Con's moment of glory was short-lived. An irresistibly handsome man to the opposite sex, he was an inveterate philanderer with the wives of the Spanish noblemen. And, unsurprisingly, a husband caught him in bed with his wife, and in a subsequent duel with the enraged man, Con killed him. Con escaped being court-martialed—but he was discharged in disgrace from the military.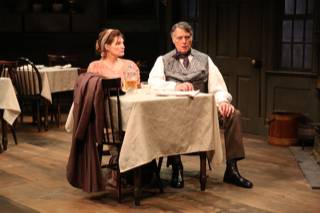 (Left to right): Kate Forbes, Robert Cuccioli
Photo: Carol Rosegg

O'Neil's four-act play has been turned into a two-acter at the Irish Rep's Greenburger Mainstage. Significantly set on the anniversary of the Battle of Talavera, we meet the penniless Con (Robert Cuccioli) whose run-down shebeen is saddled with debts. His obsequious peasant wife Nora (Kate Forbes) worships him, in spite of his bi-polar temperament and his ill treatment of her (Con is ashamed of her low social class and that Nora was pregnant when he married her). Their high-spirited and psychologically-complex daughter Sara (Belle Aykroyd), a waitress at the family tavern, is in love with the (unseen) patrician Simon Harford, a latter-day Thoreau who caught cold living in a wilderness cabin and is now recuperating upstairs at the Melody Tavern. And, let's not forget, Simon's eccentric mother Deborah Hartford (Mary McCann) who makes an unexpected visit to Melody Tavern. Her beauty and aristocratic manners are immediately noticed by Con, and ignorant that she is Simon's mother, tries to seduce her.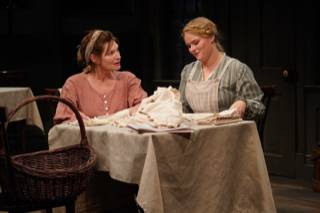 (Left to right): Kate Forbes, Belle Aykroyd
Photo: Carol Rosegg

The acting of Robert Cuccioli, Kate Forbes, Belle Aykroyd, Mary McCann, Andy Murray, brings the 1942 play vigorously alive. Cuccioli, best-known for his star turn on Broadway in Jekyll & Hyde, is well-cast as Con, completely disappearing into his patriarch role. Forbes is making her debut at the Irish Rep as Nora, and a worthy one it is. Forbes infuses her Nora with the requisite humility and feminine submissiveness as Con's peasant wife. Aykroyd's Sarah is fittingly feisty and always ready to speak the truth to her father, in spite of his "deaf" ear. And I would be remiss not to mention the rest of the company--David Sitler, John C. Vennema, James Russell, Rex Young and David Beck—who hold their own on stage.

No weak links in the creative team. Charlie Corcoran's realistic set, lit by Michael Gottlieb, shows a shebeen that has seen better days. Kudos to Alejo Vietti and Gail Baldoni's costumes, which not only outfit the company in 19th century American threads, but whips up an authentic-looking military uniform for Con to strut in as he celebrates the Battle of Talavera's anniversary.

A Touch of the Poet holds a special place in the O'Neill canon. The playwright wrote it in 1942 as the prologue to his (unfinished) magnum opus, a nine-play cycle entitled A Tale of Possessors Self-Dispossessed. A Touch of the Poet, however, was the only play that O'Neill completed (More Stately Mansions, its sequel, survives in part) and only got its stage legs on October 2, 1958 at the Helen Hayes Theatre, five years after his death. The prolific playwright originally envisioned the project to be "An American History," proposing that it would be a dramatization of the Biblical injunction: "For what shall it profit a man if he gain the whole world and lose his own soul."
No serious critic would class A Touch of the Poet on the same rung as O'Neil's masterpiece A Long Day's Journey into Night. Still, it's a deeply moving play that leaves us with the portrait of a man who saw great value in preserving the Old World that upheld the noble English gentlemen—and resisted the idea of the common ordinary citizen.

Con is one of O'Neill's great creations that can remind us that times indeed change, and that we must change with them—or become a victim of the past.

Through April 17th.
At the Irish Repertory Theatre, 132 W. 22nd Street, Chelsea.
For tickets and more information, phone (212) 727-2737 or visit www.irishrep.org.
Running time: 2 hours; 40 minutes with a 15 minute intermission.