John Lithgow, Glenn Close, Lindsay Duncan              Photography by Brigitte Lacombe
                               by David Schultz
Director Pam Mackinnon has lowered the poker hot heat from Edward Albee's classic in unusual ways. The intentional restraint must be her goal in presenting her vision but the production feels sluggish and watered down. That was not the case in her previous outing with Albee. Last season's Who's Afraid of Virginia Woolf was exceptional and devastating in its depiction of a married couple in the throes of marital warfare. This Tony Award winning play, first produced on Broadway in 1966 is an entirely different sort of animal. By turns, vicious and enigmatic, the themes and unrest of its upper class denizens are all under the surface. Much of the intense emotional verbal dueling is said between the words that these well-spoken characters don't say to each other. It is a tricky high wire act that Albee creates with unerring ease.
The long evening is broken up into three acts, with two brief intermission breaks. Agnes and Tobias (Glenn Close, John Lithgow) are a middle-aged couple whose passion and emotional connection is long past its due date. They chat amicably, drink copiously from their well stocked bar and seem totally removed from each other, as they seethe with underlying emotional unrest.  The couple has a live-in guest that unsettles the status quo; Agnes's younger sister Claire (Lindsay Duncan), a recovering or make that semi-recovering alcoholic. The two sisters have a love-hate relationship that makes home life unpleasant. Claire likes to taunt and throw her wicked humor to all who stand in her path, it creates an interesting dynamic.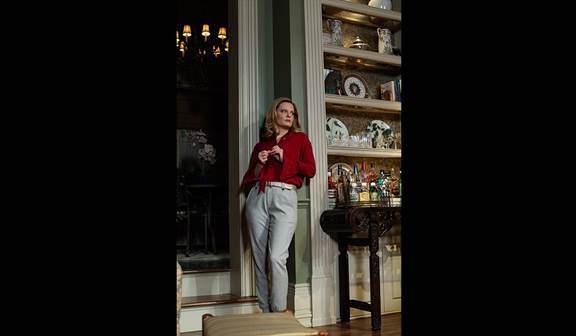 Martha Plimpton (Julia)   
 Into the homestead comes daughter Julia (Martha Plimpton) returning after her third marriage is on the rocks. Having done this each time a relationship folds, her parents are accepting but fed up with her dissolute behavior. All this is just a prelude for what's in store for this family.

Bob Balaban (Harry)
The doorbell rings and there stand neighbors Harry and Edna (Bob Balaban, Claire Higgins). Filled with an abject fear of something that is almost impossible to fathom, this pleasant-appearing couple needs to escape their home and settle in for the night…with the thought and hope of never leaving. Moving into their host's home is their only safe option. The horror and terror of what they are experiencing is not real, but dread is written on their faces as they attempt, albeit with a surplus of reticence to put words to the malaise that made them flee from their homestead.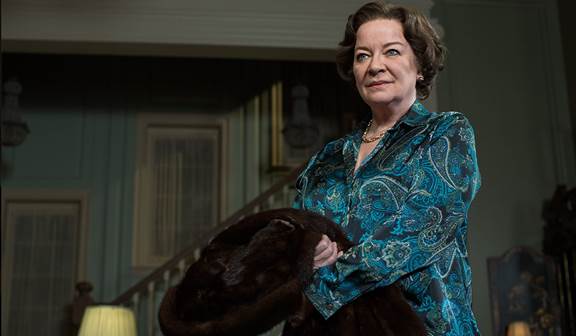 Clare Higgins (Edna)
This mysterious, difficult play does get under your skin if you allow it to. The themes and subtle signposts are all carefully set in place. The astounding set design (Santo Loquasto) does take your breath away when the curtain rises. The highly vaulted ceiling with a dazzling chandelier-hanging overhead lights the impressive furnishings contained within. Gorgeous expensive Chippendale chairs, plush sofa, decorative lamps, extensive fully stocked wet bar, paintings, porcelain figures, art de objects, are strewn throughout the expansive living quarters. The living space has an overly chilly atmosphere, almost tomblike in its appearance, perfectly in sync with the emotionally frigid family. A gorgeous, rarely used dining room with large bouquets of flowers on an extravagant oak dining table is slightly on view stage right. The unobtrusive lighting (Brian Macdevitt) gives the proceedings just the right amount of ambience. Costume designer Ann Roth gives each character the proper amount of excess stylishness that is perfectly in tune with these wealthy suburbanites. The amusing and frequently alternating flowing outfits the women wear are expensive and sometimes garish in their execution. The men don't get off easy either. Note the wildly contrasting Mr. Rogers-like striped sweater, mixed with eyeball hurting plaid slacks on Mr. Lithgow in an early scene.    
All the performers acquit themselves well, though it must be said that Mr. Lithgow and Ms. Close withhold quite more than necessary. True they are at arms length with each other in the piece, but they both seem more often than not to keep the audience at arms length, and at bay as well. This does affect the emotional journey at hand and definitely mutes the final scenes. This may be the conceit of director Mackinnon, but it sorely underplays the shattering conclusion. Ms. Duncan brings just the right mix of sadness and bitchiness to her flashy role as sister Claire, but here she craftily underplays it, to greater effect. Ms. Plimpton, in the thankless, slightly underwritten role as daughter Julia, doesn't have much to work with. Her pouty and emotional outbursts are appropriate to the play but become tiring and one-note as the evening wears on. Mr. Balaban and Ms. Higgins, as Harry and Edna bring a quivering sense of electricity to the chilly family when they knock on their door. The jolt of humanity, mingled with a feral sense of entitlement is perfectly captured in these frightened souls. Their fear of the amorphous plague fouling their psyche is impeccably rendered. Much of the pleasure to be derived from this potent work is in deciphering the mixed signals and half-spoken utterances, reading the pensive, furtive glances, and hearing the empty spaces and words that cannot emanate from these mortally wounded souls.
Golden Theatre, 252 West 45th Street
adelicatebalancebroadway.com
 through February 22nd
2 hours, 55 min.