Carmit Levite (Leah Erdmann) and Curzon Dobell (Mark Erdmann)
                                   by Eugene Paul
The bitterly ironic title of Iddo Netanyahu's blunt weapon of a play leaves no room for waffling, which is the exact opposite of the behavior of his central characters, Mark Erdmann (sterling Curzon Dobell) and his stunning wife Leah (picture perfect Carmit Levite).  We are in Berlin, November 1932.  Set designer Blair Mielnik has mounted a huge picture window which brings febrile scenes of seething Berlin into every setting, a bar, a bedroom, a living room, telling us more in sad hindsight than the characters of the play want to see for themselves. Professor Mark Erdmann is a distinguished scientist, so preoccupied with his work and his students that he neglects his spectacularly beautiful wife, who finds her own amusements with his young assistant, Dieter Kraft (refreshingly good Joel Ripka), a guilt laden but willing lover.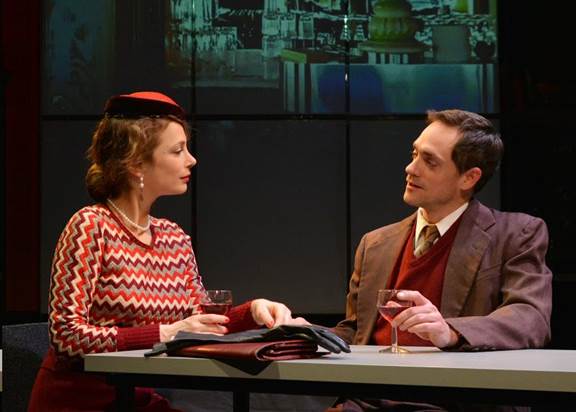 Carmit Levite (Leah Erdmann) and Joel Ripka (Dieter Kraft)
Nazis are overrunning the country.  Leah despises them, scorns them, finds that upstart Hitler a boorish irritant.  Dieter warns her: though she and her husband are the ultimate good Germans, they are Jews.  And Jews are being blamed by Hitler for everything that's wrong in the lives of those other really good Germans, his people, the Nazis.  While we in the audience, already involved, are saying to ourselves, "Listen to him", both Mark, proud German, contributor to the scientific health of the country he loves, benefactor to his students and his university, and Leah, his classically Germanic beauty of a wife, charming, cultured, cannot credit this noise in the streets as anything more than noise.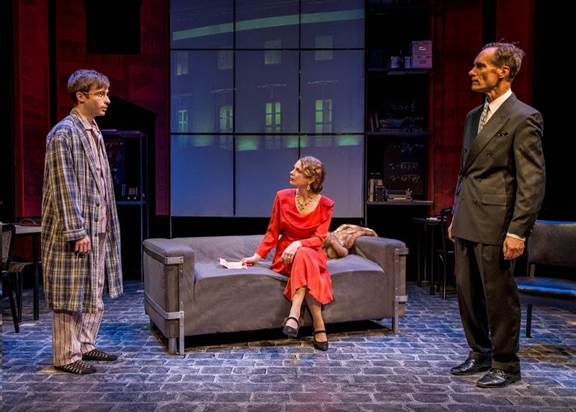 Phil Gillen (Hans Erdmann), Carmit Levite (Leah Erdmann) and Curzon Dobell (Mark Erdmann)
Photos by Kim T. Sharp.
Mark works harder than ever; Leah deals in dalliance more than ever, the star in her own private Hollywood movie.  Their teen age son, Hans (Phil Gillen), shy, awkward, in love with Marthe (Allison Silko) is crushed by the taunts of her friends that he is a Jew. He breaks with her when she cannot see anything wrong in what they are doing.  All he has to do is stop being a Jew. Just be a German. Like her. And now, the noise in the streets is danger in the streets, dangerous for a Jew. Poised, immaculate, impervious Leah, refuses to believe it. Rebuffed by Dieter who tells her they can no longer meet, that he must escort her to her home, she goes out alone.
At home, a disheveled Leah is confronted by a distraught Mark, who hardly sees her.  He has been fired. Maybe he should do as Dieter insisted he do, go to America? Doubly upset, Leah refuses.  They are German.  They belong here.  What would she do in America? That ridiculous California?  That even more ridiculous New Jersey? Mark knows what she would do, he hasn't been blind.  Leah, facing this personal crisis, confesses. She and Dieter have broken off their liaison.  Dieter wants her to leave Germany because she is a Jew.  Dieter is safe, he's a German.
By now, playwright Netanyahu has us where he wants us, an audience wiser than his characters, who see beyond the banal love affair to the dark heart of where history has taken them and us, leaving it to us to see the parallels, history repeating itself, anti-Jewish hatred rising, Jews being killed because they are Jews.   Is there to be another "Happy End"? There is fear now in the audience.  This entertainment has turned into a warning. Even the young people feel it.  Why is this warning in a tiny 99 seat theater off Broadway?  Why isn't it shouting to thousands?  Is it because we don't need it, this time around?  Times are different, the world is different, this time it really is an aberration?  Kill Jews because they're Jews? Don't those would-be murderers believe that Jews will protect themselves?  Have they not heard, "Never again."?  Do they think that because the core of Judaism is "Tikkun", to heal the world, that Jews will not fight back with every fiber of their being if the world won't be healed, that Jews will not be, are not alone?
The questions won't go away.  Playwright Netanyahu has summoned them. We know the answers.  They won't go away either.
Director Alex Dmitriev has skillfully pitted his author's play against the barriers we put up to protect ourselves from facing what we know is there in people suspiciously like us. Of others in this staunch cast, I particularly liked Anna (Lori Gardner) as Professor Erdmann's loyal secretary with her penchant for his remarkable fountain pen. Costume designer Laura Crow is very good to her cast and goes overboard dressing Carmit Levite who revels in her sumptuous wardrobe fit for the silver screen. Dennis Corsi's projections make Berlin of 80 years ago live and David Margolin Lawson has sensitively pitched the play's music.                             
A Happy End at the Abingdon Theatre, 312 West 36th Street.  Tickets: $65. 866-811-4111 or abingdontheatre.org. Thru Mar 29.