A series of photos from beginning to end
Timeline Photos
Fire Island National Seashore's Photos · Fire Island National Seashore's Page
December 5, 2015
TO: Kismet Residents
Re: Army Corps FIMI Project - Kismet
 FIMI dredging project has begun mobilizing TODAY, December 5, to dredge Kismet beach.
This is ten days earlier than we had expected the dredging to actually begin in Kismet. The contractor will be pumping sand east to west from an ocean pipeline that comes landward at the end of Saltaire and marries up to a lateral pipeline pumping the sand east to west through Kismet to the Lighthouse area.
Note: The FINS Superintendent also advised that the beach has been closed to all vehicles at the location of the Kismet "cut" on the Lighthouse Property and therefore all vehicles are now diverted to the "inside" route until further notice. The beach will be off limits to pedestrian traffic as well while work is underway.
Dear Lover of Kismet,
The rebuilding of the dunes has reached Seabay Walk in Kismet. Hopefully the community will be done by December 25th!!!!!
Happy Holidays,
Rusty
December 11 2015

Attached are pictures of the Berm Replacement.

I went to lighthouse beach and took these pix. It appears the Bern, Dunes
have been created from the Federal/State Western border to
1/2 mile from Kismet. Work stopped for some reason. I hiked to Kismet and
Saltair and saw active pumping from Saltair to Kismet. A dredge sucks up
sand from a sandbar at Cherry grove and deposits it at Saltair. This
operation is a 24 hour sand/Bern replenishment.

You are there!
Ron Engasser
 Eyewiness photos from Deb Sommeso: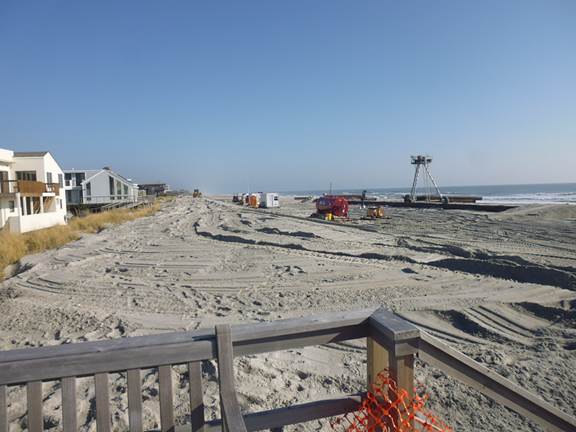 Here are some pictures of the work being done to FINALLY (3yrs & 2 months) rebuild our dunes. It really is something to watch. They are also building up the beaches.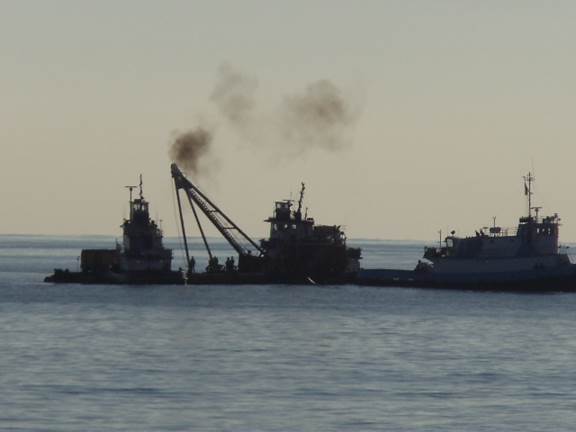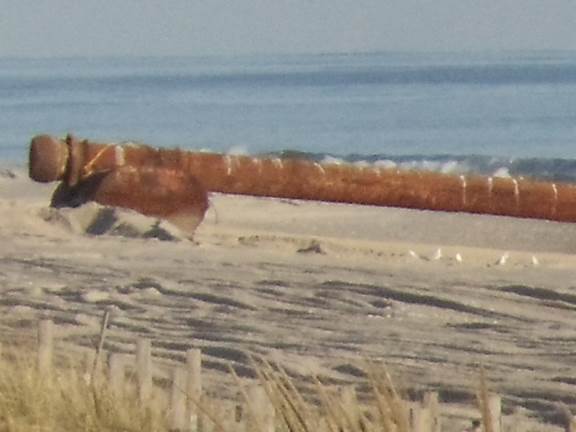 This is to show you how big they are making the beach. The idea wasn't just about making the dunes higher but change the breaking of the waves further back. In case of another big storm the idea is to have the wave's crash further down. Dennis explained it to me!
They still need to shape the dunes and taper down to beach.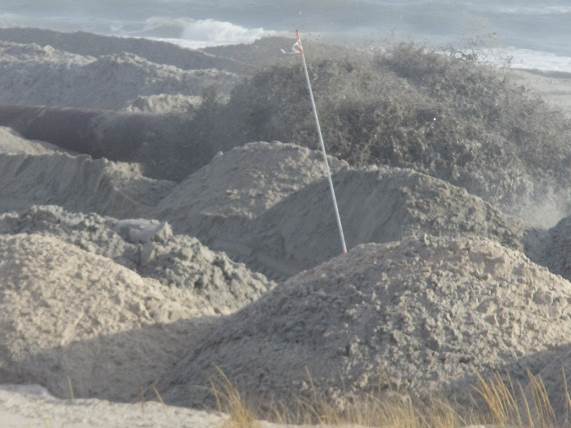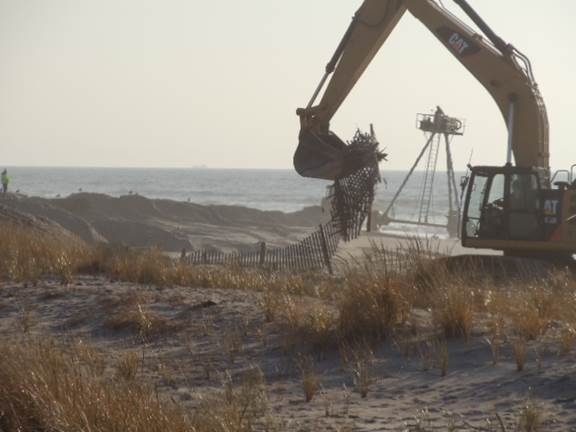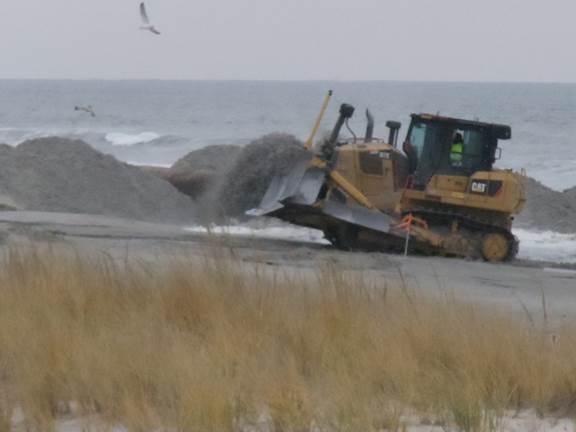 The Final Product
 From Deb 12/29
"Miracles" do happen…
 Even if they take decades