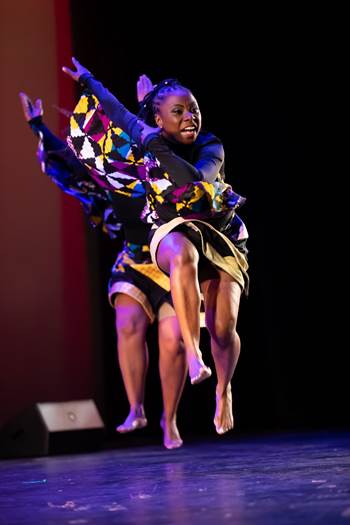 E - Photographed by Solwazi Afi Olusola-
                                 R. Pikser
Why do we go to see dance or to listen to music?  One reason is to admire the skill of those who do what we cannot do:  We go to witness others being alive, so that we, too, may partake of their vitality.  But another kind of watching and listening is participatory:  It enables us to feel more alive because we, too, are actors in the experience.  Though the dancers, singers, and musicians may be more skilled than we are, the focus of this latter kind of performance is to include the audience.  We understand this kind of performance easily when we are part of a group, even a couple, that dances together or that makes music together.  The feeling of community and involvement is much more difficult to create when the performers are on the stage and we are in the audience, seated, yet this is precisely what Asase Yaa manages to accomplish.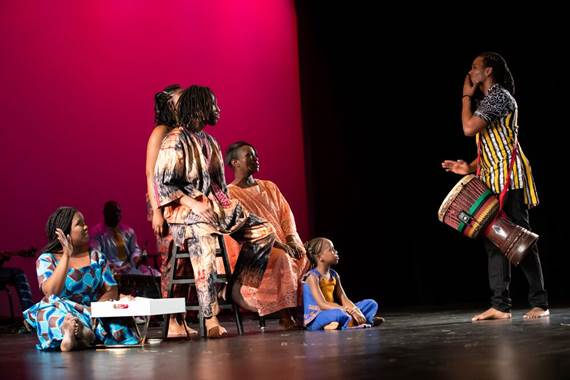 Photos by Solwazi Afi Olusola
The story of Drum Love tells of a young girl who allows herself to be courted by two sexy young men, in spite of the warnings of family and friends.  However, when she ends up pregnant, her community is there to help and to help make things right.  So the story itself is another example, stressed in little speeches at the beginning, middle, and end of the evening by participants of Asase Yaa, in the importance of community support for each member and therefore the importance of the community itself.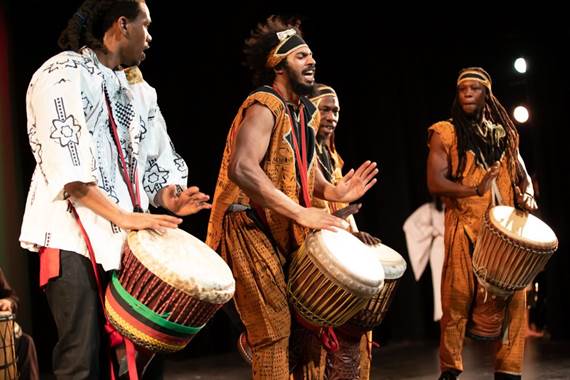 The hour and a half program is driven throughout by the drummers, the marimbist, the guitarist, and the singer; scene follows scene, sometimes in mime, sometimes in dance, but always in relation to the music, which drives the audience, as well as the story.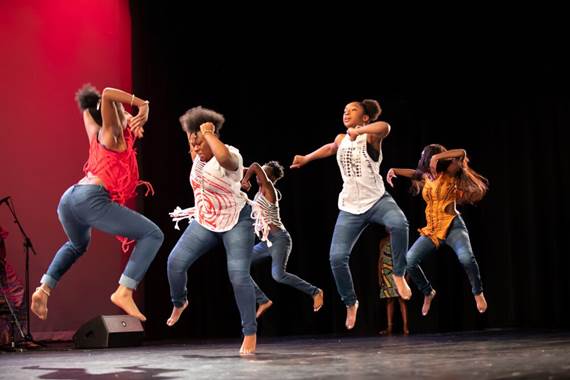 In between the narrative line, there are dances by spirits, by urbanized young folks, by villagers, by young girls engaging in a fight, and assorted others.  Two segments, one dance, the other drumming, are performed by the students of Asase Yaa, who are clearly receiving a disciplined education in the arts and are learning the pleasures of dedicating themselves to something bigger than they are.  Because the design of the show is episodic, these little digressions fit right in.
One other point about the production is especially striking:  The suitors, one a dancer, one a drummer, are able to make us see clearly the way in which dance and drum are truly forms of communication.  If the choreography by company director Yao Ababio is perhaps not as complicated as that seen in other companies, everything is performed cleanly, with dedication, and with joy which, after all, is the point.  After an hour and a half in the presence of such exuberance and such energy, everyone in the audience could not help but leave the theater not only smiling, but more alive than when they came in.
Asase Yaa
Drum Love
February 2nd, 2019
Symphony Space
95th Street and Broadway
New York, NY
Tickets $35-$50
212 864 5400
info@asaseyaaent.org
www.asaseyaaent.org