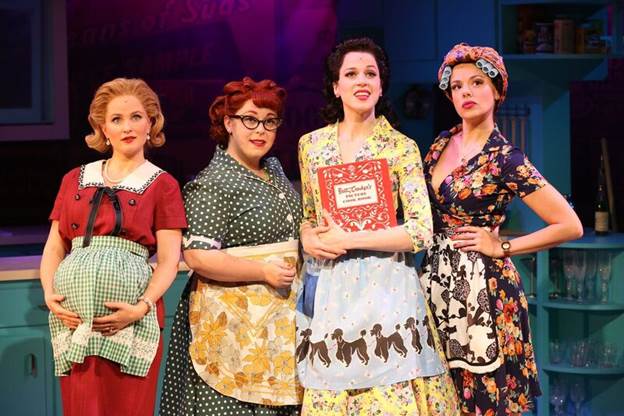 Autumn Hurlbert, Allison Guinn, Paige Faure, Janet Dacal
 by Julia Polinsky
In A Taste of Things to Come, director and choreographer Lorin Latarro does a smashing job with a tight ensemble that works so well with each other, it's easy to believe in these women and fall in love with their stories.
Curtain up lands the audience squarely in Winnetka, Illinois. It's 1957. Four friends get together every Wednesday in Joan Smith's kitchen to enter the Betty Crocker recipe contest, talk, and cook. We learn about their lives, hopes, dreams – and eventually, their real truths, especially in the terrific first act closing number.
Fast forward to act 2; it's now 1967, and these women's lives are more different than they are similar. They reunite, and find that they're still close, even though they've changed. Each has a secret to tell or a story to share; each has learned something about herself over the past decade. No spoilers here, but they end the show looking to the future in a very touching moment.
Book, music, and lyrics, by Debra Barsha and Hollye Levin, are great fun. The songs are confessional, humorous, poignant, and laugh-out-loud funny. A Taste of Things to Come creates a strong contrast between 1957 and 1967, in musical styles, hairstyles, clothing styles, and thinking styles, and provides a strong whiff of what might have been, a very strong wind of change, and a gentle zephyr of "follow your bliss". And a killingly funny number in act 2 – "Food" may just make you laugh 'til you cry. Occasional language anachronisms pop up -- "chill out" didn't enter the vernacular until 1979, for instance, but it's used here -- but not enough to be too jarring.
The songs themselves, whether silly or gossipy or confessional or just plain fun, keep the story moving forward.  Each cast member gets at least one real highlight: "I'm Outta Here," beautifully performed by the astonishing Janet Dacal as Agnes; Autumn Hurlbert as Connie Olsen tells some uncomfortable truth in "In Limbo," and Agnes and Connie have a touching duet in Act 2, "Blessing in Disguise."  Paige Faure just kills it in "The Whomp," and in "Food," while the whole company lets it all hang out, Allison Guinn's Dottie gets to go off the rails just perfectly. For that song alone, it's worth seeing the show, but the whole story is so sweet, see it for that, too.
For that matter, A Taste of Things to Come is almost sweetly naïve, in the current political climate. Women in the 1957 segment are the fantasy housewives of the good old days, with a few cracks in the façade letting in the light; by 1967, most of them have work outside the home, and look forward to more positive changes, for society and themselves. See what I mean about "sweetly naïve?" Perhaps "Obama-era" would be a better description – it hardly seems like shows about women finding their own power and worth are going to have any legs, going forward. (ok, down off the soapbox now)

Autumn Hurlbert, Allison Guinn, Paige Faure, Janet Dacal
Dana Burkart's fanciful and colorful costume design works for both 1957 and 1967, but the 1967 costumes – particularly for Agnes and Joan – are just terrific. Sound design by Daniel J. Gerhard is a bit off, with some dead spots here and there and balance problems between miking and the band – but oh, that band! They're really, really good, under Gillian Berkowitz's leadership. Steven C. Kemp's scenic design makes absolutely the most of the space, adapting a '50s kitchen and its '60s counterpart into the perfect playroom for these terrific performers.
If you like a well-crafted show with heart and soul and maybe even some Betty Crocker and Betty Friedan, you'll enjoy A Taste of Things to Come. Catch it while it's around; performances run only through December 11.
A Taste of Things to Come at the York Theatre Company
The Theater at St. Peter's
619 Lexington Ave., NY, NY 10022
212-935-5820
Tuesdays, Wednesdays, Thursdays, and Sundays at 7pm; Fridays and Saturdays, 8pm; Saturday and Sunday matinees 2:30pm
Tickets: $67.50-72.50 https://web.ovationtix.com/trs/cal/34375