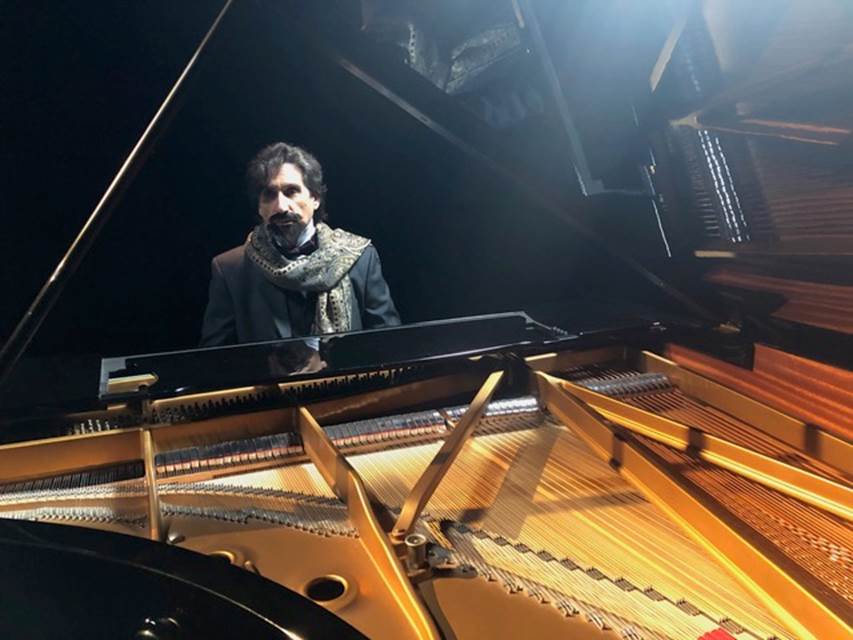 Hershey Felder, as Claude Debussy, A Paris Love Story
                                  By Deirdre Donovan
Maestro Felder does triple duty as playwright, performer, and pianist as he brilliantly brings to life the Impressionist composer.
One Performance Only, Sunday November 22nd, 2020

(Plus one additional week of On-Demand viewing)                 
Anyone wishing to immerse themselves in the enchanting life and music of Impressionist composer Claude Debussy should make it a point to watch Hershey Felder: A Paris Love Story this Sunday, November 22nd , in a live broadcast from Florence (and available for viewing the following week). Playwright-performer-pianist Hershey Felder, who lives in Florence with his wife Kim Campbell (she's the former prime minister of Canada), has resurrected  this confection just in time for the start of the holiday season--when, with COVID-19 restrictions, it is even more to be cherished.
 Tickets and additional information are available at HersheyFelderLive.com.
It was my great good luck to have a chat with Felder via email last Tuesday as he was leapfrogging through his show rehearsals in Florence. Here's the text of our conversation.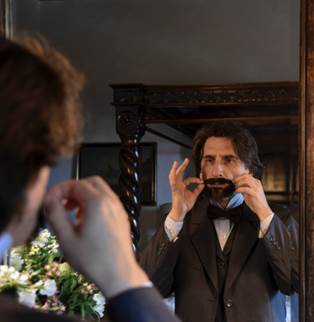 How does it feel to be stepping once again into the shoes of the great Impressionist composer Claude Debussy?
This story is a very personal one. It is the story of how I came in contact with Claude Debussy's ingenious, moving and world changing color of sound, and why this music had such a deep effect on me. I don't as much "step into Debussy's shoes" in this one as much as I use Debussy's characteristics to tell a story. The story is one of an artist searching for peace – for means of expression. While I do play the character, how I arrive at playing the character is part of the story.
Tell me about the stage life of A Paris Love Story and if the text has changed at all for its new online incarnation.
The world premiere of the stage play was at Theatreworks Silicon Valley three months before it arrived at the Wallis [Wallis Annenberg Center for the Performing Arts in Los Angeles]. It then went on to Laguna Playhouse and after that, arrived at the Wallis. In works like these, I am always looking for better and more succinct ways to tell the story. Has the text changed in a grand manner? Not really – but it's the details that count, and the minute details are always shifting in an effort to be succinct and clear, which leads to evoking the appropriate emotion in the listener/observer.
I read in a Los Angeles Times review of your Paris Love Story (2019) that you feel a true affinity with the composer Debussy. Could you briefly explain why for our readers?
I was introduced to the music Debussy at a very sensitive time in my life. My very young mother was extremely ill, in her early thirties at the time, and the aural world of Debussy became an escape from the daily fear of "what will happen next, and how bad is this going to be?" sense of imbalance.
You have a reputation as a tireless researcher who sifts the wheat from the chaff when gathering material for your artistic projects. How did you go about researching the radical and yet popular composer Debussy?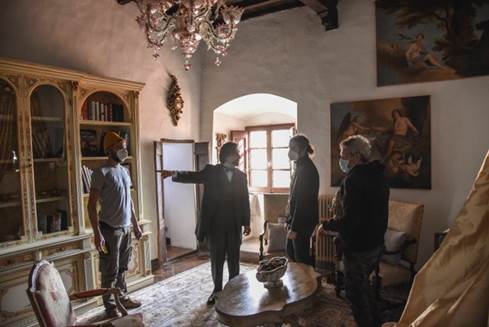 As with all things, I begin, and generally end with source material - the music itself of course, the context of creation, and in the case of this composer, his own letters, his own writings, and the observations of his friends.
While so many theater seasons have been cancelled due to the pandemic, you have seized the day and launched your year-round "Live from Florence" theater season. How did you come up with this daring experiment in online theater programming?
In practical terms began as a lark for Mother's day last May with the Irving Berlin piece that seemed appropriate when everyone was in Draconian lockdown mode. However the inspiration for the entire thing was to find a way to keep the staff employed and help theatres and artists in some way who I realized very quickly were headed for very difficult times. I had an option to take two "sabbatical" years off so to speak, after twenty-seven years of being on the road, living out of a suitcase (quite literally), being home for maybe three or four weeks a year, and usually not all at once – OR – doing something that might help a few people. I opted for the latter, and so was born LIVE FROM FLORENCE – An Arts Broadcasting Company. While we have been raising significant funds for theatres and artists, it is but a tiny drop in the bucket of need, but if we all chip in to find a way to help one another with a drop, perhaps the bucket will fill to overflowing.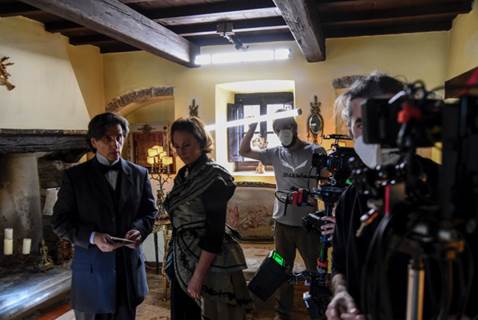 Debussy was a firebrand in the musical world and had strong opinions on the works of his contemporaries. Do you weave any of his barbed or witty remarks into the fabric of your play?
Yes, and in fact, in one of scenes his book M. CROCHE (a funny pseudonym, meaning Mr. "Eighth Note," but also "Mr. Crotchety" perhaps) makes an appearance. As well throughout the piece, I lace his sometimes pointed rhetoric through stories. He is difficult and very funny.
I heard a rumor that your play has almost wall-to-wall music gleaned from Debussy's oeuvre. Was it difficult to balance such crowd-pleasing works as La Mer, Prélude à l'après-midi d'un faune and Clair de lune with lesser-known pieces in his repertoire?
The good news about Debussy, is that a great deal is familiar, even if just in our consciousness. After all, it is the beginning of film music, and so much jazz has its roots in Debussy. With only two hours, I was able to use the familiar, but also a couple of the less familiar (to the general public) works. But because they have resonance within the story, they serve, it seems, not to distract but enhance. At least I hope that to be the case.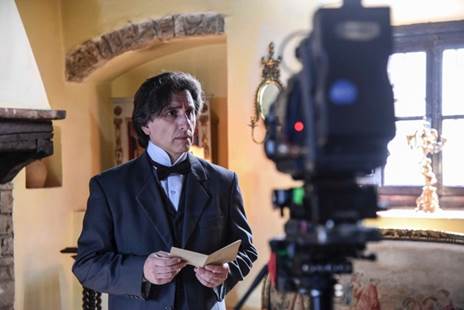 You have conjured up eight great musicians to date—George Gershwin, Chopin, Beethoven, Leonard Bernstein, Irving Berlin, Tchaikovsky, Rachmaninoff, and of course Debussy. So who's next?
Actually nine – there was also Liszt (or if we count the second character in that show) ten – with Wagner and Liszt coming to a head, while playing both characters. This season, the new character will be Puccini. In later years, while not huge, he did accomplish a bit of a doughy countenance. It'll be a nice month of pasta to prepare J
In what capacity do you truly see yourself in A Paris Love Story since you excel in all your personas as concert pianist, raconteur, playwright, and actor?
For this story I use all the elements of what I do - but this time, I do something that I don't ever do from stage, and that is reveal a very personal side of myself, as my own growing up is very connected to discovering the music of Claude Debussy - it's the story of what happens and it's extremely personal, and dare I say human in that it is something that many of us go through. So, you get all of me this time.
How was your performance energy different as you adapted A Paris Love Story to the screened theatrical event?
The lens doesn't allow for pretense. It absolutely keeps one honest. What sometimes flies by quickly in a theatre is magnified tenfold on the screen. It is intimate, personal and for these purposes, a one on one conversation with the person at the other end of the lens. One can be very nuanced in such a situation - and while different from the theatre, it still maintains the theatricality - it's just up close and personal. For this kind of story and these characters, I rather enjoy the process.
One Performance Only, Sunday November 22nd, 2020
5 pm PST, 7 pm CST, 8 pm EST
(Plus one additional week of On-Demand viewing.)
Hershey Felder: A Paris Love Story
Tickets and additional information are available at HersheyFelderLive.com.