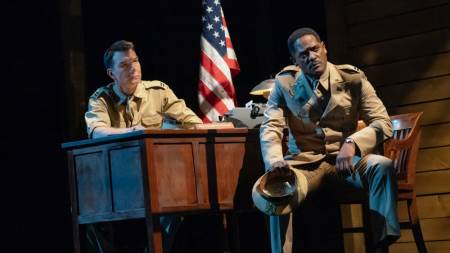 Jerry O'Connell    Blair Underwood   photos by Joan Marcus
A Soldier's Play
                                              By Eugene Paul
Playwright Charles Fuller's Pulitzer Prize play, A Soldier's Play is finally getting its Broadway due in this gripping Roundabout Theatre production and I hope it runs as long as it did when the Negro Ensemble Company produced it back in the early 80's , 461 performances. It's a murder mystery procedural set in the U.S. military during 1944, when we were at war, very much at war.  With ourselves as well as  that other enemy, Hitler and his zealous forces. Hitler may be gone, we won that war. But the war against bigotry in all its faces? Look around.

David Alan Grier
Fort Neal, Louisiana, 1944.  Half happy, half miserable, very drunk Sergeant Vernon C. Waters, (outstanding David Alan Grier) is shot dead. Twice. On base. First suspicions center on the  Klan but first clues don't point that way.  Klan killers of Negro soldiers mutilate their uniforms and take souvenirs, insignia, stuff like that.  Waters is lying in his blood, uniform intact. Which points to someone right there at Fort Neal. Captain Charles Taylor (braw,  brisk Jerry O'Connell), Sergeant Waters's white commandant, thinks this is the time to call for off base military crime investigators.
Enter Captain Richard Davenport (excellent Blair Underwood). Alone. A shock to Captain Taylor.  Davenport is a Negro.  He has never seen a Negro officer.
He doesn't know how to deal with the creature, he doesn't even return Davenport's salute until his military training kicks in with an assist from a rigidly courteous  Davenport. He takes him to the crime scene among his gobsmacked  jubilant men. A Negro officer?  They have never heard of a Negro officer! Assist him? One of their own?  They can't wait. We're beginning to see how director Kenny Leon has melded scenic designer Derek  McLane's vision of the play with his own and playwright Fuller's in that wonder of wonders the absolutely necessary collaboration of talents to shape a hit play

Warner Miller, Nnamdi Asomugha, and Blair Underwood in A Solider's Play. (Joan Marcus)
We are taken into back story, flashes of scenes again and again, in the mens' barracks and out during Captain Davenport's investigations.  It just seems right that the  men push their cots and footlockers in choreographed effort. It seems right, that they pick up songs and rythms  from each other in a chorus of chain gang sounding chants. We cotton to their  complicated , linked marching. Director Leon is brutally, yet sympathetically painting a picture of Negro behaviors Sergeant Waters hates, has always  fought against, the way they move, the way they talk, that keeps them down and worst of all the laughing way they accept the white man's scorn.
Captain Taylor's platoon of men is pretty special in a very special way:  they're all baseball players, recruited for their specialty, baseball. Captain Taylor is a baseball nut. And wants the base winning team.  He gives his boys leeways but never stops Sergeant Waters from severely correcting them in his own lights. Might the killer be among dead Sergeant  Waters' own men?  Or- those  white MPs? Who  don't mind roughing up drunk niggers? Negro Captain Davenport may find the men almost excessively cooperative almost all of them eager to bond with this paragon of Negroness, an officer as he interrogates them one by one but when it comes to the white military police the antagonism rises to almost palpable. Military protocols be damned.  He's a Negro. Their astonishment when he exonerates them is almost funny.
What's most surprising about playwright Fuller's play is its continuing relevance despite considerable advances in American society in the fraught area of race relations., Yes, Negros have become African Americans,  prodigies of power and persuasion, among our brightest stars, among our billionaires, among our most famous celebrities, not only in the field of entertainment but also in finance,  in the arts, philosophy, politics, sciences.  In the past seventy-five years alone we have, miraculously, inched closer to an  all inclusive society. Yet the blight, racism, is still with us.
I admired the many fine performances in director Leon's large company, including NFL star Nnamdi Asomugha venturing into  a new field. He has yet to find his sea legs to mix metaphors but emanates undeniable charm. Special mention to Jared Grimes. Costume designer Dede Ayite kept right on target but whoever was in charge of 45s missed the mark. Mine looked and hefted nothing like that.
A Soldier's Play.  At American Airlines Theatre, 227 West 42ns Street.  Tickets: $59-$299. 212-719-1300. 1hr,50 min. Thru Mar 15.