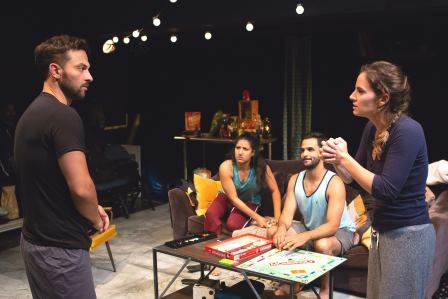 John Edgar Barker (Charlie), left, Mykal Monroe (Elle), Hiram Delgado (Ronan) and Laura Ramadei (June) [Photos: Carol Rosegg]
                                                By Barry Bassis
Agnes, unlike the 1985 Broadway hit Agnes of God, does not have a person named Agnes. Instead, Agnes is a hurricane that is about to strike the area of New York City where the characters live and the action takes place. A note from the director, Jenna Worsham, points out that the work is intended to educate the audience about Asperger's syndrome (which is now called Autism Spectrum Disorder or "ASD"). It is a mild form of autism characterized by repetitive actions and an inability to make contact with others, though those with ASD can be highly intelligent.
Agnes avoids the pitfall of a "disease of the week" drama, but by examining an array of peculiar characters, the drama loses focus.  Commendably, the production team and cast include some artists with Asperger's, though the director's note doesn't identify which ones.
At the beginning of the play, Charlie sits in his bedroom. He says "Subject Thirty Seven: Durham North Carolina. 'Lorraine.'"
A young woman then mysteriously appears on the side of the stage and, with a Southern accent, recounts intimate details about her life: having sex with a married man when his wife and child suddenly appeared and she runs out naked. Lorraine apparently hasn't been following the news because gets caught in a hurricane. 
Back in the apartment, June arrives with shopping bags of paper towels, which she places on a shelf and rearranges several times. Ah, Asperger's, one would think.
But no, Charlie is the one with the disorder and, when his sister June discovers that he is in his bedroom, she is overjoyed and hugs him. He complains about her barging into his bedroom and doesn't like the physical contact. Charlie had disappeared several weeks earlier and June feared the worst since his credit card had been used across the country.
Charlie refuses to reveal what he did during the time he was away, other than go to the aquarium and visit friends. June points out that he doesn't have any. Then Elle (June's lesbian lover) comes in with more paper towels. She is followed by Ronan, whose girlfriend (another member of the household) has just left him.
Though they are about thirty years old, they live together in a dorm-like apartment. There's a bed on one side of the stage (which represents the three bedrooms) and a couch on the opposite side. (The functional set is by Angelica Borrero.) The only one who is a student is Elle, preparing to go to medical school in Philadelphia. She has signed a lease but June hasn't made up her mind whether she will move with her. Nevertheless, the two flirt a lot.
Ronan (the third roommate) makes a rambunctious entrance, with a kid's rubber raft and "off-brand fruit loops" as well as more bulk items. They have an odd way of preparing for a hurricane.
He reveals that, on the internet, he discovered a friend from high school, Anna. Since she lived in an evacuation zone, he invited her to stay in the apartment until the storm was over. This turns out to be awkward because 15 years earlier, she had been June's best friend and lesbian lover. Anna is a free spirit, bisexual and well-traveled.
There is sex in two of the three bedrooms but the couplings are not necessarily the ones you would predict and none of it is graphic.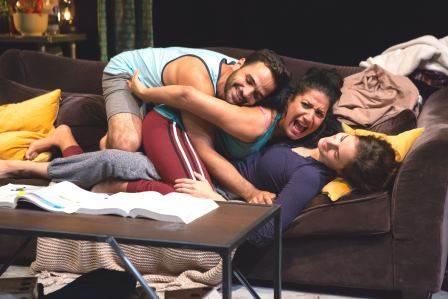 "Group cuddle," exclaims Ronan (Hiram Delgado), with Elle (Mykal Monroe), squished, and June (Laura Ramadei)
The action is interrupted by more soliloquies, one from Subject Sixty-Four: Darla from Alpine, Wyoming (again speaking of her sex life). Subject 30 from East Lansing, Michigan, Amy recounts an incident when she saw a mother abusing her five-year son. The last is Subject 54: Jerry from Richmond, Virginia, expressing wonder at the birth of his daughter.
By the end of the play the author reveals what Charlie was doing during the two weeks he was away and how the tapes of the "subjects" came about. Some members of the audience were still confused about the plot and it takes a while to understand the peculiar living arrangement.
The director Jenna Worsham gets outstanding performances from the cast. The physical scenes (including a wrestling match) are very realistic. The overlapping dialogue doesn't make the events any clearer but that was the choice of the playwright rather than the director.
John Edgar Barker perfectly conveys the behavior of an Asperger's sufferer. The other actors show off their versatility by playing the roommates and the taped subjects, all of whom have different regional accents. 
Laura Ramadei is June, convincing as the strong-willed sister who is ambivalent about her feelings toward Elle (well portrayed by Mykal Monroe, who is also East Lansing Amy). Ramadei doubles as Darla from Wyoming. As Ronan, Edgar Delgado comes off as more infantile than the author may have intended but is completely charming as Jerry (who has an Indian accent). Claire Siebers exudes all the sex appeal required to play the visiting Anna as well as North Carolina Lorraine.
The bottom line is that "Agnes" is informative and has a highly talented cast, though the script needs more work.
Agnes. Produced by Lesser America, in association with Hugh Hayes. At 59E59 Theaters, 59 East 59th Street, between Park and Madison Avenues. Single tickets are $25 ($20 for 59E59 Members). To purchase tickets, call Ticket Central at (212) 279-4200 or visit www.59e59.org. Running through September 29. There is an added performance on Sunday, September 9 at 7:30 PM and the matinee performance on Saturday, September 15 will start at 3 p.m.