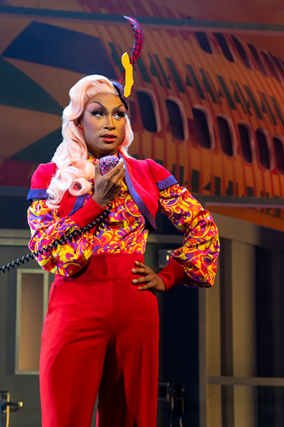 Jordan E. Cooper, as the flight attendant Peaches, in Ain't No Mo' at the Belasco.
Photo: Joan Marcus
Ain't No Mo'
By Deirdre Donovan
Part sketch, part satire, part avant garde, part drag, Jordan E. Cooper's Ain't No Mo' is altogether a fascinating piece of theater that examines the African-American experience in a daringly fresh manner. Directed by Stevie Walker-Webb, it is a trenchant comedy that invites one to take a closer look at the value of Black lives.
The play's premise is a mass African-American exodus from the U.S. that poses this overarching question:  What if the U.S. government offered Black Americans one-way plane tickets to Africa?  Framed by scenes at an airport, Ain't No Mo' makes stops in a funeral parlor, a tv studio, an abortion clinic, a mansion, and a prison.  A lone flight attendant, Peaches, (Jordan E. Cooper) intermittently shepherds passengers to board Flight 1619 (the year the first enslaved Africans disembarked onto Virginia soil).  It's a "reparations flight" being offered in the aftermath of the election of the first African-American president in 2008.  Obviously, the playwright doesn't believe that having a Black president is going to solve all the problems besetting Blacks in America.  And those who watch Ain't No Mo', with its character Peaches as the author's mouthpiece, may well understand why.
The play attracted lots of attention when it winged into the Public Theater in March 2019.  The New York Times critic Jesse Green praised it as "nothing less than a spiritual portrait of black American life right now, with all its terrors, hopes and contradictions."  That said, its transfer to the main stem has been a real reason for celebration.  Even though it has no big names in the cast to draw folks to the box office, it's relying on its brilliant originality and genuine talent in the cast and creative team to keep it alive on Broadway.
Cooper, at 27, with his debut of Ain't No Mo' on the Great White Way, becomes the youngest American playwright in Broadway history.  Since the playwright also performs the drag queen Peaches in the production, it's truly a remarkable accomplishment for him.
So what makes this show so riveting?  For starters, the performance of Cooper as Peaches in drag is unforgettable.  Dressed in a pink outfit (costume design by Emilio Sosa) and spewing a vocabulary that would make a truck driver blush, Peaches serves as ticket-taker, check-in person, and overseer of the mass African-American exodus to Africa.  This drag queen is also the anchor of the play, reappearing now and then after the various surreal trips through time and space.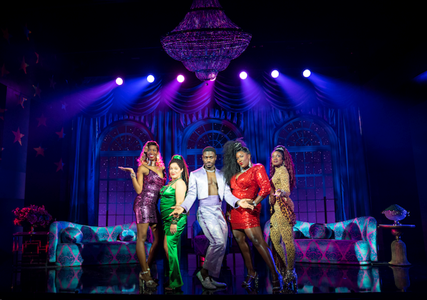 Fedna Jacquet, Shannon Matesky,  Marchánt Davis, Crystal Lucas-Perry, and Ebony Marshall-Oliver in Jordan E. Cooper's Ain't No Mo' at the Belasco.
Photo: Joan Marcus
If Cooper is the true star of the show, the rest of the six-member cast—Marchánt Davis,  Fedna Jacquet, Crystal Lucas-Perry, Ebony Marshall-Oliver, Shannon Matesky— are more than able to hold their own on stage.  All can incredibly insinuate themselves into their multi-personas to meet the dramatic moment and deepen Ain't No Mo's profound probing into racism in America.
Yes, all the skits are over-the-top.  But that is a compliment as well as a critique.  No question some vignettes truly stand out. The first, at a funeral parlor, shows Pastor Freeman (the excellent Marchánt Davis), eulogizing brother Righttocomplain, an allegorical figure who calls to mind all the injustices committed against Blacks in America.  Another scene, at an abortion clinic, poignantly revolves around Trisha (Fedna Jacquet), waiting to be called into a back room for her abortion, which will ensure that her unborn child won't ever become a victim. 
In a later scene, fiscal matters become the focus, as the character Marie (Jacquet again) astutely points out from the comfort of her mansion: "It's like daddy always said, there is no black or white, you're either green or you're not."  
More truth arrives in the penultimate scene when the Black inmate Lakeisha (Jacquet again), waiting in the release wing of a prison, remarks: "They tryna take us to Africa.  That's the only reason why they letting us out."
On Scott Pask's multiple sets, complemented by Adam Honoré's lighting, the action unfolds at a brisk clip.  The play clocks in at 90 minutes sans intermission; and its eight tightly-written scenes contribute to the play's overall sense of urgency. 
Ain't No Mo' outshines any high school civics class when it comes to referring to recent tragic events triggered by racism in America.  To wit:  the Flint Water Crisis,  the deaths of  Oscar Grant, Alyana Jones, Trayson Martin, Rekia Boyd, Jordan David—to mention just a few.
Crystal Lucas-Perry in Jordan E. Cooper's Ain't No More at the Belaso.
Photo: Joan Marcus
While Ain't No Mo' might not be for conventional-minded theatergoers, it is a play for those who believe that the relationship between Blacks and Whites in America must change for the better.
Through December 23.
At the Belasco Theatre, 111 West 44 Street, midtown Manhattan.
For more information, visit www.aintnomobway.com
Running time:  90 minutes with no intermission.