Captions: (left to right) Ephraim Sykes, Jeremy Pope, Jawan M. Jackson, James Harkness, and Derrick Baskin in Ain't Too Proud (photo by Matthew Murphy)
Ain't Too Proud:  The Life and Times of the Temptations
                                    by Deirdre Donovan
The good news from Broadway is that Ain't Too Proud: The Life and Times of the Temptations has landed at the Imperial Theatre with all its soul music intact.  As directed by Des McNuff, and choreographed by Sergio Trujillo, theater music lovers surely will enjoy this new jukebox musical that tells the story of the legendary group that became the toast of Motown.
Happily, it avoids the pitfalls of many other juke-box musicals that have focused on a single personality.  Based on the book entitled The Temptations by Otis Williams (with Patricia Romanowski), Ain't So Proud gives us a bird's-eye view of the five classic Temptations—Melvin Franklin, Otis Williams, Eddie Kendricks, Paul Williams, and David Ruffin.
Although Otis Williams would be the one who shepherded the Temptations to the top, this musical invites us to look at the group at large.  We learn about their ever-changing dynamic, the people who helped shape their distinctive sound and image, and their growing pains and tragedies.  It also provides a broad timeline of when each Temptation came on board, made his distinctive mark, and either burned out, faded away, or died.  No portrait here is characterized in black-and-white but in subtle shades of gray.  Indeed, this is no hagiography.  It's a piece of musical theater that reflects the Temptations, warts and all.
Dominique Morisseau's book traces the arc of the Temptations career and more.  It takes us from Motown offices . . .to a tour bus . . .to various backstages and dressing rooms . . . to city blocks . . . to live TV performance stages . . . and a bar.  The relentless to-and-fro effectively conveys the protean group's energy both on stage and off.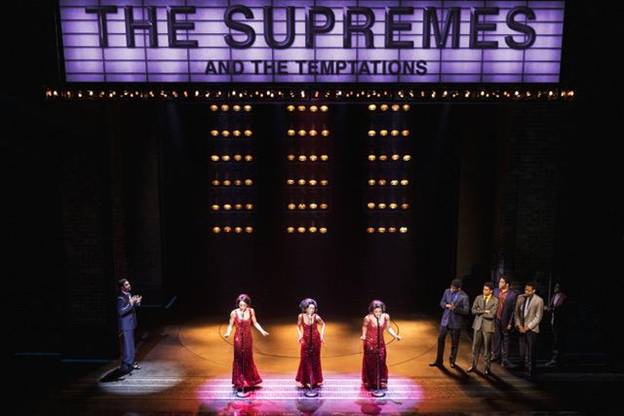 Ain't Too Proud is a musical-within-a musical.  We see the gutsy Temptations step on to various performance stages or become mesmerized by their Motown competition (think the Supremes) heating up the boards.  Ironically, the show gains a more complex character as we witness the Temptations gradually evolve and mature.  Their ragged dancing becomes smooth, syrupy soul lyrics grow lean and hard, romantic melodies melt into political songs.
Each founding member of the Temptations is seen in close-up here.  Otis Williams (Derrick Baskin) anchors the group as both narrator and performer.  Melvin Franklin (Jawan M. Jackson), nicknamed "Blue," has a voice that registers "a bass lower than the devil."  Eddie Kendricks (Jeremy Pope) croons like nobody else and eats more cornbread than the rest of them together.  David Ruffin (Ephraim Sykes) is the rough equivalent of "lightning in a bottle" and becomes the muse for Smokey Robinson's (Christian Thompson) pen.  And Paul Williams (James Harkness) starts out as the soulful lead singer but ends his life by his own hand at age 34.
As the years passed, there would be a sixth official Temptation, Dennis Edwards (Saint Aubyn) with his rough-and-tough signature voice.  Dennis, in fact, would serve as a catalyst for the Temptations as they shifted into their psychedelic period, spawning classic tunes like "Cloud Nine," "Ball of Confusion (That's What the World is Today)," "Papa Was a Rollin' Stone" and "I Can't Get Next to You."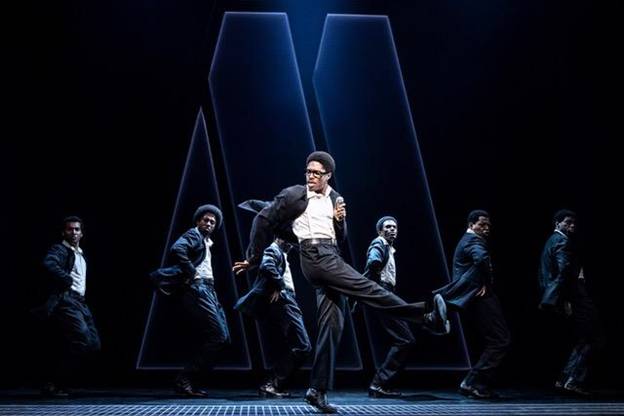 Christian Thompson, Saint Aubyn, Ephraim Sykes, Jeremy Pope, Derrick Baskin, and Jawan M. Jackson in Ain't Too Proud (photo by Matthew Murphy)
There is much technical polish in the production, beginning with Robert Brill's slick set and Howell Binkley's dazzling lighting.  McAnuff's staging is clean as a whistle, and Sergio Trujillo's perky choreography is full of electricity.
There is an amalgam of fine performances from the principals, notably by Derrick Baskin as Otis Williams, Jeremy Pope as the crooner Eddie Kendricks, and Ephraim Sykes as the ego-maniac David Ruffin. 
The supporting ensemble turn in some mighty fine performances too.  Taylor Symone Jackson as Johnny Mae projects the requisite arrogance of the "Godmother of Detroit Soul."  Jahi Kearse is convincing as the Motown mogul, Berry Gordy.  Christian Thompson inhabits Smokey Robinson with the right suaveness.  And, let's not forget the cameo performances of Candice Marie Woods as the all-star singer Diana Ross, Nasia Thomas as the spitfire artist Tammi Terrell, and Rashidra Scott as Otis Williams' neglected wife Josephine.
Yes, there are scenes that will burn themselves into your brain.  And I'm not being a spoiler by telling you that the arrival of Shelly Berger (the wonderful Joshua Morgan) as the Temptations manager is one seriously funny vignette and signals a major turning point in the Temptations' career.  
The scene that will will touch your heart, however, is when Otis Williams' has a reunion with his grown son Lamont (Shawn Bowers) and realizes that he can't go back in time and spend more time with his son.  Or as Lamont himself observes (and Otis will later echo): "Don't nothing rewind but a song." 
All in all,  Ain't Too Proud is the best jukebox musical to light up the Great White Way in some time.  No, it might not outdo Jersey Boys, which remains the gold standard of the genre.  But it literally puts the soul back into the jukebox genre, and that's no easy accomplishment.
Open run.
At the Imperial Theatre 249 West 45th Street, Manhattan.
Running time:  2 hours; 30 minutes with one intermission
For tickets and more information, phone 212-239-6200 or visit www.telecharge.com.