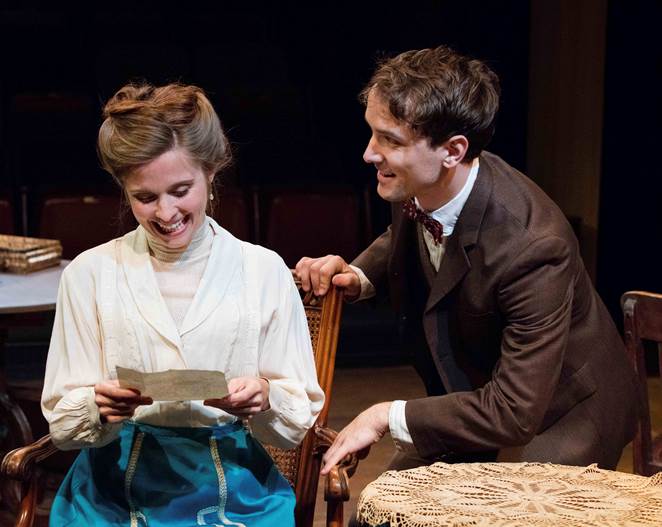 Meredith M. Sweeney and Paul Herbig
Photo: Joseph Seibert
                                          by Marc Miller
The roots of present-day dysfunctional-family dramas can be detected in Alison's House, a Pulitzer Prize winner by the prolific Susan Glaspell, currently in pretty fine revival at the Metropolitan Playhouse. Of course, premiering in 1930 and being set on December 31, 1899, it's less potty-mouthed than August: Osage County, and less rich in supernatural foreboding than The Humans, though there is a touch of message-from-the-grave. And the stage full of Stanhopes, a clan based on that of Emily Dickinson (the Dickinsons wouldn't let Glaspell use their name), is more decorous, quieter than those titles, dripping with politesse, even as old resentments and long-lingering conflicts are trotted out. But the family squabbles and the philosophical differences that trigger them still feel quite vital. And under Alex Roe's careful direction, an able cast subtly brings out the interpersonal likes and dislikes among them, and the intergenerational perspectives that feed those feelings.
You can see why the Dickinsons might have objected, both to the portrayal of the then-present-day family members and that of Emily, here the late Alison Stanhope. Alison's House depicts an eventful family gathering on the last day of the century, and the last day it's Alison's house. Patriarch John (John D. McNally), Alison's brother, is about to sell the crumbling property to Mr. and Mrs. Hodges (Matt McAllister and Katharine Scarborough), and the sale is bringing up a panoply of unresolved family issues. John wants above all else to protect her reputation. Agatha (Sidney Fortner), Alison's sister, has just tried to burn the house down and is clearly dotty—or is she? John's son Eben (John Long) is stuck in an unrewarding marriage to stern, judgmental Louise (Anne Bates). His younger brother Ted (Blaine Smith) is flunking at Harvard and wonders if there's any unexplored aspect of Alison's oeuvre that might win him favor with his English prof. And then there's the long-absent Elsa (Amanda Jones), who has arrived to bid the house farewell. A "bad woman" who ran off to a contented union with Louise's best friend's husband, she arouses complicated reactions from the bickering clan.
Alison, we gather, was a perfectly lovely woman, a gifted poet who tended her niece and nephews with imagination and devotion. But her legacy is difficult to maintain. As someone remarks, "The only thing interesting about the rest of the family is they're so vacuous." When an ancestor was a genius, how does it affect heirs who are largely mediocrities? They're all protective of Alison, but in different ways—especially when Richard (Paul Herbig), a reporter, amateur poet, and worshiper of her work, comes sniffing around for a house tour. He's instantly taken with Ann (Meredith M. Sweeney), the quasi-relative and sort-of-servant who harbors a family secret. In fact, secrets are spilling over—Aunt Agatha knows something about Alison, John knows something about Ann, and by the end we'll all know more about Alison's literary output.

John Long and Blaine Smith
Photo: Joseph Seibert
Things are on a rather slow simmer for the first two acts, as we untangle the Stanhope history and family dynamics. The talk's small yet flowery ("the sun of this century is setting," and an oddly contemporary-sounding "It is the way it is"), and, as with so many overpopulated plays from this era, not everybody has to be up there. Louise is largely expendable, as are the Hodgeses: They represent the crass commercial interests that threaten the statelier environment that produced an Alison, but we don't need these two around to figure that out. Act Three, though, heats up considerably as new discoveries about Alison raise vexing questions. How much of her life needs to be guarded, and how much ought to be shared with the world? Why did she hide what she hid? What is the right way to honor her? Who rightfully decides which course to take? Essentially, the older generation has one view and the younger another, and their parsing of the issues is riveting, and leads to a very gratifying conclusion.
John D. McNally, Florence Marcisak, Sidney Fortner
Photo: Bradley Coleman
The actors at the preview I attended didn't have every last line down, but their attitudes were secure, they played convincingly in period, and there were many lovely moments. Jones's Elsa is beautifully detailed, a family pariah who knows why she's on the outs with so many Stanhopes but still feels fully justified in seeking an active voice among them. Herbig and Sweeney are young love personified, and McNally touchingly agonizes over the tough decisions facing the family. Fortner, a suitably addled Agatha, also did the mostly appropriate costumes, and while Roe's set design has one unfortunate touch—one of those flapping-paper-and-orange-light fires—he really did need one, for plot purposes, and on the Metropolitan's modest stage there may have been no other solution.
Would I have awarded Alison's House a Pulitzer? Perhaps not, and in fact, according to eNotes, neither would have many 1930 critics. They thought Ms. Glaspell's work dreary and over-literary, and even with a radiant Eva Le Gallienne as Elsa, it drew mixed reviews and ran only 41 performances. I'll go along with the literary, but not the dreary. Alison's House raises still-pertinent questions about legacy and public vs. private lives—if anything, in this era of Facebook and Twitter and omnipresent mass media, they're more pertinent than then. This placid but eloquent revival spins them out admirably, and leaves the audience with the satisfying sensation of having enjoyed a full meal.
2 hours 15 minutes, with one 10-minute intermission.
Alison's House plays through Dec. 13 at the Metropolitan Playhouse, 220 E. 4th St. Buy tickets through metropolitanplayhouse.org/tickets.