Almost Famous
Review by Julia Polinsky
Almost Famous: it's a labor of love, a sincere, almost-likable, wet hot mess.
Based on Cameron Crowe's autobiographical 2000 film of the same name, Almost Famous is full of inconsistencies and weird contrasts. It is not a jukebox musical but partly dependent on existing music for its score; not a coherent story, more of a group of scenes that are tied together by a fog of nostalgia for 1973; not a romance, except sometimes; not a coming-of-age story, except it is, here and there. Too many notes; too much going on, not enough cohesion.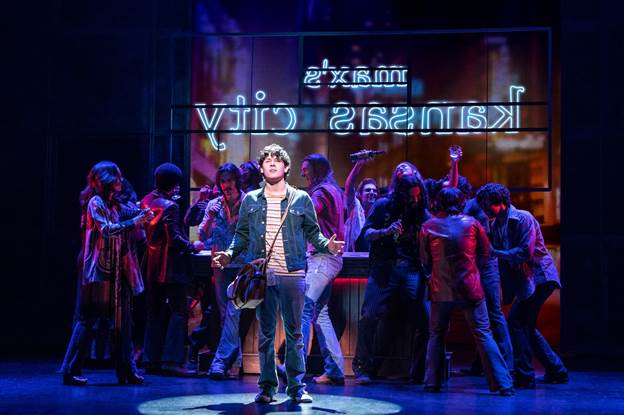 Casey Likes and the Company of Almost Famous. Photo by Matt Murphy
Still, you want to like Almost Famous for its enthusiasm, for the time, skill, talent, care, affection, and gobs of expertise expended on it. But there's really not much story: in 1973, smart, clever 15- year-old kid talks his way into writing rock criticism for Rolling Stone magazine, goes on the road with a second-tier rock band, breaks his heart, grows up fast. Done and done. No surprises, especially considering the audience likely saw the movie and know what's coming next.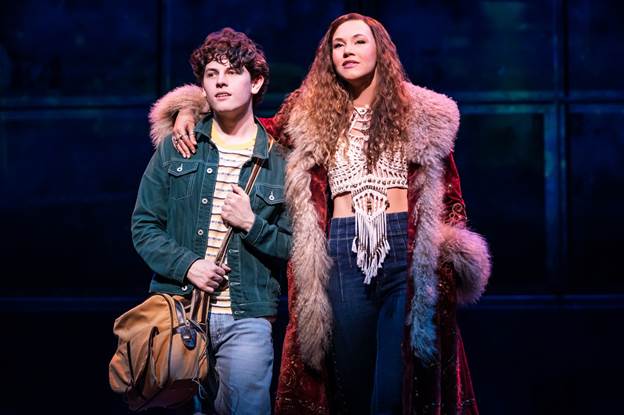 Casey Likes and Solea Pfeiffer in Almost Famous. Photo by Matt Murphy
The kid journalist, William Miller, (the very, very talented Casey Likes) starts out starry-eyed, yet is gradually disillusioned over the course of the two acts. The rest of the characters are caricatures: the rock band members, including the charismatic lead guitarist Russell Hammond (Chris Wood), lead singer Jeff Bebe (Drew Gehling), the groupies –excuse me, "Band-Aids"-- led by Penny Lane (Solea Pfeiffer), the kid's strict mother (Anika Larsen), his rebellious sister (Emily Schultheis), and the writer-mentor on the phone, Lester Bangs, (Rob Coletti) a rock critic who sees value in Miller's work and encourages him, and feeds him all his best ideas while repeatedly warning him not to make friends with the band.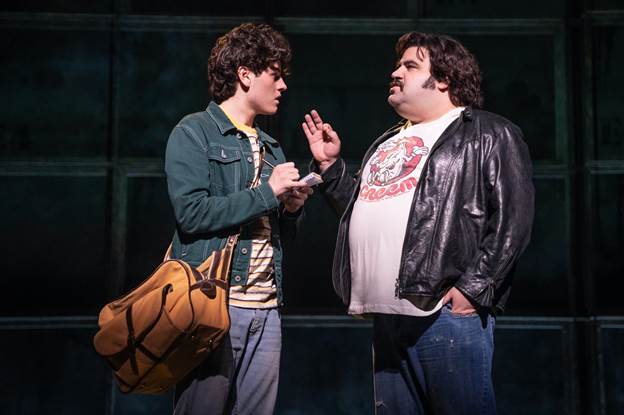 Casey Likes and Rob Coletti in Almost Famous. Photo by Matt Murphy
So, here's the story arc: Ride the bus; play music. Ride the bus; play music. Do drugs; do groupies; ride the bus; play music. How are you going to build highlights into that? Well, the show tries.
The highlight of the first act is an out-of-nowhere group singalong of Elton John's "Tiny Dancer" on an abstract tour bus – this is the first we've seen of the tour bus? End of act 1? Even though the handsome electric map of the US (best thing in Derek McLane's set) with the tour route lit in red has been hanging upstage for a while?
In the second act, when the band gets a plane, they speak of the bus with affection and by name, but they go for money and fame. The highlight of the second act is the kid losing his virginity, and then discovering that the rock band members will do anything for money? This is news?

Casey Likes and the Company of Almost Famous. Photo by Matt Murphy
Apparently, it was news in 1973, to Cameron Crowe. Much has been made of Almost Famous being based on his own story; if so, seldom has more been made of less. It's inconceivable that this particular film could successfully transfer to live theater. Too many repetitive moments, too little character development, too few surprises.
Too little happens – in a film, you can have a major character spend his time observing, but on stage, just no. Too little eye candy; ratty jeans, loose t-shirts with flannel overshirts, and "hippie" styling just doesn't fill the eye in a Broadway house, nor does it lend itself to choreography that suits the venue. Costume designer David Zinn and choreographer Sarah O'Gleby have the constraints of time and place – 1973, rock band, groupies, conservative mom – and do their best, but there's not much that says "Broadway" about what they have to work with.
The music, whether original to the show or retreads of reasonably well-known 1973 rock songs, takes up the bulk of the show's 2.5 hour run time. Most of the songs that are original to Almost Famous sound so much alike, they dull the senses rather than leaving you wanting to sing along. The exceptional moment when the band on the bus breaks into Elton John's "Tiny Dancer", a chorus of voices rose from the audience itself, singing along. Want to break the fourth wall? Throw in a huge hit song, and sit back and wait.
Interestingly, not just at that moment, but often, the audience loved Almost Famous. Nostalgia works, apparently, even if it's poorly constructed, limping along, painfully loud, and not particularly interesting to look at.
Almost Famous
Bernard B. Jacobs Theatre
242 W. 45th St.
New York, NY 10036
Tickets $74-318 at Telecharge:
Running time 2:30, one intermission
Tuesdays, most Thursdays, at 7pm
Most Wednesdays and Saturdays 2pm
Sundays at 3pm
Wednesdays, Fridays and Saturdays at 8pm