by Joel Benjamin
The Alvin Ailey American Dance Theater presented an evening of contrasts, three works new to the Company, a "Revelations"-free program, but not totally free.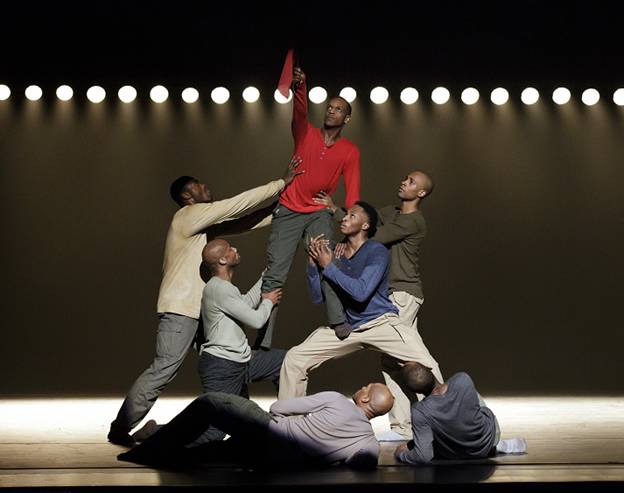 Photo by Paul Konig
First was an all-male work, "Uprising" by Israeli choreographer Hofesh Shechter to a loud, pounding monochromatic score by himself and Vex'd. Divided into a number of short sections the work seemed to be about the intricacies of male bonding, complete with affectionate couplings and brutal beat downs. On a dimly lit stage teeming with an eerie fog, the dancers emerged as if by magic, thanks to Lee Curran's lighting expertise. At first they formed a wall of men in passé position, as if stopped in mid-pirouette, a misleadingly genteel image considering the stomping, ritualistic circling and stylized violence that was to come. Dressed in leisure street wear—t-shirts, chinos—the cast of seven alternately danced in unison—sometimes in fractured circles, sometimes in lines across the stage—hunkering down, stomping but often taking long pauses, pauses emerging as a theme in "Uprising." The movement palette was limited, basically running, walking, crouching and lots of gesturing, including soft jabs that escalated into slaps. The mood was dark, even the tenderness colored by angst. The work never gelled into a cogent statement and the men never coalesced into a community, shared rituals notwithstanding. Schechter has a feel for theater and for moving his dancers around, but ultimately "Uprising" was pretentious, vacuous and meandering. It was, however, danced with intense intelligence by Daniel Harder, Collin Heyward, Renaldo Maurice, Michael Francis McBride, Samuel Lee Roberts, Kanji Segawa and Glenn Allen Sims.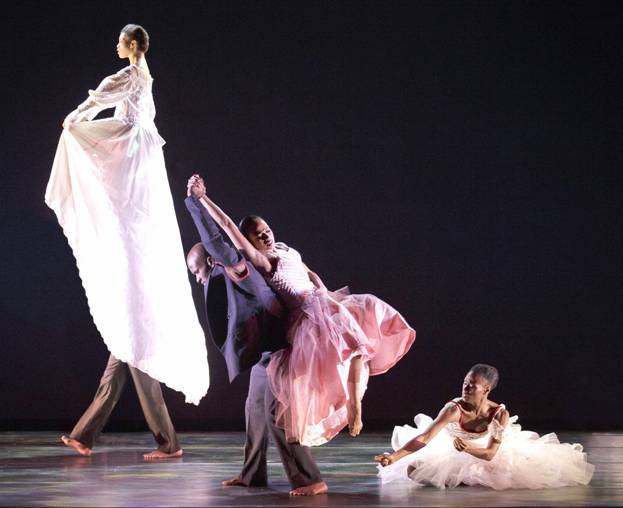 Photo by Paul Konig
Ailey has added Jacqulyn Buglisi's richly dreamy "Suspended Women" to the repertoire this season. To Ravel's gorgeous Piano Concerto in G major, the large cast of women, all in colorful, lush, long period gowns, some with hoops, sweep around the stage tending to each other, all the while managing their very un-modern costumes, that is until four men, in black suits, but bare-chested, disturb their peaceable queendom with their sensual chicanery. The appearance of the men as sexual interlopers was heavy handed symbolism in a work already filled with rituals, but "Suspended Women" had sweep and loveliness, even if Ms. Buglisi decided to turn it into a "she vs. he" statement. The Ailey women took to the heavy legato of Ms. Buglisi's Graham inspired movement with ease. The unusually luxurious costumes were by A. Christina Giannini.

Photo by Steve Wilson
Ailey veteran and rehearsal director Matthew Rushing contributed "Odetta" to the program, an obvious and unsuccessful attempt at conflating the legendary Odetta's life and songs with unsubtle political and social statements. Mr. Rushing unfortunately decided to use recorded statements by Odetta as a unifying device rather than letting the songs and choreography do the talking. On the plus side was Demetia Hopkins Greene as the Odetta stand-in, a richly talented dancer whose presence was the de facto unifying device in the swiftly, elegantly moving flesh, dressed in a multi-colored long dress. In ten songs, most sung by Odetta, the dancers represented the folksy Odetta ("This Little Light of Mine"), the anti-war Odetta ("Masters of War") and the peace-loving Odetta ("Freedom Trilogy"). Set pieces by Travis George were re-purposed as benches, walls and columns in front of wonderfully expressive images of Odetta by Stephen Alcorn projected onto the back curtain, giving "Odetta" a constantly changing environment. "This Little Light of Mine," the opening section introduced Ms. Hopkins Greene as the leader of a happy village of dancers as she swept about the stage. "John Henry" was represented by Jeroboam Bozeman who was called upon to stretch and stomp as the mythical hero. The comical "A Hole In the Bucket" was a mimed duet performed by Jacqueline Green and Yannick Lebrun. They gave dimension to a spatting couple.
Throughout "Odetta" there were direct references—inadvertent or not—to Ailey's "Revelations" such as "Cool Water," a "Fix Me, Jesus" knock-off and the finale, "Freeedom Trilogy" whose strutting choreography echoed "Rocka My Soul." There is nothing wrong with this and it is completely understandable as Mr. Rushing has probably danced hundreds of performances of "Revelations." Every choreographer from Martha Graham to Paul Taylor to Mr. Ailey, himself, has taken from their idols en route to discovering their own voices. "Odetta" was a pleasant, impeccably danced work and definitely an audience-pleaser.
Robert Battle has to be applauded for working hard to find new works that fit the talents of his troupe. Although the three ballets on this program had faults, they all expanded the expressiveness of the performers and certainly, made for a varied and colorful program.
The Alvin Ailey American Dance Theater season at the New York City Center continues through January 4th.
Alvin Ailey American Dance Theater
December 3, 2014 – January 4, 2014
New York City Center
131 West 55th St. between 6th & 7th Aves.
New York, NY
Tickets: 212-581-1212 or www.NYCityCenter.org
Information: www.AlvinAiley.org