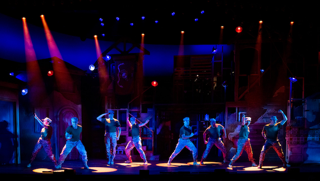 A scene from ¡Americano!
Photo: Maria Baranova


¡Americano!

A Review by Deirdre Donovan

Every once in a while, a show comes along that dovetails perfectly with one of the hot-button topics in the news. The new musical ¡Americano! at New World Stages is the latest instance of this, based on the real-life story of DREAMer Tony Valdovinos. It highlights his trials of living in America under the DACA policy and his aspirations to make the DREAM Act a law. Directed by Michael Barnard, this theatrical piece can open one's eyes to the slippery slope that undocumented immigrants tread and how difficult it is to be a DREAMer today.

You would have to have ice running through your veins not to feel for its protagonist, Tony Valdovinos, on the cusp of his 18th birthday. Growing up, he was inspired by 9/11 to serve his country and join the Marines. The problem is that there was a skeleton in his family closet that he had yet to confront, and his parents intentionally kept from him. To wit, his parents were illegal immigrants from Mexico and had brought him to this country when he was only 2 years old. He sadly learns the truth when he walked into a Marines recruitment office to enlist for service—and they turn him away as an undocumented immigrant.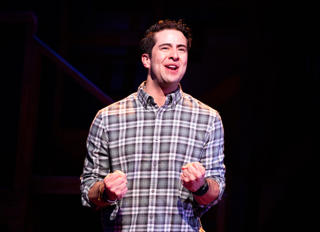 Sean Ewing in ¡Americano!
Photo: Maria Baranova

What's "right" with this musical is the earnestness that comes across in spades with its dynamic principal character. No question Tony's brave journey to discover a path to citizenship is worth following, and his gradual evolution from naïve bewilderment, to anger, to political activism is far better than sitting through a dry civics lesson in a high school classroom. Indeed, ¡Americano! presents the truth of our times in three-dimensions on stage rather than in a media sound-byte or headline blurb.

If the heart of this musical is in the "right" place, what's "wrong" with it is that its three subplots (Tony's friendship/romance with Ceci; his alienation from his family; the domestic violence suffered by a young neighbor named Javi) pull in too many directions at once. Although yours truly is no show doctor, the less-is-more philosophy is often the best remedy to follow when the main plot is meaty on its own.

In all fairness, it is extremely difficult to create a satisfactory musical that seriously deals with the complexities of a contemporary subject like DACA and the DREAM Act. Take the musicals Suffs or Hamilton. Indeed, both works wrestle with the big questions of their day, whether it's concerning women's' right to vote or a young immigrant's political career that thrusts him into the political limelight of shaping the fledgling American government and its idea of democracy. Indeed, the characters that inhabit these musicals arrive on stage with the patina of history intact. Not so, with Tony Valdovinos. In short, he's still a work-in-progress.

When it comes to the acting, Sean Ewing performance as Tony is, hands down, a star turn. He grabs the proverbial bull by the horns and breathes vibrant life into his young DREAMer. Kudos also belong to Johanna Carlisle-Zeppeda, who plays Tony's mother, Felicitas Valdovinos. Carlisle-Zeppeda brings true emotional depth to this maternal character and portrays the angst of a woman who's caught between a rock and a hard place in America. The rest of the acting ensemble are serviceable in their parts, with nobody outshining Ewing and Carlisle-Zeppeda.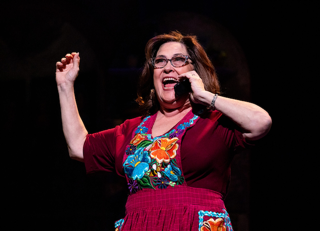 Johanna Carlisle-Zepeda in ¡Americano!
Photo: Maria Baranova

The creative team is, if not offering the audience any over-the-top special effects in synch with each other. Robert Andrew Kovach's multiple sets, complemented by Jamie Rodericks' protean lighting, are remarkable for how they can transmogrify into various shapes and dimensions in nearly a wink: a construction site, a domestic interior, a school gymnasium, and more. Carrie Rodriguez' music and lyrics are a glove-in-hand fit for Michael Barnard's book. But, truth be told, the musical is sorely lacking an eleven o'clock number, which could give the production some added oomph.

Sergio Mejia's choreography, accented by Adriana Diaz' costumes, is appropriately in a Latin key, with the ensemble numbers, at their best, offering some real sizzle.


Americano!, which premiered at
Arizona's The Phoenix Theatre Company in 2020,
is a musical that will appeal to those who have a passion for protecting human rights. It doesn't bring any clear-cut answers to the current dilemma of DREAMers. But it can bring hope—and illuminate you on what is going on with the DREAM Act in some important political circles in Washington today.

If ¡Americano!, while having some theatrical flaws, succeeds in being riveting, it proves what a modern-day American hero can do for a show.

Through June 19th.
At New World Stages, 340 West 50th Street, Mid-town Manhattan.
For tickets, visit www.Telecharge.com, (212)
239-6200.
Running time: 2 hours; 30 minutes with one intermission.