Photos by Danny Knaub                                   
                    By David Schultz
Winding down from a yearlong tour this tantalizing sequel to the 30-year and still running Phantom of The Opera is not to be missed. But alas, it is for all the wrong reasons. Love Never Dies opened to a critically mixed reception in 2009, and closed with a whimper 18 months later in its West End run in London. No worries, Sir Andrew couldn't let his most popular creation wither and die…so it was rewritten, tweaked, shelved for a time, then with hope everlasting, reborn yet again. The newly revamped production shifted scenes and musical sections to accommodate its new direction and it debuted in Australia. It garnered a more positive response from audiences and critics, as it seemed to work out the kinks from the original production.
The major hurdle in both versions was the tepid book written by Ben Elton, based on the novel "The Phantom of Manhattan" penned by Frederick Forsyth. Character development and pacing were a major problem, as were the stilted lyrics by Glen Slater. The simplistic color by numbers lyrics still remain with the new version, with an assist by Charles Hart. Most theatergoers will find themselves racing ahead of most songs, sensing what lyrics follow each other in rapid fashion, innately smiling and groaning.
In an unusual turn of events the Australian production was filmed and was offered for sale to the general public for home viewing. As of this writing no plans have been shored up for its final intended target…New York City. This current expansive updated American tour would lead one to think that potential producers and backers are waiting in the wings to drop their greenbacks to open the show with a splash on the Great White Way. But for various reasons, it has yet to come to fruition.
The sequel now takes place in Coney Island circa 1907. Our beloved Phantom is the secret impresario of a beachside freak show called 'Phantasma'. His ballet mistress from the Paris Opera House has joined the fold; Madame Giry (Karen Mason) has also brought along her daughter Meg (Mary Michael Patterson) an aspiring musical star to perform her sassy song and dance acts in the frequent freak show musical acts. Both Madame and Meg have strong emotional ties to the mysterious Phantom but these undercurrents are kept under wraps until the second act when their true desires are fully exposed.
The Phantom, ever the romantic fella, still burns a torch for his muse Christine, and he obsesses over her with an unearthly passion and mad lust. Alas for his yearnings and sorrow…she is coming to visit Coney Island, transformed into a famous soprano, with her dour husband Raoul (Sean Thompson) in tow, as well as their young son Gustave (Christian Harmston) making the family picture perfect. Or so it seems. Christine is making her big musical splash in America, as a famous impresario has set her up for her dazzling operatic debut. After arriving into the port of New York, the Phantom intercepts her coach and offers with a few mysterious street performers as their guide, a ride in a grand coach that resembles a coffin in the manner of the Nosferatu film from the 1920's to a secure and desolate location...Which as it turns out, is actually on the outskirts of the Phantasma fairgrounds.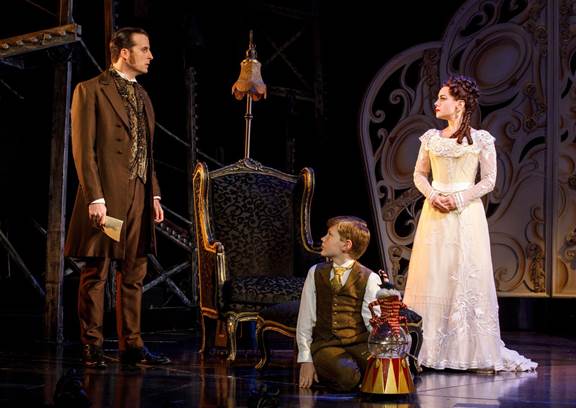 All is not well with Raoul and Christine, they are having various marital woes as they warily circle around each other. When they are ensconced in their lavish quarters, Raoul goes out for a walk alone, Gustave wanders outside as well…..where did he go? (Cue the organ music please). The imposing armoire in the sitting quarters is strangely lit, full length mirrors that front the armoire open up to reveal the morose and lovelorn Phantom in full glory. He again tempts the shell shocked Christine with his Svengali-like charms. Attempting to sway her yet again to the dark side, she pulls away, yet knowing that the initial spark of attraction from years ago still lies dormant.
The Phantom insists that she sing…one last time for an aria he has penned just for her. If not…hell hath no fury like a pissed off Phantom. The threat of kidnapping her son is held as a veiled threat if she does not completely follow his directive.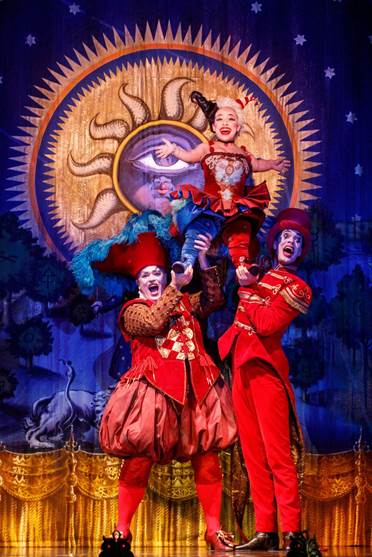 Interspersed throughout the evening three freak show performers gambol about and gleefully give a menacing vibe as they ply their trade. Tall and loose limbed Gangle (Stephen Petrovich), Squelch (Richard Koons) a rotund clownish dervish, and a 3.5 foot female dwarf named Fleck (Katrina Kemp) are deployed as entertainers and sometime henchmen to do the bidding of their Phantom master.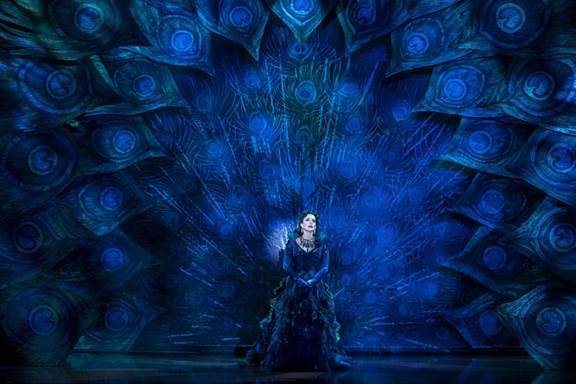 Various plotlines are stretched out, toyed with….with varying degrees of success. The overwrought dramatic steam ahead mode of stylistic performance is often stifling. But if you filter the acting excess, and playing to the far reaches of the back row sort of thing, it does resemble a silent film in full glory. The eyes are dazzled by the gorgeous set and costume design by Gabriela Tyesova. Nothing will ever match the original Phantom, but the visual aspect is breathtaking and artfully executed with luxurious details. The elaborate costumes are rendered in opulent style…nothing has been spared in the visual aspect in this production. The music by Mr. Webber upon initial hearing is wan and vaguely echoes the original classic work. Nothing on first hearing makes you swoon, or sticks in your ear, as he is certainly wont to do. Upon second or third hearing, one can discern a long melodic thru line. There is no denying that this musical score attempts to ratchet up the romantic lushness of Mr. Webber's typical musical bombast. But time and again the mind and ear can't resist comparing this watered down version to the stunning original Phantom production.
The fractured storyline of this sequel never fully coalesces into a satisfying whole, as the tale finally reaches its tragic ending. Without giving away any spoilers, I can assuredly state that there will not be a third continuation of the tale. As for the potential of Love Never Dies opening on the Great White Way, perhaps the producers of this still gestating tuner should enlist the mesmerizing, magical powers of the Phantom to bring his Music of The Night to his countless eager fans.
Remaining Tour Dates
Philadelphia PA  October 2nd-7th
East Lansing MI  October 9th-14th
Des Moines IA  October 16th -21st
Denver CO  October 23rd-28th
Tulsa OK  October 30th-November4th
Oklahoma City OK  November 13th-18th
Little Rock AR  November 20th-25th
Austin TX  November 27th-December 2nd