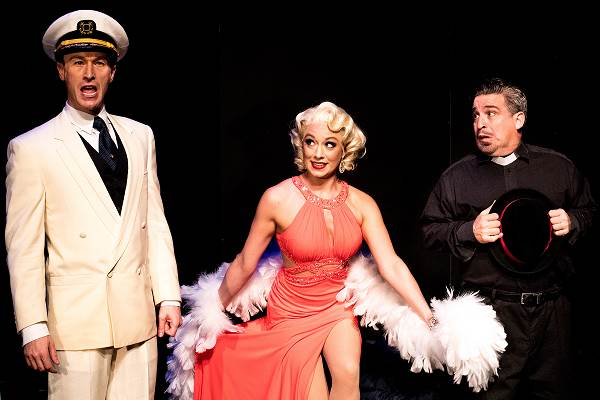 Nic Thompson; Jessica Moore; Carlos Lopez                photo credit: Tyler Milliron
                                   by Julia Polinsky
It's 1934. Nightclub singer Reno Sweeney (Meredith Inglesby) embarks on the SS America en route to England. Her friend Billy (Nick Walker Jones) stows away to be near Hope (Beth Stafford Laird), the girl he loves, but he finds that she's engaged to a British lord (Brian Ogilvie), and they're sailing to England to be married. Billy's boss (Mark Coffin) is on the ship, too, as well as Hope's widowed mother (Jan Leigh Herndon). More oddball passengers: Public Enemy #13, Moonface Martin, (Carlos Lopez) and his not-so-dumb blonde friend Erma (Jessica Moore); some celebrity-obsessed society types, and two Chinese men who are "reformed sinners."
 Spencer S. Lawson –Ensemble; Briana Fallon (Ensemble); (partially hidden); Nic Thompson (Captain)*; Alexandria Van Paris (Ensemble); Nick Walker Jones (Billy Crocker); Kristen Welsh (Ensemble); Becky Elizabeth Stout (Ensemble); Cameron Lucas (Ensemble); Daniel Scott Walton (Ensemble); Jessica Moore (Erma)
Huge kudos to producer Mel Miller for bringing this potentially tired rerun to cheerful life, and to director/choreographer Casey Colgan for doing a brilliant job of shoehorning all those massively talented people into that tiny space. "Go big or go home" must be the byword at Musicals Tonight! – they all pull off performances with gusto huge enough to fill a house ten times the size, and treat this period piece, with all its eighty-year-old attitudes, with respect and affection. It's good to have this ensemble to remind us that New York is full of terrific triple-threat actor/singer/dancers, every bit as good as the giant stars.
The intimacy of the Lion theater works perfectly, here; you feel like you're in the middle of the action, and the singers are singing right to you. And how wonderful to hear voices, not microphones! Singers who SING! And beautifully, too! Porter's songs have seldom been so well served. From Reno Sweeney's lovely treatment of the brittle, witty opening "I Get a Kick Out of You," to Hope's purely plaintive, "Goodbye, Little Dream, Goodbye," and Billy's moony-spoony rendition of "Easy to Love," through the lively tap and production numbers, everyone sounds great. So many classic Cole Porter songs! What a treat.
Jessica Moore (Erma); David Visini (Ensemble); Alexandria Van Paris (Ensemble); Brian Ogilvie (Evelyn Oakley); partial - Cameron Lucas (Ensemble); partial - Cameron Benda (Ensemble); Meredith Inglesby (Reno); Nick Walker Jones (Billy Crocker); Becky Elizabeth Stout (Ensemble); Spencer S. Lawson –Ensemble; Beth Stafford Laird (Hope)
Costume designer Jack Maisenbach has dressed the cast beautifully; he seems to have had the most fun gowning Reno and Hope. Jennifer Cooper's lighting is spot-on, a challenge in a space so small. Devin Vogel's set design had some challenges on this wee stage, and there were some unintentionally hilarious bits when the brig was… well… spacious? accommodating? Regardless, although the farcical elements got a bit out of hand, for a moment, the audience loved it. All good.
Absurdly charming and delightful, Musical's Tonight's production of Anything Goes fills the teeny-weeny stage at the Lion with color, light, silliness, song and dance. It's a happy couple of hours in a dark and stormy time. Don't miss it.
Anything Goes
Presented by Musicals Tonight!
The Lion Theater at Theatre Row
410 W. 42nd (between 9th and 10th)
Tickets $45
Tues, Thurs 7:30; Wed, Sat 2 and 7:30; Fri, Sun 2pm
Telecharge.com
Info: musicalstonight.org
Through March 11, 2018