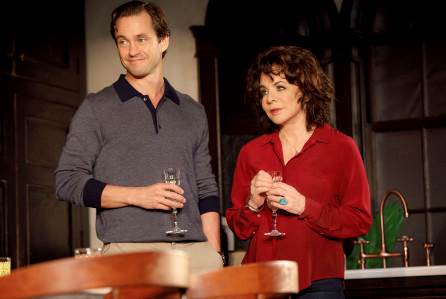 Hugn Dancy, Stockard Channing photos Joan Marcus
By Deirdre Donovan
Where to start? Maybe with Dane Laffrey's convincing set that evokes a rustic cottage somewhere in the English countryside. Or with Bradley King's lighting that bathes the interior with a pale, sober light. Or with the performance of Stockard Channing, confident yet vulnerable as the protagonist Kristin in her 60s, and John Tillinger, a likeable curmudgeon and old friend also in his 60s? Together, they prove that Alexi Kaye Campbell's new play Apologia can be an eye-opener into the dilemma of what happens when a successful expatriate American woman and social activist confronts the realities of living in a world where men still rule.


Now running off Broadway at the Laura Pels Theatre, it explores the farrago of myths and facts surrounding feminism and how it is evolving today. Kristin becomes both a mirror and lens of feminism in the new millennium, inviting us to see the chinks in the movement and its unfinished business.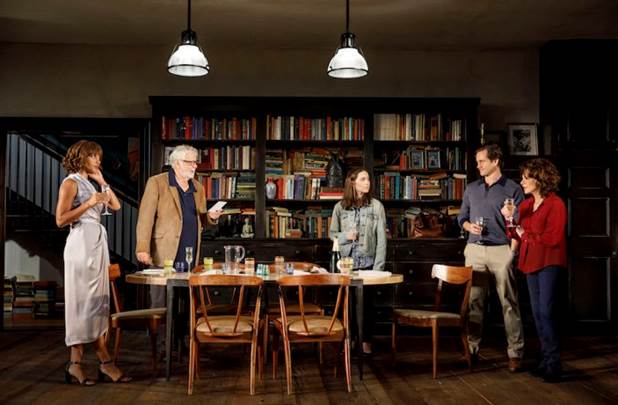 From left: Freema Agyeman, Laura Carmichael, Joseph Millson, Desmond Barrit and Stockard Channing in 'Apologia'
Channing plays Kristin, a renowned art historian who has lived in England for two decades. She is celebrating her birthday and has invited her adult sons Peter and Simon, along with their partners Trudi and Claire, respectively, and an old friend Hugh to celebrate her birthday at her cottage. Things get increasingly uncomfortable as her guests arrive. it's evident that her sons have a great deal of unresolved anger for her. They were separated from their mother when they were young boys and raised by their father. The details of their parents' separation is sketchy, but it seems that the father placed Kristin in a difficult situation that forced her to become independent and maintain only intermittent contact with her sons. Ostensibly, this birthday party is Kristin's attempt to reconnect with her adult sons and perhaps build a more positive relationship with them.
It fails miserably. Trudi gives her an exotic gift, an African mask from Liberia, that Kristin dislikes. She dissects it with the detachment of an anthropologist, cataloging an item from his (or her) latest expedition. Unsurprisingly, her cerebral response to it immediately distances her from both Trudi and Peter.
When Claire arrives, Kristin makes a half-hearted effort to welcome her. But Claire, a TV soap actress whose temperament and life choices clash with Kristin's own value system, creates more friction between them as the evening passes. Claire's expensive new designer dress that she is wearing and the recent renewal of her acting contract for her TV series piques Kristin's irritation. Kristin subsequently castigates Claire for her conspicuous consumerism and predilection for making money rather than art.
In contrast, her old friend Hugh is someone Kristin truly feels comfortable with. He gives her a framed photo of them from their heyday as radical social activists. Kristin is delighted with the gift. And, as they both reminisce about their shared past, we can glimpse the beautiful and passionate young woman that Kristin once was.
Her son Simon is the latecomer to the celebration—and he arrives bleeding from a fall that he got en route to the cottage. Kristen immediately takes out her first aid kit and tenderly extracts the shards of glass that are imbedded in the wound. It is the only time in the play that she shows any genuine maternal instincts at all—and it is touching. Yet Simon is revealed to be a deeply troubled person. We have learned earlier from Claire that he has been depressed, lost 3 jobs in a few months, and supposedly is working on his novel that he has been writing on and off for years. Moreover, he recently disappeared for a few days and returned with no explanation given to Claire or his family. In short, he's the prodigal son returning home, but his future looks uncertain.
Although the play is an incisive look at a dysfunctional family, the characters that populate it are mostly unsympathetic and many of the weighty issues raised aren't satisfactorily addressed or outlined. The major conflict in the play is Kristin's best-selling memoir that glaringly has no mention of her sons. Unsurprisingly, her sons are furious that their mother would write at length about her life, detail the trajectory of her career, and yet not even include them as a footnote. Although Kristin argues that her memoir is focused on her work, and not her personal life, this doesn't wash with her sons.
This handsome production, directed by Daniel Aukin, has spot-on acting. It gives us a wonderful opportunity to see Channing (Tony Award for Joe Egg) back on the New York stage. It also treats us to the return of John Tillinger to the boards (he's more familiar to theatergoers as a director). The resourceful Hugh Dancy, doubling as the sons Peter and Simon, demonstrates his terrific versatility as an actor. Talene Monahon infuses religious fervor and a naïve charm into her Trudi, and Megalyn Echikunwoke turns in a persuasive performance as the chic soap actress Claire.
So why does this play Apologia, directed by Daniel Aukin, that addresses vital issues linked to family relationships and work in the 21st century ultimately fall flat? Perhaps it lies with the fact that its central character Kristin seems more of a fantasy figure than a real down-to-earth human being. She's not only depicted as a successful art historian but a celebrity, with Barnes & Noble bookstore promoting her memoir with her own "island."
The play's title Apologia appears on the program cover with its dictionary definition beneath it. It describes the word as a noun, meaning "vindication, justification, explanation." That pretty much seems to sum up Kristin's real reason for inviting her five guests to her birthday celebration. Sadly, when her guests leave her home to return to their own lives, she has an emotional meltdown. It makes one wonder about the price that she has paid for her success.
Through December 16th.
A Roundabout production at the Laura Pels Theatre at the Harold and Miriam Steinberg Center for Theatre, located at West 46th Street, Manhattan.
212-719-1300 or www.roundabouttheatre.org.
Running time: 2 hours; 10 minutes with one intermission.