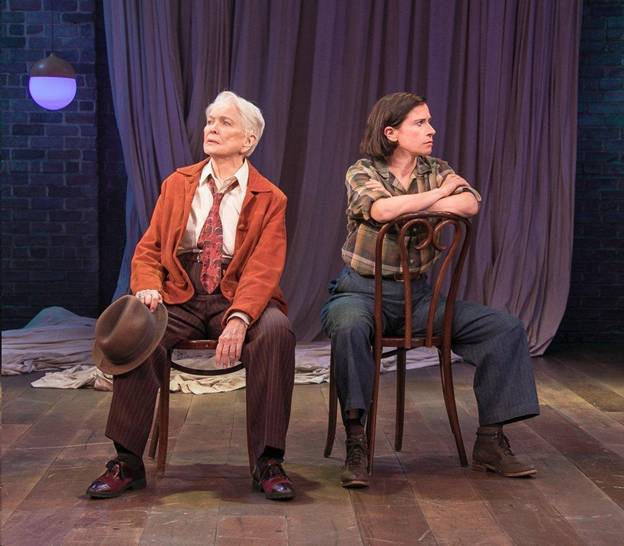 By Ron Cohen
The story's a little muddy, but director John Doyle and company still fill this trip to Shakespeare's Forest of Arden with lots of happy sightseeing.
Oscar- and Tony-winner Ellen Burstyn sits quietly on stage, atop a wardrobe trunk, a big book on her lap – presumably the collected works of William Shakespeare – conscientiously reading along, as the actors around her begin playing the Bard of Avon's As You Like it.  Sometimes, an actor will perch beside her, playfully pushing on her head a fedora that has been sitting on the trunk.
Burstyn is playing a prompter, you might presume. And you might be right for the moment, but eventually – as the program predicts -- she transforms into Jacques, one of the play's signature characters. He's the melancholy philosopher whose intimations of mortality darken and deepen the script's frolicsome mélange of pastoral romances. And Burstyn, dressed like a boho poet, plays him just right, the melancholy lightened by exactly the proper amount of irony.
Burstyn's turn is one of the numerous intriguing and bravo-worthy elements that brighten this As You Like It at Classic Stage Company, with a grand racially diverse cast, directed by the revered John Doyle, now in his second season as CSC's artistic director.
They all contribute to an eminently watchable production even if the story telling sometimes seems muddled. Doyle's acclaimed penchant for a minimum of literal physical accoutrements, if any at all, in his productions seems to rob the play of the bucolic environment which gives its patchwork plot a sense of unity. Characters come on stage and start talking, with no particular setup. With a few exceptions, Ann Hould-Ward's hodge-podge of costumes could best be described as contemporary neutral. And in some cases, in contrast, the language – abounding in wit and poetry -- begins to sound more archaic than usual, with several of the company rushing though lines in what may be a race to finish the show in the prescribed 100 minutes with no intermission.
Nevertheless, it is a production packed with goodies. In addition to Burstyn, chief among them is Hannah Cabell's dynamic Rosalind, the play's central character. When banished from court by her bad uncle, Duke Frederick, Rosalind goes into the Forest of Arden to seek refuge with her father, Duke Senior, also living in banishment. And as Shakespeare's comedy heroines are wont to do, she goes disguised as a boy, name of Ganymede.
Kyle Scatliffe and Hannah Cabell in a scene from As You Like It.  Photo by Lenny Stucker
Cabell whips up Rosalind/Ganymede into a perky, astoundingly animated fellow, bounding about the stage and climbing up its walls like a pint-sized Superman, underpinning youthful machismo with a strong streak of feminine intellect. Even in drag, she's a woman taking charge, a resonant keynote for today's culture wars. But she also on occasion exhibits a touch of love-smitten giddiness because the object of her affection, Orlando, is afoot in the forest, another victim of Duke Frederick's rancor. Kyle Scatliffe, who played Harpo in Doyle's recent Broadway revival
of The Color Purple, makes Orlando a winning mix of hunk and innocence.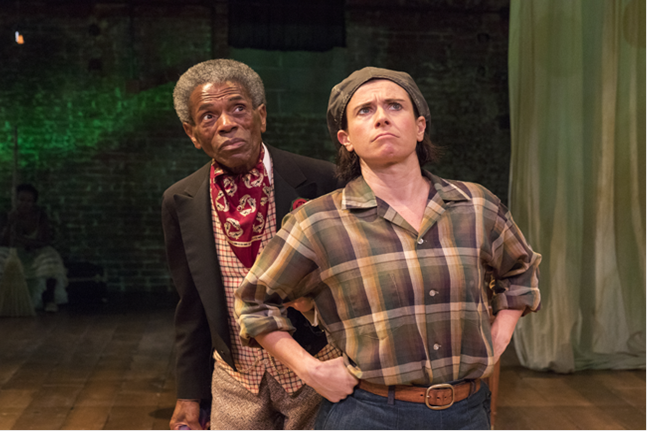 Andre DeShields and Hannah Cabell in a scene from the Classic Stage Company production of As You Like It.
Photo by Richard Termine.
Another prominent turn is delivered by Broadway vet André De Shields, impressively chewing up what scenery there isn't as an emphatically over-dramatic Touchstone, the courtier clown who accompanies Rosalind into Arden, and finds amour there with a local wench, Audrey. She's played with all the appropriate amorous goofiness by Cass Morgan, another New York theater regular. (Fans of the Pump Boys and Dinettes, will remember Morgan as one of the co-creators and one of the original Dinettes in that show, which premiered Off-Broadway in 1981 and later moved to Broadway for 573 performances.)
Playing both Dukes with aplomb, Bob Stillman also displays fine piano playing, providing the accompaniment for some of the gorgeous, jazz-inflected melodies set to Shakespeare's lyrics, written especially for the production by Stephen Schwartz, of Wicked, Godspell and Pippin fame. The songs give the show yet another extra frisson of interest. (Stephen Schwartz is the father of Scott Schwartz, artistic director of the Bay Street Theater, Sag Harbor, NY, which co-produced this As You Like It and premiered it this past summer.)
Further adding to the theatrical heft of the company is Noah Brody, co-artistic director of the celebrated Fiasco Theater, whose highly praised productions have ranged from Into the Woods to Cymbeline. Brody plays Orlando's bad big brother, Oliver, as well at the rustic Corin. Completing the cast in notable fashion are Quincy Tyler Bernstine as Rosalind's laugh-getting cousin and BFF Celia, and Leenya Rideout and David Samuel as Phoebe and Silvius, a country couple with whom Rosalind gets entangled. Rideout heightens the show's musicality with some lush violin playing along with a standing bass.
Another standout factor is Doyle's design. Conventional scenery is barely there, but hanging from the ceiling are dozens of globe lights of various sizes, along with other bare-looking lights. At various points throughout the play, the globe lights change color, creating a medley of eye-popping hues. (Mike Baldassari is the lighting designer.) While the color shifts may not exactly help in clarifying the plot, they certainly add some breath-taking magic. And a little magic never hurts.
Off-Broadway play
Playing at Classic Stage Company
136 East 13th Street
212-677-4210 x10 or 866-811-4111
Playing until October 22