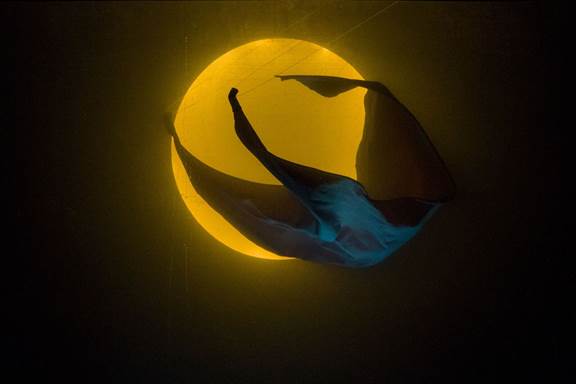 By R. Pikser
Berlioz' music, played live by the masterful Christopher O'Riley, offers a journey of color and shape inside an extraordinary mind.
Inspired by music nearly 200 years old, Basil Twist's Symphonie Fantastique is a totally modern exploration of what the inside of a mind, or one mind, might be like.  An abstract puppet show is a counter-intuitive concept, but Basil Twist, master puppeteer, creator, designer, and director of this piece, makes it seem inevitable as he enthralls us.  The puppets, from the front, seem to be inside a tank, so that we are viewing some sort of underwater world which at times might be a video screen.  Those closer to the stage area probably do not have that impression as much as those seated farther back.   But this ballet of shapes is no mere sonographic representation of the musical sounds.  It is imagination at play.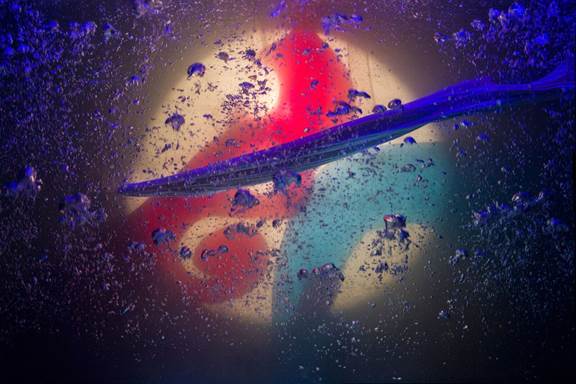 Possible realities, or possibly stories, suggest themselves, then dissolve as we watch.  Nothing is left at rest or really identifiable.  Points of light appear and indicate where we might look before disappearing. Clothlike shapes become fish, become eels, wrap themselves around each other, open themselves, then disappear for a while, but only for a while.  Elements recur, develop, and enrich themselves and us.  The imagination that we watch, how it plays with and blends colors, bubbles, and strange shapes that we can almost identify, takes us out of ourselves and into its world.  The imagination asks us to expand with it, to perceive more than we normally do, so that we will see differently henceforth.
The only caveat about Symphonie Fantastique is that if we sit back and observe this show passively, as we do for much of our lives, we will not apprehend this show for the special experience that it is.  To appreciate this show takes some work:  work that is well worth it, but work.
HERE's Dream Music Puppetry
Symphonie Fantastique
March 29th – July 15th 2018.
Now extended to July 15th.
HERE
145 Sixth Avenue (entrance on Dominick Street)
New York, NY 10013
Tickets $35-$100 (in person two hours before show time)
212 352 3101
HERE.org