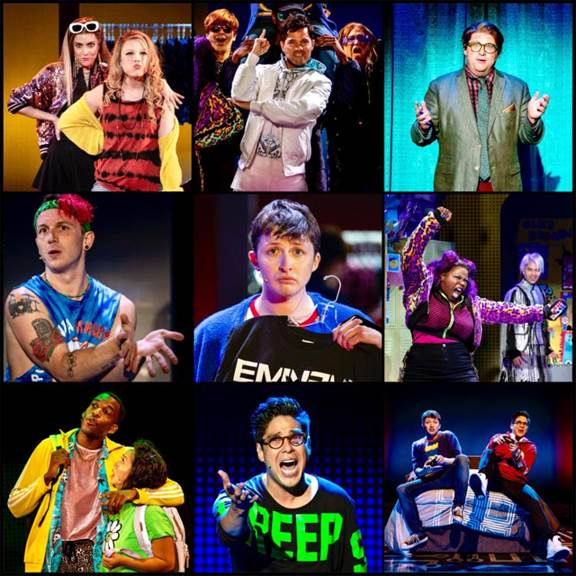 †††††††††††††††††††† Photos by Maria Baranova
††††††††††††††††††††††††††††††††††††
†††††††††††††††††††††††††††††††† By Eugene Paul
Letís say that the musical Be More Chill now playing to sold out houses at its Off-Broadway Pershing Square Signature Center moved to the Palace Theatre, 1743 seats on Broadway, and sold out there for a year.† Thatís 517,088 tickets.† Letís fantasize, letís sell out for ten years. 5,170,880 tickets. Oh, what the hell, letís go bonkers and sell out for 100 years. 51,708,800 tickets.
Thatís how many hits the Be More Chill album totted up in ONE year on the web. For each of THREE years.† So far.
When the Two River Theater in Red Bank, New Jersey released a cast album in 2015 of their short run, so-so reviewed latest musical, Be More Chill, there was no expectation, none, that the album would garner more than a trifling response, friends, family, maybe the morbidly curious. Gobsmacked after the first year, they knew they had to do something and when the album reached 100,000,000 by the second year, everybody got feverishly to work. The fever is still rising.
To observe an audience Ė75% teen age girls Ė react to the songs by Joe Iconis delivered in a calculated, coordinated† bombardment of Ryan Rumeryís sound designs , Tyler Micoleauís lighting designs, Alex Baso Kochís projection designs and Beowulf Borittís† enveloping set designs in combination with a cast electrified with their success, swathed in zoned out tuned in costumes by Bobby Frederick Tilley II is to experience the very essence of the show: gulp down† a pill and zoom from utter high school loserness to utter worldly maxpop. The showcrafters have struck a nerve of widespread rawest vulnerability.
In the book of the musical by Joe Tracz (based on Ned Vizziniís novel), teen ager Jeremy Heere lives in deepest New Jersey with his forlorn dad (Jason Sweettooth Wiliams) who hasnít got dressed since his wife left them a couple of years ago. Jeremy has a special bud, Michael Mell (George Salazar) and develops a crush on a special girl, Christine Canigula (Stephanie Hsu) who is not in the big league popular high school vamps and might consider a loser like him.† Except that thereís Jake Dillinger (Britton Smith).† All Jake has to do is beckon and Christine melts. In this dire contretemps, Rich Goranski (Gerard Canonico) campus bully turned sudden hotshot, offers Jeremy the way to shed his wimpish loserness:† buy a Squip. Itís a pill which contains a tiny computer that will work miracles in his brain, in his whole system, turn him into BMOC. Rich took it.† And look at him. Only $400.
Convinced, desperate† Jeremy ravages his savings, buys the fateful pill and swallows it.† To discover that he now has a full time companion, The Squip (Jason Tam) who sports a whole range of scifi outfits and wigs and lives in Jeremyís brain.† Nobody else can see him or hear him as he directs Jeremy into super confidence, wit and popularity, making every one of Jeremyís choices and decisions. Itís all so easy.
Not for director Stephen Brackett. Heís got to keep his high wire act† going and heís doing a bang up job along with choreographer Chase Brockís balancings and Emily Marshallís music direction and vocal arrangements and Charlie Rosenís music orchestrations and supervision. But whereís he going to go in the second act: follow the yellow brick road to tried and true or Ė new directions? Heís got a cast that can do anything he wants, theyíre terrific.† Heís got a score thatís already a gigantic hit. Heís got so many successful production elements zooming and crackling and† flashing and crashing itís as if the Squip was being pounded into everybodyís head on stage and in the audience.† The music never stops during intermission even. But itís up to him to choose: tried and true or really new?
He turns up the volume for eyes and ears. He chooses more and more.† And more and more. Of everything. Except new. Thereís bound to be at least 200,000,000 hits by the end of this year. Maybe Ė itís the Squip?
†††††††††††††††††††††††††††††††††††††††††††††††††††††††††
Be More Chill. At the Pershing Square Signature Center, 480 West 42nd Street.† Tickets: $65-$160. 2 hrs 20 min. 212-279-4200. Thru Sept 30.