Bedlam's Production of The Winter's Tale and Hedda Gabler at Irondale Center 2022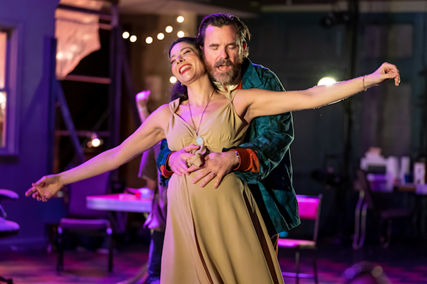 Lisa Birnbaum, as Hermione, and Eric Tucker plays Leontes in Bedlam's production of The Winter's Tale at the Irondale Center in Brooklyn.
Photo: Ashley Garrett
The Winter's Tale
By Deirdre Donovan
The Bedlam theater company is well-known for reinterpreting the classics and making them hum in a contemporary key. But their current productions of Shakespeare's The Winter's Tale and Ibsen's Hedda Gabler, playing in repertory at the Irondale Center in Brooklyn, lack the clarity and charm of their former theatrical projects. While each production has memorable moments, they are too few and far between.
True, The Winter's Tale is notoriously difficult to stage. It starts out as a tragedy, morphs into a comedy, and wraps up as a romance with a pastoral vibe. Add in a bear attack, a time-warping chorus, and a magic statue, and we have one wild theatrical ride.
For those theatergoers who need a refresher on what goes on in the story, here's the plot-line in a nutshell: King Leontes (Eric Tucker) of Sicily grows suspicious that his pregnant wife Hermione (Lisa Birnbaum) has been having an affair with King Polixenes of Bohemia (Elan Zafir). In a fit of jealousy, he arranges for Polixenes to be killed, his wife imprisoned, and his newborn child, which he believes to be illegitimate, left out in the wilderness to die. In spite of Leontes' orders, Hermione and Polixenes soon are cleared by the Oracle of Delphi. But the bullheaded Leontes refuses to believe it. In the meantime, Polixenes and his friend Camillo (Karen Alvarado) have high-tailed it out of Sicily. Hermione dies from grief. And the infant Perdita is rescued and raised by a good-hearted shepherd in Bohemia. A Chorus, symbolized as Time, tells us 16 years have passed in a wink. Perdita (Birnbaum again), now a teenager, meets and falls in love with King Polixenes' son Florizel (Zafir again). Hermione mysteriously comes back to life in a surreal statue scene, and the family is joyously reunited.
Eric Tucker, as Leontes, in Bedlam's The Winter's Tale.
Photo: Ashley Garrett
Bedlam's production starts out sure-footed. When the lights go up, we watch the performers, dressed in rag-tag clothes (costume design by Daniele Tyler Matthews), stream onto the stage, which resembles a grungy frat-house (scenic design by John McDermott). Tucker infuses Leontes with an arrogant, self-satisfied air. Birnbaum's Hermione is poised and regal-looking, even in her late-stage pregnancy. Zafir gives Polixenes a genial comportment. In fact, Tucker, early on appears to be shepherding the nine-member ensemble in a direction that might free them from the clichés of past revivals.
Unfortunately, the production runs aground with its doubling of actors in key roles. Take Birnbaum who doubles as Queen Hermione and the sixteen year-old Perdita. As Hermione, she is convincing in her line delivery and body language; as Perdita, she appears too cute-sy, a mature woman unsuccessfully posturing as a young girl.
Then there's an invented comic scene in the play's second half that weirdly revolves around the iconic Elvis Presley. This episode, spoken in plain American English, is jarring and hardly dovetails with Shakespeare's text. Yes, the performers get some laughs from the audience. But the play loses momentum, and the tender love scene between Florizel and Perdita gets short shrift.
Fortunately, the Act 5 statue scene snaps us back into Shakespeare's narrative. And it's hardly a spoiler to say that Birnbaum's Hermione has the most dramatic moments in the play, as she transforms herself from an inert statue to the living, breathing Hermione.
Too bad there aren't more revelatory moments in this Winter's Tale.
Hedda Gabler
Susannah Millonzi, as the gun-toting general's daughter at the Irondale Center in Brooklyn.
Photo: Ashley Garrett
That unhappily married 19th-century general's daughter has been reinvented as a new millennium wreck in Bedlam's adaptation of Ibsen's Hedda Gabler. Director Eric Tucker veers from the conventional approach of displaying Ibsenite realism to presenting a scruffy modern-day look to the 1890 masterpiece.
Although John McDermott's dingy set design and Clifton Chadick's props include the essential household items—a worn leather sofa, chairs, tables, old-fashioned refrigerator, portable oven, and various lamps --the large expansive stage at the Irondale Center almost swallows them up. True, the actors have plenty of space as they go from here to there. But the atmosphere of a drawing room is pretty much lost.
Before parsing the production any further, it might help to limn its eponymous character for any newbies to the drama. Although it's impossible to peel the onion of her personality in a couple of sentences, suffice it to say that she has no real ethical ideals, although she does have romantic ones. Beyond that, she has imagination, an appetite for beauty, cleverness, and, at unpredictable moments, is capable of cruelty. Indeed, this is what makes Hedda so dangerous. She is a gun-toting young woman who takes aim at those who are happy, the very thing that eludes her.
Ryan Quinn (left), as Judge Brack and Susannah Millonzi is the manipulative Hedda Gabler in Bedlam's adaptation of Ibsen's 1890 classic.
Photo: Ashley Garrett
From her first appearance, Susannah Millonzi's Hedda appears incapable of comprehending the world she is living in. We see her asleep in a leopard print chair at center stage, dressed in a white sun suit (costume design by Daniele Tyler Mathews). She, and her husband, George Tesman (Tucker), have just returned from an almost six-month vacation abroad and are now settling into their new home. George, a research fellow in cultural history, spent most of their honeymoon delving into archives that would help him to write his academic treatise on Dutch cottage industries. Hedda, unfortunately, doesn't share her new husband's passion for "thatched roofs and wattles and daubs" and recounts her stultifying honeymoon experience to Judge Brack ()Ryan Quinn): "Nothing makes him happier than rooting through old document in dusty libraries and making endless copies of things. Parchments, or whatever they're called."
The best scenes, in fact, are when Millonzi's Hedda is being honest with Quinn's Judge Brack, pointing out how radically different she is from her serious-minded husband who hopes to make a name for himself in the world. The problem is that nearly all the other characters—Miss Julia Tesman (Lisa Birnbaum), Mrs. Thea Elvsted (Karen Alvarado), Eilert Lovborg (Elan Zafir), and Berte (Mike Labbadia)--seem like ciphers in the play's world. Aside from Millonzi's Hedda, only Tucker's George and Quinn's Brack deliver nuanced psychological portraits here. The rest of the actors are competent, mark you, but they never move into the limelight like Millonzi, Tucker, and Quinn.
Ever since its 2012 inaugural production of George Bernard Shaw's St. Joan, Bedlam has been snowballing its way forward with vibrant productions that have caught the eyes of critics and the public alike. Its current pair of productions, The Winter's Tale and Hedda Gabler, don't have the same snap, crackle, and pop of the troupe's former efforts. But, that said, the company's heart is in the right place, and one can only hope that their future projects fare better than the ones currently on the boards.
Through November 20.
At the Irondale Center, 85 South Oxford Street, Brooklyn.
For more information, visit: www.bedlam.org.
Running time of The Winter's Tale: 3 hours with one intermission.
Running time of Hedda Gabler: 2 hours; 10 minutes with one intermission.