Rob McClure (Adam), Kerry Butler (Barbara), Sophia Anne Caruso (Lydia), Alex Brightman (Beetlejuice)
Photo by Matthew Murphy 2019
Beetlejuice
By David Schultz
Wildly inventive, overly caffeinated reboot is strictly for the fanbase.
This whirling dervish musical starts at 90 miles an hour as it ratchets up the intensity and never rests for a moment. It would seem a perfect fit for a musical, but the original source material is ingrained on so many film lovers' memories that even with an A list production this Beetle has little juice.
This herky jerky adaptation of Tim Burton's classic cult movie has been carefully translated to the physical stage. Directed by Alex Timbers (Bloody, Bloody, Andrew Jackson/American Psycho/Moulin Rouge!) uses a plethora of visual tricks to keep the audience gasping and laughing throughout the evening. He does depart from some of the original film storyline as he attempts to give a few of the characters a wisp of a backstory. The opening scene does indeed appear to bode well, at least initially with a Burtonesque visual of a funeral as it introduces us to Beetlejuice (Alex Brightman). The breaking of the fourth wall, with his verbal asides to the audience intermingled with a pithy opening musical number gives one the impression that this will be a phantasmagoric evening.
Strangely the First Act is sluggish with a lot of exposition. In quick succession cute and perky married couple Adam and Barbara Maitland (Rob Mcclure, Kerry Butler), fall through a magical hole in their new home, thanks of course to a bit of help via Beetlejuice, they are not aware of their recent deaths, but will soon come to terms with their demise.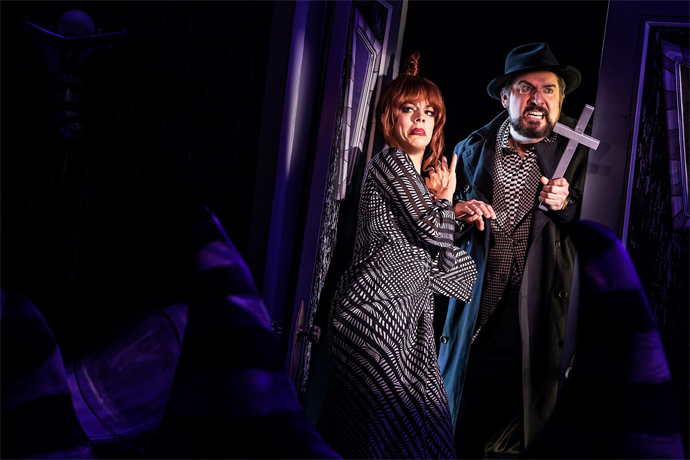 Beetlejuice goads the couple still grappling with their recently deceased status to spook and haunt the newest couple to have moved into their precious home. The Deetz family includes father Charles (Adam Dannheisser), teenage daughter Lydia (Sophia Anne Caruso), and Charles's newish secret lady squeeze Delia (Leslie Kritzer). The family is grieving over the loss of Lydia's mother. Lydia is a misunderstood teen with heavy Goth tendencies. Her mournful and death filled manner suffuse her every waking moment. She bonds with Beetlejuice as she finds a kindred soul in a weird way. Though she is very much alive and he is a poltergeist and been dead for centuries, they still find much in common. He convinces her that if she and the ghostly Maitland couple can convince the other living people in her orbit to verbally say his name three times in a row, he can relinquish his poltergeist persona and reach another level of being. Or something like that. Silly of course…but the entire evening hangs on the suspension of disbelief and hanging on for the ride. Mr. Brightman's manic performance never flags and his unnerving gleeful, at times X Rated asides are exhausting. The musical has given Beetlejuice much, much more onstage time than the film gave the character. But not unlike an extroverted highly caffeinated guest at a party, his intense charm wanes rather quickly.
Miss Caruso, her glorious voice that soars with a fine ballad in the Second Act, seems adrift. Her death haunted performance is impeccable but with not much varied shading. Her heavily piled on backstory seems artificial. But this talented actress is someone to watch, as anyone who caught her daring performance in the David Bowie musical Lazarus can attest. The first act moves at a funeral pace with not much visual pop. Book writers Scott Brown & Anthony King finally hit their stride very close at the midpoint, with a reproduction of the Day O song…The Banana Boat Song. This is the moment that stirs up the audience with its famous dinner party scene with all the participants becoming possessed with the help of Beetlejuice's magic. After intermission is where the show really kicks into high gear. Scenic Designer David Korins runs wild with his fun house demonic visual tricks. He toys with Tim Burton's original vision, then adds on his own whimsical hot house demonic touches. Coupled with Masterful costumes by the inestimable William Ivey Long the grotesquely outrageous outfits blend right into the proceedings. The costumes alone are worth the price of admission.
The rabbit hole descent into hell is filled with Giant snakes gone wild, oversized skeletons, and other wild gasp inducing sights. I didn't even mention the Girl Scout with a heart arrhythmia, and the gospel choir. The animated sets and over the top projections (Peter Nigrini) are enough to perhaps make one forget that this is indeed a musical. The 'in one ear and out the other' music is instantly forgettable. The music and lyrics by Eddie Perfect are anything but that. One song follows another in a doleful way without anything that catches your ear or tugs your heart. Odd indeed that this was conceived as a musical. But since it seems we are saddled with innumerable shows based on classic films (Tootsie, Pretty Woman, Rocky, King Kong, Frozen) it is inevitable. It is much easier to pre sell a known 'product' than compose and create something new and fresh. There is much to savor from the production, if seen from a purely visual standpoint, sets, costumes, lighting, projections…. It's a splendid night out. If you want good storytelling, melodic tunes, and emotional resonance…. well you can't have everything. But luckily there is another musical a few blocks away that also takes place in the netherworld, that will blow your mind and melt your heart.
Playing at The Winter Garden Theatre, 1634 Broadway
212- 239-6200
Telecharge.com
Open Run